By IL's Ecuador Insider, Donna Stiteler, and Guest Contributor, Mark Bradbury
City or Coast—Manta Has It All
By Mark Bradbury
If you follow Ecuadorian Facebook groups like I do, you'll see that there's a question just about every potential expat asks at some point; which area should I live in?
The simplest answer for most of us comes down to what we're looking for. When I arrived in Ecuador over five years ago, there was no question in my mind that I was going to live on the coast. I'm a beach-loving guy who would never be happy living anywhere without a view of the ocean.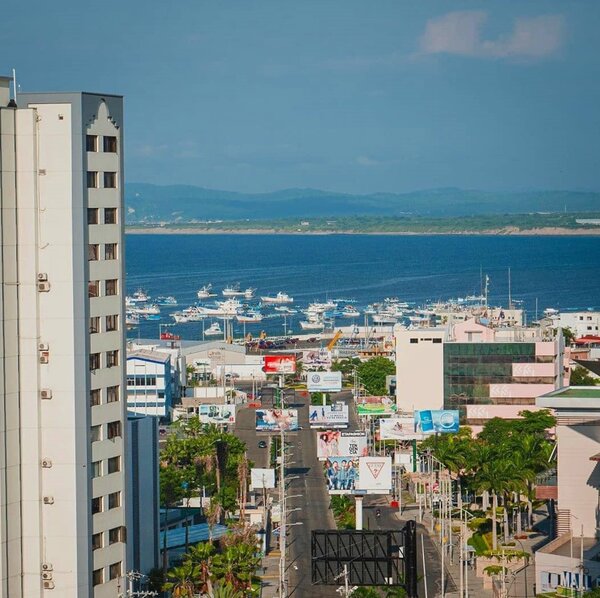 If you follow Ecuadorian Facebook groups like I do, you'll see that there's a question just about every potential expat asks at some point; which area should I live in?
The simplest answer for most of us comes down to what we're looking for. When I arrived in Ecuador over five years ago, there was no question in my mind that I was going to live on the coast. I'm a beach-loving guy who would never be happy living anywhere without a view of the ocean.
But I've met many others who live in the Sierra (Ecuador's Andean region) and they wouldn't have it any other way. They love the old Spanish architecture and the European influence in some of the cities. They're willing to bear more radical weather changes throughout the year—a feature of living at high altitudes. I understand, even though it's not for me!
Being able to see the Pacific Ocean from my balcony is what life in Ecuador is all about. It's a way of life that many of us here have embraced, and for me and my expat friends, it's perfect.
You may have decided that you're a "beach person" too. This will make choosing a home much easier, but there's still work to do. The biggest decision you face is whether you want to live in a fishing village, a small town, or a big city. This article explores living on the coast of Ecuador (specifically, the province of Manabí, where I live now) and the city of Manta, where the beautiful mountains run along the coast. The mountains extend right down to the ocean and create some spectacular scenery. No matter your vantage point, the Pacific remains in view, the perfect backdrop for your photo collection. The ocean, the mountains, the beaches, the sunsets, ships moving along the water…it's all here!
Manabí Province has over 350 kilometers (217 miles) of oceanfront property, and boasts some of the best beaches and scenery in all of Ecuador. However, there's a lot to figure out before declaring you've found your forever home. So, let's talk about the differences in these places, and what you can expect.
When I came to Ecuador, I settled in a small fishing village called Olón; I lived there for almost three years before moving north to Santa Marianita, another fishing village that had developed a reputation as the "Kite Boarding Capital" of Ecuador. I loved both places, but two years ago I decided to move from the beach to the city of Manta.
Why? There are several reasons, but the primary ones were weather and access to amenities. When I left the U.S., I decided to never drive a car again. I've stuck by my decision which has meant that living in small, out of the way, beach communities was nice for a vacation, but not for long term comfort. If you don't have your own vehicle, and you move to one of these quaint towns along the coast, you'll find yourself feeling isolated in a hurry.
In most of these towns, you get used to not having access to big box stores, like in the U.S., but if you want certain items other than the local products, a shopping trip further afield will be necessary.
When I lived in Olón, the closest supermarkets were in La Libertad and Salinas. Getting there meant an hour-and-a-half bus ride, followed by a taxi to the markets. If I chose to go to both supermarkets, I had to spend the entire day traveling and shopping. Doctor visits followed the same routine.
When I moved to Santa Marianita, the city was closer, but access was still limited. There was no bus service to Manta, so paying $20 or more for taxis was the norm—and that's if you were lucky enough to find a taxi in the first place. This is true for many of the villages along the Manabí Coast, so if you're thinking of moving to a beach town, plan to buy a vehicle!
I turned 70 a few months ago and though still young at heart, I was physically not interested in climbing in and out of buses every week—however, I wasn't ready to put the "beach life" behind me. That's when I made the decision to move to Manta—and it's proven to be a very wise move. If Ecuador had its own dictionary, I'm pretty sure beside conveniencia (convenience) you'd find a photo of Manta—the city has everything you need to enjoy daily living.
What makes Manta special? For one, Manta has hundreds of restaurants throughout the city…steak, seafood, Italian, Chinese, Tex-Mex, American-style wings and burgers, local ecuatoriano food, along with some very good pizza restaurants. Do you love sushi? There are four quality sushi restaurants, and an Indian restaurant will be opening in a few months. I could eat out for dinner every night for 30 days, and never have to eat in the same place twice—in fact, I could probably stretch that to 60 nights.
How about shopping? Manta has two malls; the fairly new Mall del Pacífico, one of the nicest malls in Ecuador, and the recently updated El Paseo Shopping Mall. There's a brand-new Coral Superstore, Ecuador's version of a Walmart Supercenter, and also a MegaKiwi, a Home Depot-type superstore. If you can't find what you need in either of those, there are hundreds of locally-owned businesses that can help.
If you like fresh vegetables, fish, and chicken, there are some great mercados in town. There's also a large seafood market at Playita Mia beach, supplying just about anything from the nearby ocean.
Some Manta expats have a car, but for those of us who don't, getting around is pretty simple. Manta has thousands of taxis, and it's not difficult to find one when you need one. The average cost to travel to the bus terminal is $1.50 to $2 and a taxi to the newly-reopened airport only costs $3. The city also has a comprehensive bus system that covers everywhere you need to go.
The bus terminal "Terminal Terrestre" is new and easy to access. There is also a newly christened international airport which will host domestic, as well as international flights. We're delighted to see this new addition as it provides the potential to generate a ton of development.
Aside from the city, Manta has plenty of beaches and other cool places to visit. There are 12 beaches inside the city limits, ranging from the inner-city playa, "El Murciélago," to surf spots, kite boarding venues, and a few small hideaways, scattered throughout Manta's borders.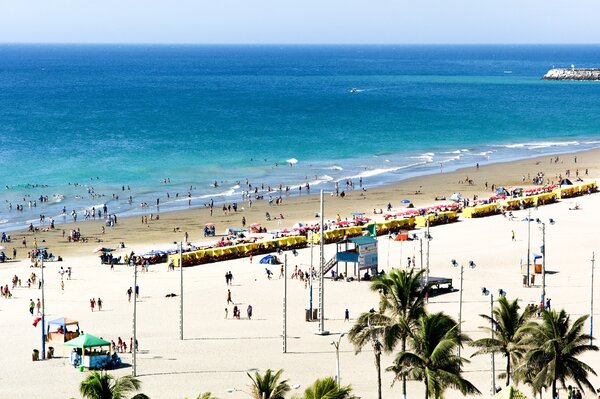 The city is currently developing a huge waterfront park, which once completed, will be the largest park of its kind on the coast. The plans are amazing, and with some luck, the park will be finished within the next couple of years. Another park, built on a lot just outside of the city, opened six months ago, and features several water and light fountains.
Most of the action here has been the result of a young, charismatic mayor who wants Manta to become the premier destination in all of Ecuador to live. A native of Manta, he is achieving incredible things on a regular basis. Manta isn't a big city; it only has 300,000 people living within its borders, but I have often said "it's a big city that plays small." It never feels overpowering—it's easy to navigate and it's easy to live in.
City or coast? You can have it all in Manta!
Beauty on a Budget
By Donna Stiteler
My husband and I married when I was 30. He was a columnist for the Orlando Sentinel and frequently wrote "quirky" things about me, such as "I was like a used car in mint condition with low mileage." Women at the grocery checkout stared at me with pity once they recognized my name on my debit card and realized that I was the subject of his writing.
But the good news is, I put his metaphor to good use. When I moved to Ecuador, I was so excited to try out the low-cost beauty treatments to help keep my "low mileage" status, that I immediately started taking advantage of all sorts of interesting therapies. It's paid off, because at 66 I look "good for my age," a barbed compliment but I'll take it. I get to pamper myself at half the cost and am happy to share my beauty secrets with you.
Vampire Facial: If it's good enough for Kim Kardashian, it's good enough for me. This facial involves the physician drawing approximately two teaspoons of blood, which is then put into a centrifuge for about 10 minutes to isolate the platelets (which have roughly eight growth factors known for healing injured tissue). Next, they numb the face and use a very small needle to activate stem cells into thinking there's been an injury—this increases collagen, before applying the blood to the face.
I have a high pain tolerance, so the tiny injections all over my face didn't hurt. After a couple of months, my skin did revitalize a bit and it smoothed out some wrinkles. The facial massages they do prior to the treatment are worth the cost alone. And the bill wasn't painful either.
U.S. cost for a vampire facial: $1,000 to $2,500 per treatment; In Ecuador, the cost is on average $150 to $200 per treatment. You only usually need one treatment.
Ultrasound Therapy: This is a fairly new treatment in the U.S. which claims to be a "non-surgical" facelift. The process works by placing ultrasound waves on your skin surface to penetrate deeper skin layers—this stimulates collagen growth. I received the treatment on both my face and my neck and although it's supposed to create a stinging sensation (like the popping of a rubber band) as they push the ultrasound wand around your face, I didn't feel much pain. It takes a few months to see the results and I definitely noticed less wrinkles, a fullness under the eyes, and less sag on my jowls. I plan to do this once a year to keep my face refreshed.
U.S. cost for ultrasound therapy for face and neck: $5,000; In Ecuador, an average of $250.
Botox and Filler: OK, this is going to sound like a rationalization, but I decided to get filler after falling down a dark staircase (I was sober!), ironically at an Ecuadorian health ecolodge. I ended up in a small clinic in Mingo, the size of my living room, where they sewed up my cut lip. My North American doctor said they did a good job, but I did end up with crooked lips. I went to a dermatologist to see if she could help fix my lopsided lips and she suggested filler—a dot to level out the top lip, and a dot to even out the bottom.
So of course, while getting filler, I asked to fill in my left jowl line (the side I sleep on) and ended up having both jowls done. The doctor also suggested some Botox for the wrinkles around my eyes and brows, which I had reservations about. After much discussion, I gave it a whirl, and really liked the results. I could still raise my eyebrows, and my eye wrinkles disappeared in moments. I have this treatment every year but use a minimal amount of both Botox and filler, so it doesn't look "fake." I'm glad to have straight lips again, as surgery to correct them would not only have been expensive, but the results weren't guaranteed—for me, this was a good choice.
U.S. cost for Botox: $350 per area; In Ecuador, an average of $200 for all areas.
U.S. cost for filler: $878; In Ecuador, an average of $400.
Vanquish Fat Reduction: The COVID lockdown gave me a much unwanted pouch, and when I started to look four months pregnant and dieting and walking 14 miles a week didn't help, I took the easy way out. I tried Vanquish, a non-invasive, fat removal process that uses radiofrequency technology to melt away fat tissue over the stomach area. It involves laying back and having a machine zap your tummy for 45 minutes. It wasn't painful and in fact, was so relaxing I tended to fall asleep during treatments. By the time I finished my four-week session, I could see the difference. After about three months, my pouch was pretty much gone.
U.S. cost for Vanquish treatments: $2,500 to $4,500 per session; In Ecuador, a cost of $120 for four treatments.
Lower Face Lift: I think because I'm diligent with my non-invasive treatments, I have managed to ward off the need for a facelift—but I have several friends who opted for a lower face lift to tighten loose skin, smooth deep wrinkles in the lower third of their faces, and tighten their jowls, jawline, and chins.
I witnessed my friend Jane's surgery and saw firsthand her recovery (the doctors require you to have passed certain lab tests before clearing you for surgery). Local anesthesia is used, which lasts about 30 to 45 minutes. After surgery, Jane wasn't in much pain and was able to go home the same day. She did have a lot of swelling and there's a reason why in the U.S., they don't let you see your face until a couple of days after surgery. After two weeks, Jane had recovered enough to show her face and by six months, she had fully recovered and looked great.
U.S. cost for a lower face lift is between $7,000 to $10,000; In Ecuador, it costs an average of $750.
There are all kinds of rejuvenating treatments in Ecuador, but these are the ones I've had firsthand experience with. So, if you're looking to lose a little "mileage," Ecuador is the place to do it!