By IL's Ecuador Insider, Donna Stiteler, and Guest Contributor, Seán Keenan
How to Use Your Smartphone in Ecuador
By Donna Stiteler
Tim and Kathy Osborne had done their research, made an exploratory trip, sold their house in Georgia, loaded all their possessions into a moving crate, and purchased airline tickets for themselves and their two shepherds, Cooper and Max, to fly to Cuenca to start a new life.
Three weeks before they were due to board their flight, COVID-19 hit.
"The rug got suddenly pulled out from under us when the airlines informed us they had stopped flying pets," Tim told me. "We were faced with leaving our beloved dogs behind or not moving.
"We started looking for alternatives, which included driving to Ecuador. But that would mean driving through some unsafe areas in Mexico, and then there's no way to cross the Darién Gap [which separates Central America from South America]. We tried cargo ships, which sometimes take passengers, but they didn't allow animals."
Kathy and Tim had already bought a house in Cuenca. It had five bedrooms and seven bathrooms, with a two-bed, one-bath casita for guests, and a large yard for their active shepherds.
"I flew down and started looking at real estate and found a house I loved which met our needs," says Kathy. "I'm glad Tim trusts me, because we bought the house without him seeing it."
The price was $350,000—half what they sold their home for in Atlanta, which gave them a lot more disposable cash.
They could use this extra money to look into pricier alternatives for bringing their beloved pets to Ecuador…
VIP Treatment
A friend suggested Kathy and Tim book a private jet. They balked at this at first. They feared it would cost them an arm and a leg (maybe two legs).
But then they crunched the numbers: Adding up their airline tickets, transport of personal items, and what they had been going to pay for pet transport service ($3,000 per shepherd)…a private jet came out as a viable choice. They realized they had spent more on elaborate vacations than it would take to transport their pets by private plane.
Then there was simply the convenience: Flying into the VIP area of Guayaquil airport; avoiding long lines to board planes or go through customs during the pandemic… They would get to take their dogs with them in the passenger area of the aircraft, and watch over them the whole time. The pooches wouldn't be stuck in cargo.
This was truly a "love has no boundaries" moment…
The day they departed, "We both dressed up to look the part of people flying on a private plane," says Tim. "I dressed up in a jacket instead of my usual jeans and t-shirt." They felt like celebrities.
Kathy adds: "We deboarded in an area reserved for private planes, so it only took us 25 minutes to get through customs in Guayaquil, and our dogs didn't have to stay in quarantine overnight."
They had hired a driver, who met them at the airport. Just a few hours later—they were in their home in Cuenca.
Kathy says: "We could not have done this had we not been moving to Ecuador. Because of the low cost of real estate, we had enough disposable income to afford the move, and buy a new house without a mortgage."
She adds that what they save by living in Ecuador will make their money go further from now on too. They plan to use Ecuador as a launching pad for trips to Europe and elsewhere.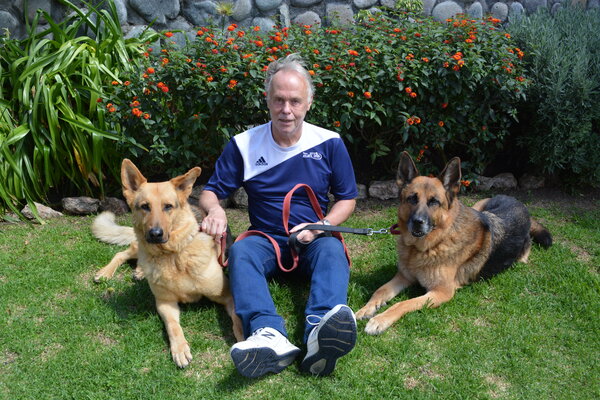 $427 Per Month—All In
The Osbornes met when Australian Tim accepted an assignment in computer-technology training in Georgia. Within a year of dating, they were smitten. When Tim returned to London, where he had been living, they started a long-distance relationship. As luck would have it, the England office where Tim had been working closed, and he was able to transfer to Atlanta—where he and Kathy married shortly after.
Now married for 32 years, the Osbornes' love of travel has seen them venturing as far as Africa, New Zealand, Peru, and France.
Tim and Kathy's decision to move to Cuenca in retirement was spurred not only by their love of travel, but music, theater, and art. Cuenca, as the cultural capital of Ecuador, met those desires.
The affordable cost of living here gives them the ability to do the things they love.
Since they own their home outright, their total expenses last month were $427. This includes health insurance, two local cellphones, DirecTV, internet, water, electric, landline, and a U.S. cellphone.
"Cooking is my creative outlet," says Kathy, "so I tend to spend between $120 and $150 a week on groceries.
"I love to cook and now I have the time to do it. I make up a weekly menu, and we either go to Supermaxi, or I walk to the corner to buy my eggs and vegetables, so I make up fresh, organic meals every day."
The city's temperate climate is a welcome relief from hot Georgia summers.
"Now we can walk our dogs any time during the day, every day," says Kathy—who has lost 20 pounds.
Their house is located in Uptown Cuenca, an upscale neighborhood within walking distance to El Centro. They spend their days exploring downtown, a UNESCO World Heritage site.
Kathy, who was raised in Florida and attended the University of Florida, notes, "I'm a city girl, but I didn't want to live in a big city. Cuenca is the right size for us."
Tim adds: "We also loved the kindness of the people. We were looking for a kinder, gentler place to live, and Ecuador is very tranquillo."
"We can take our dogs so many places," says Kathy, "like to go to the bakery, out for coffee and dessert, or to fetch sticks by the riverside. People are so friendly here. The families walk around town holding each other's hands, they say Buenos Dias to everyone, they are happy to help you in any way.
"The other day we were walking by our vegetable vendor with the dogs, and she called out for us to come over and handed us a bag of fresh produce. When we explained we didn't have any cash on us, she said 'just take it, it's for you.' You wouldn't get that in the States."
The Osbornes are very glad they looked into every available option to get to their new home…and they're delighted with how it's worked out.
Choose a Livable Temperature for You—No A/C Needed
By Seán Keenan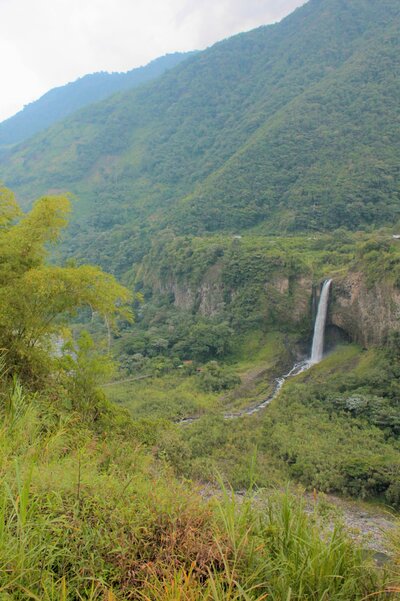 Puyo's waterpark looked like a lot of fun, in a slightly rickety way. I love those old theme parks and attractions where spit, sawdust, and liberal applications of epoxy resin take precedence over slick corporate branding and pesky safety concerns.
One of the waterslides that wound its serpentine way to exuberant gardens below had shallow sides that could only add to the thrill, as angular momentum and centripetal force wage their little battle via a hurtling human body. I'd have been reluctant to let my kids ride it but, well, I'd have been first in line if the park had been open. Parental hypocrisy is a perk of the job.
Alas, the gates were padlocked when I was there, a casualty of the pandemic. I hope it's not permanent—the park looked like a lot of fun. Regardless, the reason I'd come to this small Ecuadorian market town was still valid. It was a little experiment to prove something that I already knew, but wanted to feel for myself.
Ecuador—and the clue is in the name—straddles the Equator. By rights, it should be scorching hot. Think of the plains of the Serengeti or the jungles of Sumatra—both at a similar latitude—and you'll be on track. Those are blistering hot places, with the kind of temperatures that can get unbearable. If you're reading this from the depths of a northern winter, I understand that it's hard to recall that sort of heat, but it's pretty extreme. It's hard to enjoy days when you can't grip the steering wheel of your car because it'll burn your hands, and the soles of your shoes squirm underfoot as the rubber compound melts on the sidewalk.
But, as grade school teachers point out, average temperature decreases with elevation. The Andes mountains run through Ecuador like a spiky green spine, and scores of cities, towns, and villages snuggle into their high valleys. Choose the village or town that's at the temperature point you like best, and you can expect stable and consistent weather year-round.
That's the theory, and it makes perfect sense to me. But I wanted to experience it for myself.
The Bus to Puyo
Puyo, about 150 miles south of the Equator, sits alongside the Rio Pastaza at some 3,000 feet of elevation. Farther upriver lies Baños de Agua Santa, at 6,000 feet. That's a fair chunk of vertical drop, of which a ski resort would be justifiably proud. The bus journey takes about 45 minutes, and as bus journeys go, it's a doozie.
The upper section, around Baños, is alpine in appearance. While the town has a reputation for adventure sports tourism, a less publicized feature of the place is that it's a horticultural sweet-spot with the ideal mild climate and fertile volcanic soil to grow just about anything with chlorophyll in it.
On the roadsides approaching town, nursery after nursery displays tables stacked with seedlings and saplings; and hillsides are carved into parallel drills of intensive cultivation. If you're a talented gardener, Baños will fill your heart with joy. If you're closer to my skill level, it may make you weep with envy.
Waterfalls are the town's signature feature. Even the urban center has a mammoth cascade chundering some 100 feet down a rock wall, but locals seem hardly to notice it, given that it's a relative baby compared to the monsters of thunderous intent farther down the Puyo road. Pailón del Diablo is the star of the show, about 10 miles downriver. It's a spectacular sight, but it's also the first point at which that little experiment of mine starts to bear fruit.
At Pailón, an entire river's worth of water flings itself over a cliff edge, then abruptly levels out and widens onto flatter ground. The transformation is instant, and it's mirrored in the very feel of the place. Upstream, a frothing, wild beast of meltwater and rock carves a narrow path through a steep-sided canyon, topped with pine and eucalyptus, backed by the distant white of immense Andean peaks. Downstream of the falls, the river is shallow, more languid, and deciduous forest flanks the river on gentler slopes.
From a bus seat, it's a profound change for the observant traveler. No sooner do you spot the first stand of spiky yucca clustered by the roadside than the bus loops around a switchback, you've dropped another 30 feet, and you sight your first palm tree of the journey. It continues—palms make way for banana groves, their enormous leaves flapping like elephant ears; the squat exuberance of pineapple plants burst from the ground, and in the distance you might glimpse the gentle flight of primary-colored macaws.
A regional airport in the hamlet of Mera is the quintessence of jungle fantasy. Carved from out of the forest's tapestry of greens, its grassy runway is flanked by fluttering banana groves and single-engine planes that look unlikely to make it to the end of the runway, let alone fly. If you've ever imagined yourself as a maverick pilot operating a smuggling ring in the heart of South America (I won't ask), this is the place to picture yourself in a greasy flightsuit and Ray-Ban Aviators.
All too soon, the bus pulls up in Puyo, and as you climb down into a hot blast of hairdryer air, it's instantly clear that yes, the temperature rises as elevation drops. When I left Baños it was 65 F and misty. Here, it's 80 F and the sun hits with an intensity that's almost an onslaught. I make my way to a dappled green promenade that follows the river, coins of bright light all that penetrates the broadleaf canopy above as the water hisses over well-rounded pebbles.
I'm convinced now by the temperature theory, but I do wish the waterpark were open.