By IL's Ecuador Insider, Donna Stiteler, and Guest Contributor, Kenneth Taylor
After a Year in Loja—Did We Get What We Came For?
By Kenneth Taylor
I read an article the other day that said Ecuador was ninth on the list of South American countries when it came to total deaths from COVID-19. I was struck by the statistic because it came just as my wife, Sharon, and I were celebrating our one-year anniversary living in Loja, a mountain city in the Ecuadorian Andes.
A year ago, bodies were being stacked in the street in Guayaquil as the pandemic overwhelmed the healthcare system here—an event that made news around the world. We had been in Loja for a month, and we were wondering if we had picked exactly the wrong time to move to a new country 10,000 miles from our home in Vancouver, Canada. As someone in his mid-70s, reading the news, I couldn't help but be more than a little worried!
But tragic events; shocking, out-of-the-ordinary things have happened all across the world during the pandemic. Ecuador was not immune, nor was it alone. A year later, we are no longer second-guessing our decision to move.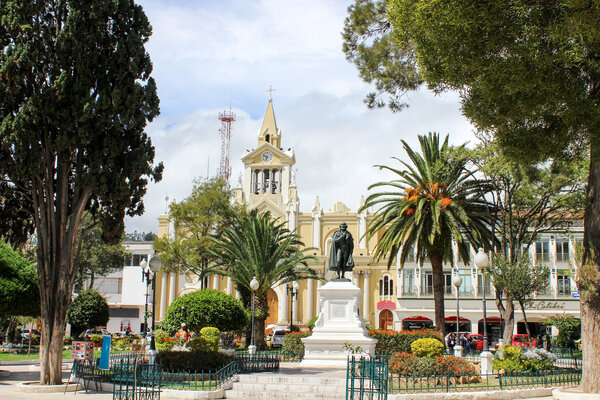 We came to Loja after an exploratory trip two years earlier, and after taking in an International Living conference in Las Vegas—something I can't recommend enough for anyone contemplating this kind of upheaval in their way of life.
Loja was our choice for a number of reasons. It's a small city, population 200,000, and it's a cultural capital. It's a younger city with several large universities and several art and music colleges. We were looking forward to concerts and art displays and a continuous diet of events and celebrations.
Loja is also a city where not much English is spoken, and as a result the expat community is quite small. That suited us, since we wanted somewhere that required us to put in some effort to join the local community and challenged our usual way of doing things.
For our first month… Loja did not disappoint. Then COVID-19 hit. And just like for everyone else in the world, it all changed. And just like everyone else, we had to change our expectations and our focus to adjust to the new reality.
How It Worked Out
So, a year later, how has it worked out? Well, a lot of the things we came to Loja for have not been affected at all. The climate is ideal for us. With the occasional blip, it is always a lovely spring-like 70 degrees F (20 C) or so during the day, and 55 F (15 C) at night—perfect weather to get out and explore the surrounding countryside by walking and hiking.
The whole of Loja's El Centro (downtown) was refurbished two years ago, when all the utilities were buried and the streets and sidewalks redone, so browsing the picturesque streets and squares with a camera is a daily delight. Everything is within walking distance of our apartment (which we rent for $350), so there's no need for a car. In the first eight months here, I lost 50 pounds without even thinking about it!
The population took to the COVID restrictions largely without complaint and these days it is surprising to see anyone without a mask. Lines of people social distancing at banks and shops is the norm. As a result, the healthcare system, although stretched, has been able to cope. As everywhere, small shop keepers and businesses are hurting, but we're in a "bread basket" region, so the markets are all well stocked daily with inexpensive fresh produce.
A flourishing takeout delivery system has sprung up, and as a result, many restaurants have been able to stay in business. The rollout of vaccines has begun, so we hope a corner is about to be turned.
So, the final question remains, are we sorry we embarked on our new adventure when we did? Well, everywhere has COVID-19, Texas was just frozen solid, Canada is buried in snow, and I had to wear a light jacket twice in the last year! The people here are friendly and welcoming. Our Spanish is much better, and we have cut our living costs by 70%. All in all, a good deal.
And I'm confident that in the very near future, all the cultural and artistic things we were looking forward to will be back again for us to enjoy. We can wait.
I Left Ecuador for Love…But I Kissed the Ground When I Came Back
By Donna Stiteler
These days, you really need a good reason to take a trip from Ecuador to the United States. My good reason by most measures wasn't. It was to meet a man I met in Panama City's international airport in 2020, just a month before COVID closed down the world to all of us.
I'm a widow. After 34 years of marriage, I wasn't looking for love. I'm proud of forging a life on my own in Cuenca. Before my husband died, I had never lived alone. But I'm now proficient at connecting propane tanks and fixing toilets. I found I was capable of doing things I'd never done before. The low costs in Ecuador have allowed me to live in comfort. At 66, I'm an independent woman.
Then I met David. He was flying from Cuenca back to New Jersey, and I was flying from Tampa back to Cuenca, after the 2019 Christmas holidays. Our paths crossed at the airport in Panama. We struck up a conversation, lasting two hours, as we were waiting for our connecting flights—and we also felt a connection between us. We traded email addresses. He said he'd be in Cuenca in June. I told him I'd take him on a tour.
I was hoping we would stay in touch—and we did. We spent hours video-chatting, me in Cuenca and he in Jersey. Our friendship grew into what could be called love—but it was hard to say, since we'd only actually been together in person for a couple of hours. We counted down the months until we could meet again.
Then COVID hit and stole countless months from us. We started a waiting game. But I couldn't wait any longer. I flew to the U.S. in November—to meet a man who lived a continent away, whom I'd only spent two hours with, thanks to a chance meeting in an airport.
Flying Out of Ecuador
Cheap tickets prompted me to go. Usually, my round-trip flights to the U.S. cost $725. But I found a ticket for $350. At the time, I didn't need to provide a PCR test to enter the U.S., but I got one anyway to make sure I was negative.
I usually fly out of Quito airport, but there weren't many flights from Cuenca to Quito, which is a 10-hour drive. So, I opted to fly out of Guayaquil, which is only three-and-a-half hours from Cuenca. I hired a private driver certified to cross city boundaries, which set me back $125. My usual van transportation is $26, but I didn't want to be in a van with others.
My redeye Spirit Airlines flight left out of Guayaquil on a Tuesday in mid-November at 1:10 a.m. I opted for a day stay at the Holiday Inn Guayaquil Airport on Monday, so I could sleep before trotting over to the airport in the wee hours of the morning. This only cost me $50, and saved me from a long stayover at the airport. It was also a great way to relax before what could be a stressful flight.
To my great surprise, the airport wasn't crowded. Kiosk machines were lined up and airline tutors helped make sure we placed our passports in the kiosk correctly, and ensured our boarding passes had seat assignments. The kiosks were well spaced out from each other, so there was no hovering of any sort. When I got to security to go through the gate, it was just the normal old security check minus the crowd.
It's easy these days to stay away from other people as you wait to board. There just aren't that many people flying. So, I sat for an hour pretty much alone, within sight of the boarding gate. My flight was comfortable. I had chosen an emergency-exit seat, which was roomy. Because the flight wasn't crowded, passengers had empty seats surrounding them. I kept on my mask, gloves, and actually pulled another mask over my eyes to act as a sleeping mask—I didn't care if I looked silly. I passed out and slept until the plane landed in Ft. Lauderdale, Florida, the only stopover on my route.
Special Treatment for Folks Over 65
My flight to New Jersey was just under two hours, and middle seats were vacant. Everyone was masked up, and we all sprayed so much alcohol on our surroundings, it smelled like a hospital.
David picked me up at the airport gate, and we flew toward each other like this was a scene in a romance movie. I spent the next six days encased in his apartment, because I was required to quarantine—but in our case being locked up together was just what we needed.
The six days flew by, and soon I was on my way back to Ecuador.
My return flight to Ecuador was pretty much empty. I had a row of seats to myself, and laid down and slept through the entire flight from Ft. Lauderdale to Guayaquil.
When I landed in Ecuador, I needed to turn in my PCR test in order to enter the country. At that time, PCR tests were good for 10 days. Now the tests are only good for three days, so you have to make sure you scout for a quick turnaround. Some airports now offer PCR and antigen tests on site.
Right now, if you land without a negative test in either the U.S. or Ecuador, you will have to take the test upon landing and quarantine until your COVID results come back negative.
I was armed with my negative PCR test when I landed in Guayaquil. As luck would have it, if you are over 65, you don't have to wait with the other passengers in the holding area where they review the PCR tests. Instead, I was whisked away to a near-empty room, where a nice airline employee took my PCR test, stamped it, and I was on my way in less than five minutes.
When I returned to Ecuador, I air-kissed the ground because I was so happy to be safely back.
Walter, my driver, picked me up at the airport, and three-and-a-half hours later I was home with my four dogs and cat. David and I still talk daily.
I learned a couple of things on this trip. I learned you can safely fly in and out of Ecuador—but you must take precautions. Now that the vaccine is available, flying around the world is quickly becoming an option again.
I also learned that love doesn't come easy. Sometimes you have to risk more than your heart.
Would I do it again? It would take a shot in the arm.