By IL's Ecuador Insider, Donna Stiteler, and Guest Contributor, John Williams
Pickleball Comes to Cuenca
By Donna Stiteler
When I was a kid, I spent hours playing softball with my cousins, batting the Swiss-cheese-yellow plastic ball between us. My grandmother, "Big Mama," deemed it safer than arming us rowdier kids with hard balls. Big Mama's strategy was to channel our energy into learning good sportsmanship and how to have fun playing with others (and of course it kept us from bothering her all day). We now joke that, "We were latched out kids, not latchkey kids."
So, when I heard of a new sport called pickleball, which is like a mash-up between tennis, ping-pong, and softball, I was all in. Two months later and I can't complete a sentence without bringing pickleball into the conversation. It's not only a great form of exercise but it's also incredibly fun. As us pickleballers like to say, "there's no crying in pickleball!"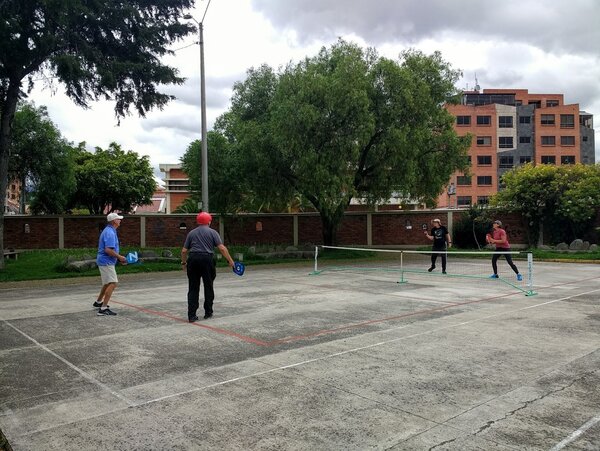 Pickleball is the fastest-growing sport in the U.S. with more than 3.3 million players whacking whiffle balls. And now that the sport has come to Cuenca, it is quickly becoming a healthy addiction.
What is pickleball you might ask?
It's played on a court measuring 880 square feet and two pickleball courts can fit into one tennis court by taping off the smaller area needed. The net height is 34 inches (slightly lower than a tennis net), which makes it easier to get the lightweight whiffle ball across the net (due to its weight, the whiffle is prone to wind changes). The game is a great way to exercise and because it's a social sport, it's also a great way to make new friends. Equipment can't be bought locally so pickleball enthusiasts mule items back from the U.S. and since parks have plenty of volleyball, basketball, and tennis courts dotted around town (without regulation of who uses the courts), it's easy to pick a location and get started.
The court near my house attracts 20 or so players and as we wait our turn to play, we sit around and talk about—what else—pickleball. But our social group interests go beyond chasing down whiffle balls. We share what's happening in our lives, bring along our dogs and picnics, and then take turns breaking a sweat. We have become our own tribe—athletes who have escaped the lure of the TV and recliner lifestyle.
Richard Keye, a feisty Irishman, was one of the first expats to start playing pickleball in Cuenca, which began around three years ago when four expats created an impromptu group in search of a more active lifestyle. "I walked by the Yunancay river trail and saw this group of guys playing and thought, 'that looks fun.' I asked if I could play and soon started playing daily," says Richard. "We started out playing on Primero de Mayo's volleyball courts and then moved to the Coliseo Jefferson Perez, but when the stadium closed due to COVID we found this place," adds Richard. The unofficial pickleball club location is two tennis courts located in the Remigio Crespo area, in a quiet, shady neighborhood.
Richard moved to Cuenca six years ago with his wife Naomi after retiring from dentistry. "We did a lot of research, including reading International Living, and took an exploratory trip to different countries looking for a cheaper place to retire. I wanted to live in Nicaragua. My wife wanted to live in Ecuador. So, we compromised and moved to Ecuador," he laughs. "We liked Cuenca—the weather, the Ecuadorian people, and the friendliness of the culture. And I like that I don't have to speak Spanish to survive here."
Richard does not consider himself an athlete and because most of the pickleball players are over the age of 60 and come in all shapes, sizes, and competitive abilities, strategy is key. "The game is played by all ages so anyone can take part. Because I'm not as fast on my feet as the younger or stronger players, I have learned to pretty much stand in place and hit the ball around the court until I wear the other players out."
Ron Shea is known as the "guru of pickleball" among the playing community. He is helping grow the sport by teaching clinics to beginners. "This is not a sport that hands out ribbons—the players are in it for fun and comradery," says Ron. "It's a great choice because you can set up shop easy. All you need is a portable pickleball net for the tennis court, two pickleball paddles, and a couple of whiffle balls."
Ron is a retired electrical contractor who hails from Seattle and moved to Cuenca almost two years ago. Ron and his wife Jane have a life-long love of adventure and he first learned about the sport three years ago when he participated in a work exhange program, in France, building a pickleball court. Ron found the Cuenca pickleball group through a Facebook page managed by Kurt Woderman, one of the founding members of the local team.
"I love teaching clinics. I love seeing people improve. It's a very quick learning curve after you learn how the game is played and how to volley back and forth. We mix up the skill levels of the players so the game doesn't get too competitive. We match more experienced players with beginners so everyone gets a chance to play without the fear of not being good enough. Because there is a large range of players and skill levels, you learn to adapt the game to your capabilities and become a competitive player. On the court, beginners learn from the more experienced players and seasoned players can help teach what they've learned," says Ron.
"The game requires brain power and once you have the basic skills down, you learn strategies like how the older guy can outplay the younger guy by just making him chase balls around," Ron adds. "The sport allows older people to keep doing something physically active."
Because the sport is growing rapidly, there are now courts located at Coliseo Jefferson Perez where for $1.50 each, players rent a court. Thanks to Cuenca's temperate climate, it can be played year-round, all day long.
Ossie Osborne hails from London and has lived in Cuenca for six years. He is one of the four original players who helped bring pickleball to Cuenca. "The new location has been a great fit. We bring some business to the area and I think that helps the local neighborhood accept us. One vendor brings by fruit cups. Another one comes by and sells us tamales. We also provide a lot of business to the nearby panaderia (bread shop)," says Ossie.
Jeronimo Cotter, a former tennis coach who recently took up pickleball says, "the game is exploding." Coming from the formal, posh world of country clubs and professional tennis, he loves the easygoing nature of Cuenca's pickleball club. "Our equivalent of going to the country club bar after a game is grabbing a few beers at the tienda down the street and sitting on plastic chairs outside the store. I love that we are a bunch of people sitting around having fun, taking turns playing."
Pickleball is not only for the guys—it also attracts female expats who want to stay active and like the level playing field of the game. Anna Mori showcased her skills against three competitive players and as I watched her play, I laughed as the guys struggled to return her fast returns. Her serves whizzed across the net at lightning speed, reminding me of the infamous "Battle of the Sexes" match between Billy Jean King and Bobby Riggs.
"Pickleball has definitely added to my life. When I retired, I had nothing to do. When I found out about the sport, I made new friends, laughed more than I ever have, and exercise at the same time. It's a win-win situation. I'll play this game into my 70's and hopefully into my 80's. Pickleball has changed my life. You do not have to be completely coordinated to play—you just have to have the will! It feels great when I play against the guys. They look at me thinking I can't hit a ball, then I smash it and relish seeing the look on their face," Anna says.
For me, pickleball has given me back the fun of playing a team sport with friends while providing a much-needed outlet to improve my strength, coordination, and footing. It's also the best stress reliever I've found because when you're exhausted after playing a few rounds, you're too relaxed to think about anything else except your next pickleball game.
I guess Big Mama was right. We need to get out there and discover the fun in life.
An Opportunity to Give Back
By John Williams
The retired life…starting each day with a blank slate…drinking a morning coffee…taking a stroll on the beach…maybe a round of golf…doesn't that sound good?
It did to me…for a while. Then reality sets in. All of this "relaxing" begins to feel like I am missing something. But what?
As a retired executive and self-diagnosed "recovering" type-A opportunity-seeker, I still want to accomplish things.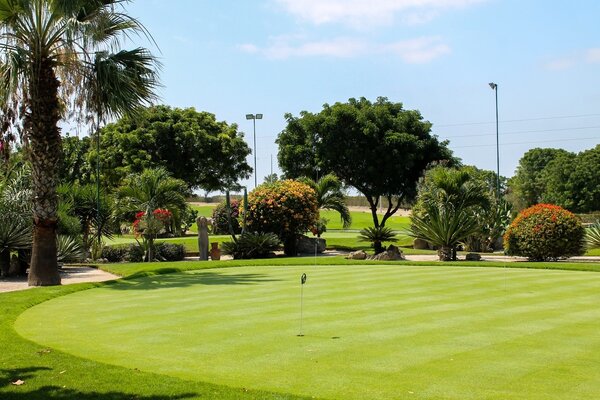 In your December Insider, I detailed my experience of needing shoulder surgery in my new home country. I was due to have the surgery in January 2021, but Dr. Juan Fernandez called and said he had an opening, so I had the surgery in the last week of November.
As sometimes happens, once he got "inside" my shoulder he determined that the relatively minor repair we had hoped for wasn't going to do the job. It was a more complicated, extensive procedure than we had hoped—this gettin' older thing has its downsides!
Sometimes it can take three months to regain much use of the arm, followed by six to nine more months of exercise, rehabilitation, and recovery before getting back to a semblance of "normal." In my case, when I was about seven weeks post-op, I was feeling good enough to try some easy golf-club swing exercises, getting progressively stronger as time went on. After Dr. Fernandez' third post-op exam (and with his permission), I began playing golf again just nine weeks after surgery. Three months post-op, I am playing a full 18-hole round a couple of days a week and my game is back to where it was pre-op.
I may want to claim what a wonderful patient and healer I am, but the credit really has to go to the amazing skills of Dr. Juan. So, other than playing golf again with a stronger shoulder, what is the "opportunity to accomplish something" I teased earlier? Let me explain.
I received many recommendations for Dr. Juan from other Ecuadorians and expats. I had complete confidence in his skills, but when I arrived at the hospital in Portoviejo where my surgery was scheduled, a city about an hour's drive from where I live in Santa Marianita, I had second thoughts. It was—to put it kindly—sketchy.
It was an old building currently being used as a maternity hospital. We entered through a rolling garage door where some waiting folks were sitting around. Dr. Juan took me into a side room and we discussed the details of the procedure. Then we went upstairs to a dark corridor where a nurse came and had me change into a gown. I was escorted to the operating room which contained a not so state-of-the-art operating table. The doctor explained that he uses this facility because as a maternity facility it doesn't have any COVID patients—which was reassuring but the facility wasn't what most Norte Americanos would expect. It was all very dark and dingy.
I'd come this far so again, placing my trust in the doctor and his team, I went in and had the operation. By now you know that the operation was a success and I am healing extremely well. But the experience led to ongoing conversations with Dr. Juan about the facility, and he acknowledged that though not ideal, it was the only clinic available. Most of the hospital facilities in the area had COVID patients and frankly, many were also quite worn out. He did however recognize the need for a new clinic and had some preliminary designs for a surgery in Manta, a nearby city of about 250,000 people.
I sensed an opportunity.
Financing options in Ecuador are quite different than in the U.S. There's no such thing as "cheap mortgage loans" and most require at least a 50% down payment, especially for a commercial facility. Interest here is much higher for both savings and borrowings. Taking all this information into account, we came up with the idea for a group of expats to fund a surgery clinic for Dr. Juan Fernandez and his associates to use.
When I examined the data, the analysis showed it could be a very profitable venture that would serve not only as an investment vehicle for the funders, but also present an opportunity to give back to the local community. It would provide local employment and give patients and Drs. Juan Fernandez, Juan Fernandez Jr., and Jose Alvarez, a clean, modern, much-needed facility.