By IL's Ecuador Insider, Donna Stiteler, and Guest Contributor, Janette Sullivan
The Community Steps Up in Cotacachi
By Janette Sullivan
In the seven-and-a-half years my husband, Brian, and I have been in Cotacachi, we've experienced many trials and tribulations. We witnessed a devastating 7.8 earthquake that killed many; experienced a countrywide protest that basically shut down the country…
The COVID-19 situation is different because it is something the whole world is going through. Any time of the day, I can get on a Skype call to my family back in Canada, and while the situation isn't exactly the same up north, we are all in this together.
I have honestly never felt so proud and in awe of my fellow expats as I have this past year. So many people have stepped up to help, whether it is to help an individual, a family, or one of many local organizations that have evolved to support those in need within our community.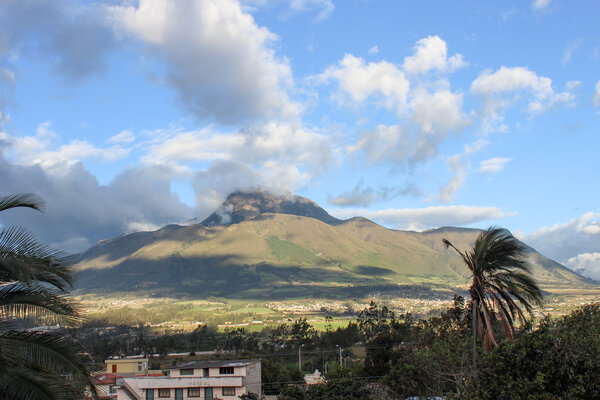 One local expat in particular stands out: Yanneck Peck, who owns a bakery and has been a leader in the Cotacachi expat community for several years. Yanneck saw a need and thought, "What can I do?" Knowing that a rough road was ahead, Yanneck brainstormed with some others, and came to the conclusion that a priority was to keep our local hospital staff and police fed, during their long hours managing the COVID crisis.
He wanted to keep them healthy and happy, since they were the ones facing the biggest challenges.
Over the course of eight weeks, Yanneck organized the preparation and delivery of more than 2,000 meals to these frontline workers. This was made possible with monetary donations by the expat community; countless donations of vegetables from local Ecuadorian farmers; and lots of homemade cookies baked by expats and Ecuadorians alike.
During our "lockdown," Yanneck continued to bake and sell bread, with a strategically organized delivery service. He took this even further by providing nearly 3,000 buns free for families, and donating bread to several restaurants.
"People and institutions were scared, surprised, unprepared, and needed help—and I had the network, resources, and health to provide that help," Yanneck says. "I could count on my co-workers and later volunteers, to help me manage the time and energy required."
Yanneck went further again with the delivery of food baskets both within the village of Cotacachi, and to rural communities. His organization has morphed into a much larger one, which is still working with the rural communities.
Most recently, Yanneck organized a Pandemic Emergency Fair. The goal was to give local initiatives a platform to present—to talk about how they're helping, and explain their need for continued support in both donations and volunteers. Many of these local organizations do not have an internet presence, so this was a way for the expat community to learn about programs they may not have been familiar with.
Without Fear
Yanneck's is not the only story in town. Expat Christina Ring, who runs a horse therapy program, was unable to continue sessions with her clients, due to the municipal restrictions.
When Christina sat and thought about what she could give that these children and families needed most, she realized that reassurance and information was key. Many of the families that live in the rural areas do not have access to the internet or to regular news sources to get the information they need. Through her foundation, Iniciativa Sin Miedo (Without Fear Initiative), Christina prepared packages to be delivered to over 500 families in rural communities, providing clear information on how to maintain mental and physical health.
Christina reached out to me and asked if I could make masks, since I was already sewing them for myself and a few others. I asked how many, and she said as many as I could do.
After using every stitch of fabric, cutting up tablecloths, and even a few sheets, I had to reach out to another sewer friend for more fabric. After six days of sewing—and even getting my husband to work with me!—I provided 500 hand-sewn masks to accompany the packages that were being delivered to the communities.
Christina also started an online "Circle of Support" group, which "met" three days per week through Zoom. She described it as "a place where we can see each other's faces, without masks, and talk about real life stuff unrelated to the virus." I attended regularly and we talked about traveling, pets, and art, among other topics. It was something to look forward to during otherwise lonely days.
Pets Too
It's not only humans that were struggling. The animals in our town started to become desperate as well.
We have a local nonprofit animal hospital in Cotacachi. Brian, who works for the foundation, saw a need… Families could not afford to feed their pets and were beginning to abandon them. Brian advertised their plight online, and received ongoing donations from the expat community—which allowed him to fund over 1,000 meals for street dogs in a six-month period, and deliver over 3,100lbs of pet food to owners in need.
I have always felt the most amazing sense of community among the expats here. There are so many ways to become involved. People here have always helped out, just as part of their lifestyle, in whatever manner they see fit.
However, the sense of community has become so much stronger…and produced amazing results…over these past months.
I would not want to be anywhere else in the world right now.
Who Do You Call in an Emergency?
By Donna Stiteler
It's something none of us wants to think about—but it happens.
Stefani Owens was returning home from the grocery store. She had left her husband, Bob, and her friend Sofia behind while she went on ahead carrying some of the bags. By the time she got to her condo, her phone was ringing—Sofia was pleading for help.
Bob had gotten to the front door of their complex, when his legs gave out, and Sofia was doing her best to keep the 6ft 4-inch man from falling down.
With the help of several friends, they were able to get Bob safely into their home, but Stefani knew this was a defining moment. She could no longer manage her husband's care on her own. This was the end of their former life, and they were now entering a stage requiring assisted care.
One of the reasons expats move back home is because they need help caring for an aging spouse. But the retirement crisis in the U.S. doesn't help. Assisted living facilities average $4,000 a month, and nursing home care averages $8,000 a month. This wasn't an affordable option for Stefani and Bob.
Add to this that in the U.S., in order to qualify for Medicaid nursing home programs, you will need to deplete most of your financial resources—leaving little left over for unforeseen expenses or inheritances.
Ecuador, however, is a culture where they prefer to care for aging parents at home. Because of this, there are many low-cost in-home services.
Now, a year later, Stefani and Bob have created a care plan that allows Bob to age in place in Ecuador, without breaking the bank.
I live alone. Of course, I worry about what would happen if I fall down and can't get up. Who is going to take care of me? This is a question that has loomed into view.
So, I began researching options on in-home care—and found a lot of good ways to be prepared, "just in case."
Medical Translators and Facilitators
Navigating any medical system can be complicated. Add to that poor Spanish skills and little knowledge of local medical facilities and specialists, and it becomes daunting.
According to Diana Vera, a medical facilitator in Cuenca, "Medical facilitators are the glue between an expat's needs and the medical community. They charge around $15 an hour, but they speak English, set your appointments, drive you to appointments, and translate health information with doctors." Vera keeps her clients' health records on her phone, so when she's at the doctor with you, she can relay your medical history quickly and accurately.
Medical facilitators can also help find the right insurance plan for you. Options range from IESS (the government's social plan), which costs as little as $64 a month; to private insurance companies, which run around $125 a month; to paying out-of-pocket, which—at 80% less than you'd pay in the U.S.—is a viable option.
I wish I had hired a facilitator when I first got to Cuenca, because it took me a while to learn and navigate the healthcare system.
Once you learn the landscape of medical treatment in Ecuador and find a regular doctor, it's easy to set medical checkups yourself.
Emergencies
For emergencies, I've hired a nurse facilitator, Betty Alderete. This is for more complicated health issues, like life-and-death situations—because she knows how to play the medical system like a first chair violinist. Most expats carry their medical facilitator's card in their wallets. If you take a nasty fall and are having trouble communicating, you can simply pull out the card and request she be called. She will take it from there, meeting you even if it's in the middle of the night, ordering the ambulance, making sure you get to the best hospital nearest you, and communicating your medical history. Betty, a nurse who trained in the States, takes over from the minute she comes to your side, and will be there when you're released, to make sure you get continued aftercare.
Almost all medical facilitators can be found via word-of-mouth at expat hangouts, or by searching the listings on GringoPost.com. Most facilitators provide a similar service, so it's best to ask around in expat hangouts regarding who different people use. Pick someone you feel comfortable with.
Cotacachi Health Chapter
Here's another option…
Cotacachi is a small indigenous town located 70 miles north of Quito, with a population of 8,000, of which around 1,000 are expats. The expat population includes a high percentage of single women—and this is a very well connected community.
When Jo Meriam moved to this scenic Andes village, because she lived alone, she recognized the need to use the community for help in emergencies. With volunteers, she helped create the Cotacachi Health Chapters, a not-for-profit organization of expats, supporting the expat community when it comes to medical services.
The organization has a standard emergency plan for members, which includes filling out forms for emergency contacts, doctor information, medication information, and even what to do with your pets in the event you get waylaid. A yellow dot on your front window shows EMTs that you are a member. The forms are kept in a folder on your refrigerator, so emergency workers know where to access them.
The organization includes a call service, so someone checks on you daily. This service is starting to find traction in other cities in Ecuador—you can ask your medical facilitator about setting it up for you.
Ambulance Services
You will never enjoy riding in an ambulance more than in Ecuador…because it's never going to cost you more than $80 for a private service. And with insurance, the cost could be $50 or even free, depending on your carrier. The number to call for an ambulance is 911.
If you don't have a phone with you, simply shout for someone to call an ambulance, and one will be with you within about 15 minutes.
A medical facilitator can advise you on both public and private ambulance services.
Home Delivered Meals and Groceries
If you plan to grow old in Ecuador, help is easy to find. You can hire someone to clean your home for $20 a visit, and a gardener runs about the same. If you need meals—or, as in my case, you're just a bad cook—home delivery from many restaurants costs just $2.50 (the driver's tip) in addition to the cost of the meal.
You can get Chinese food, Thai food, chicken pot pies, pizzas, and more expat comfort food, just by picking up your phone and ordering. If you're hankering for KFC or McDonald's—well, they deliver too.
If you're not up for grocery shopping, you can get home deliveries from most of the larger grocery stores. You don't have to depend on friends to get your supplies. Delivery fees run around $3. Or, you can opt for a facilitator to pick up items for you or run errands.
If you want help with home cooking or doing laundry, you can hire someone for around $10 to $15 a visit.
Transportation
If you need help getting around town, taxis run up to $3.50 to get you most places in town, and trams and buses run 35 cents.
Many expats have their own go-to taxi drivers, who they use regularly for transportation. If you need them to wait on you while you shop or go to appointments, the base rate is a $10 charge per hour.
In-home Doctor Visits
Doctors will come to your house for $50 a visit. They usually have nurses and lab technicians working for them who can draw blood for lab tests and help with medical dispensing. Usually, if they are using their own labs, there's no additional charge. They can also help you arrange physical therapy, which they will coordinate with your insurance provider.
In-home Medical Care
Need continued care after a hospital visit? There are several in-home medical care alternatives. Because labor is so inexpensive, in-home care is a viable option. If you need services, you can either use your medical facilitator or an in-home care service provider.
VIP Home Healthcare is a full-service in-home provider, which can assist with medicine compliance, wound care, physical therapy, nursing skills, cooking, bathing, and coordination with your medical team.
They have several plans. For in-home visits, the cost is $25 for the first hour and then $7 an hour for additional time. They charge $45 for four hours, and you can divide the time into two-hour segments for morning and night shifts. If you need 24/7 care, it will run $153 per day.
So, I hope these options give you some reassurance, as they did for me. With my medical facilitator's number in my wallet…my medical records pinned to my refrigerator…and an understanding of my in-home care options… I no longer worry about what to do if something happens to me.
And my pets don't have to worry, either—because they will have a full-time caregiver of their own when I'm laid up.