And they're off!
IL readers Mark and Kirsten are on a mission to find the perfect place to live in Mexico.
I recommended they check out the Riviera Maya, and report back to you here in your Daily Postcards.
IL is bankrolling their trip to this stretch of Mexico's Caribbean. We happily spend millions of dollars every year on travel and research seeking the right overseas destinations for you.
This isn't Mark and Kirsten's first rodeo. After years doing their own research they attended an IL conference and—after hearing from IL's Southeast Asia expert—moved to the tropical island of Penang, Malaysia.
But now they're looking for a base closer to home and family. Mexico ticks a lot of boxes…
Planes, Playa, and Mayo-Covered Corn
By Kirsten Raccuia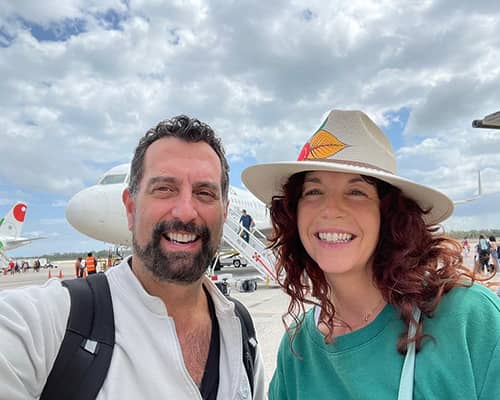 We should have flown from Chicago to Cancun. It would have been faster.
The day started in Puerto Vallarta where we've been living for the last four months. We set a 5:30 a.m. alarm. A time when most sane people are enjoying their slumber, dreaming of sheep and rainbows, or is that just me? If it's dark and ends in the am, it seems a sin to be awake.
The journey was all a bit of planes, trains, and automobiles. There are no direct flights from Mexico's west coast beach hotspot to its east coast beach hotspot.
So, after 12 arduous hours, we finally made it. But we had no time to rest. We had exploring to do. Our fatigue would have to wait. (Thankfully the flights between Cancun and the U.S. are much more convenient—a couple of hours direct from dozens of airports all over the country.)
From Cancun we took a cab/bus to Playa del Carmen, right bang in the center of the Riviera Maya. And as if by magic, our exhaustion disappeared…
5th Avenue, or Quinta, as the locals call it. What invigorates someone after a long journey? Coffee? Red Bull? No.
It's a wide pedestrian-only boulevard paved with bricks and lined with shops, restaurants, and clubs. It runs parallel to the beach and goes on for miles.
Click the video below to walk through Quinta with us…
Click to Play. Ride along with Kirsten and Mark for a short stroll through Playa del Carmen's 5th Avenue—the beating heart of this exciting beach town.
It's geared toward tourists, so there are shopping malls, Forever 21s, Senor Frogs and lots of small shops selling Mexican knick-knacks.
Each restaurant is more stunning than its neighbor. It's clear no peso was spared. There are almost as many Italian and Argentinean restaurants as Mexican ones, with a Greek and a kosher BBQ joint thrown in for good measure.
One place had a saxophonist serenading its patrons. The next, a mariachi band was blowing their horns and singing at the top of their lungs. This isn't the place for a quiet meal. For that, you'll have to look elsewhere. Not far. Just go a few blocks off the main street, and the options are abundant as well.
And more authentic. Maybe not as beautiful or swanky, but tasty nonetheless.
But at that moment, Quinta was precisely what the doctor ordered for us. It was giving us life.
It didn't matter how exhausted we were. As soon as we started getting closer to the heart of the action, it got louder and more electrifying.
At times it felt like each club or restaurant was trying to outdo its neighbor. One had a live band playing the Eagles' Hotel California. The next had a DJ spinning away to anyone ready to shake it. Next door, the girls were dancing in cages on the street. Not necessarily our scene, but it didn't have to be.
Our scene was just a few blocks away at a street market in the square.
One vendor hawking his pozole, a hearty, deep, red broth with heaps of shredded chicken and hominy. The next had gorditas and tacos. In between them were handicrafts and local jewelers making their creations right on the spot.
We slowly sauntered from stall to stall to the background music of a local band. The singer was crooning his heart out.
We had no idea what he was saying, our Spanish isn't that good yet. But we were certain he was singing about a broken heart. Every unknown word nearly brought me tears, and I wanted to go and hug him. To comfort his soul as he cried into the microphone.
After I pulled myself together, we spotted a cart selling our favorite Mexican snack, elotes—corn on the cob, rubbed in lime, sprinkled with salt and pepper, then covered in mayo, cheese, and chili. A grossly messy yet somehow perfect combo of sweet, sour, cheesy, spicy goodness.
Click to Play. This Saturday night market in Playa offers an alternative to the slick restaurants on 5th Avenue—and there are some delicious authentically Mexican foods to try as Kirsten and Mark show you in this video.
And so there we were, with tears in my eyes as I ate my elote under a tree in Playa del Carmen. Maybe the tears were from exhaustion or the crooner. Or maybe, just maybe, it was the realization that Mexico had done it again. It had given us exactly what we needed at precisely the right moment.