Jeff Opdyke, the man behind IL's Field Notes and Global Intelligence Letter, spent this week on Mexico's Riviera Maya scouting the opportunity to be found there—just like Kirsten and Mark.
In fact, they even met up as you can see here.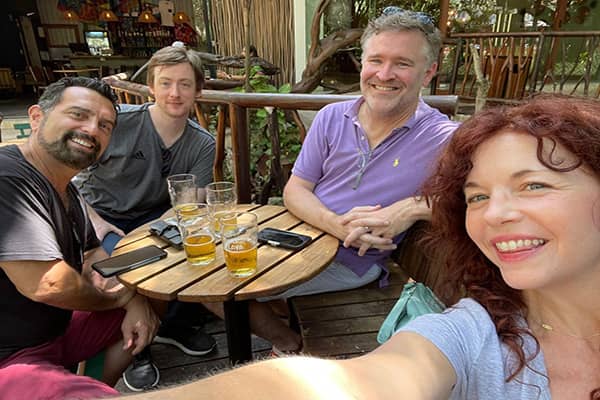 Jeff's a man who knows opportunity when he sees it, and knows how to grab it. After all, he's made a life out of being on the bleeding edge of financial tech like cryptocurrency and NFTs.
On the Riviera Maya, he found something that, in his words, could change his life.
A Life-Changing Week in Mexico's Riviera Maya
By Jeff D. Opdyke
"When can we go to the Riviera Maya?"
That was my wife's response at seeing the pictures on my phone after I returned from spending more than a week along Mexico's Caribbean coast.
Not hard to understand her response. Truth be told, I'm having the exact same thought.
I'd forgotten how much I missed tropical settings. The food. The beach. The weather. The mañana atmosphere that feels so relaxed.
But my time in Mexico wasn't simply enjoyable and re-energizing, it was eye-opening. In fact, it's likely changed the course of my life.
Let me explain…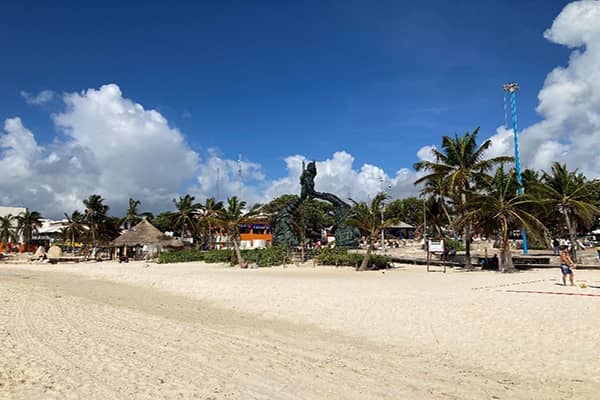 I was invited to visit the Riviera Maya by Ronan McMahon, the overseas property expert behind Real Estate Trend Alert.
It had been more than a decade since I was last in this region. So, Ronan was eager to bring me down to show me how it's changed, and so I could see for myself the property opportunities he regularly highlights to RETA members.
I was visiting two destinations. The first was Playa del Carmen—a beachfront city about 40 minutes south of Cancún.
I was astonished by what I found.
As I told the readers of my daily Field Notes columns, Playa is clearly a destination on an upswing. Its preeminent pedestrian thoroughfare, 5th Ave., is located just a few hundred meters from white-sand beaches and dotted with uber-modern malls and high-end restaurants, with quality and prices that would rival any city in the Americas.
Yet, Playa hasn't lost its edge.
Alongside the fancy boutiques, you'll still find taco joints and dive bars. It exudes a glorious Jimmy Buffet Margaritaville ambiance.
My first night there, my colleague, Ciaran, and I ate pulled pork sandwiches and drank frosty beers in the sultry night air, as a dreadlocked guitalele player serenaded us.
Several times in the days after, we visited a hole-in-the-wall pescaderia and cokteleria—a restaurant that serves fish and various seafood cocktails. Called El Pirata, or The Pirate, it's the kind of place where men of certain age meet to play backgammon on shaded, roadside tables, and the food is as fresh as its proximity to the sea indicates.
In other words, my kind of place.
But then Playa is my kind of city.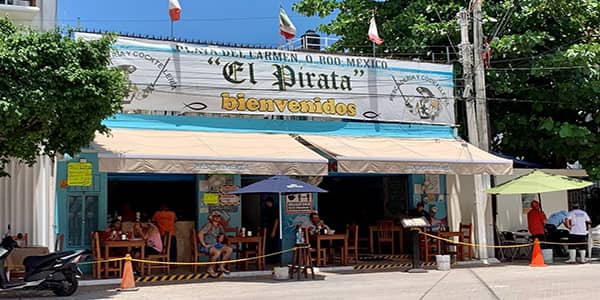 I've always been drawn to up-and-coming destinations. Places with real character.
They're more fun. More colorful. More dynamic. Places like this draw people to them…people who want to be part of something new and exciting—an intoxicating future.
That's what's happening in Playa. Zoom boomers, retirees, vacationers…they're all coming in droves.
This explains why Ronan is here as well.
Over my first several days in the Riviera Maya, Ronan organized personal tours of some of the real estate opportunities he's uncovered.
I was stunned…by both the value and the luxury.
I walked into one of the condos at a planned community in Playa called Corasol and was taken aback. Beautiful sandstone-esque walls and polished concrete floors. Bright, open, and airy rooms. Tall ceilings. A substantial deck overlooking a golf course and the jungle just beyond. Bedrooms and bathrooms that feel like they belong in a high-end resort. A kitchen where I'd love to cook.
Then I learned about the price…a fraction of what I'd pay in my adopted hometown of Prague for a property of that size and quality.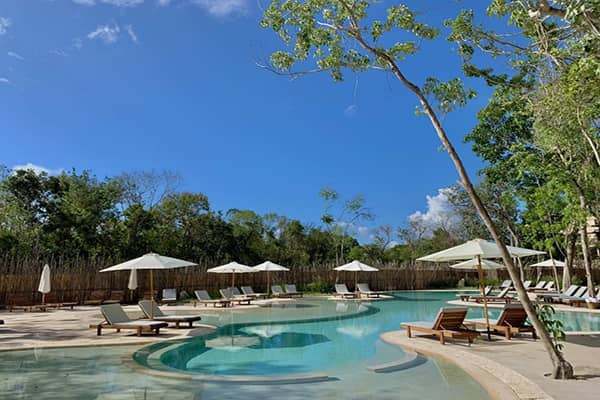 The story was similar—though the flavor quite different—45 minutes south in Tulum.
Tulum is emerging as the next destination for opportunity along the Riviera Maya. First it was Cancún…then Playa del Carmen a little farther south…and now a little farther south again in Tulum.
It's more rugged than Playa…a little more Bohemian. But this is luxury Bohemian.
Tulum Beach road, a pot-holed stretch of sand track sandwiched between the ocean and jungle, is cheek-by-jowl with hotels, boutiques, and restaurants.
This is the most upscale jungle road you'll ever come across. Steak tartare tacos for $28. Hotel rooms for $700 per night. Hublot and Dolce & Gabbana stores shoehorned in between vine-covered trees. All to appeal to the young, moneyed professionals who are flocking here.
I spoke to an interior designer from Barcelona, Spain working in the area, who told me that two years ago, this long stretch of beachfront road was nothing.
It's not hard to envision what it will become two years from now.
Already, roadcrews are upgrading major thoroughfares in Tulum city. Western chains are popping up (I saw Starbucks, Dominos and a Burger King, as well as a Carl's Jr. under construction). HSBC and Canada's giant Scotiabank are already here because they see the demand from Americans, Canadians, and Europeans. Gated-community resorts are taking over like jungle vines.
Yet, despite how clearly popular this place is, the prices are still quite appealing.
Ronan told me about condos available to his RETA members for less than $200,000. These are luxury offerings. Two bedrooms. Great views. They'd be great places to hide away from the world for a few weeks every year, and then for the remainder of the year rent out to travelers and digital nomads and Zoom Boomers who now flit about this area of Mexico. (You can join RETA to get in on deals like this yourself right here.)

At the conclusion of my tours of Playa del Carmen and Tulum, Ronan and I sat down to discuss what we'd seen and what these destinations will become. Click the image to view.
Seeing all of this reawakened something in me…a lesson I'd learned during my global travels that I'd almost forgotten and I think too many people don't realize: Luxury and value can, and do, coexist.
That's the true reason I want to revisit Playa and Tulum. And it's why my wife wants to visit, too.
When I was back in Prague, my wife asked me to hop online and find real estate in Playa del Carmen and Tulum so that she could see for herself what we could actually afford there. It was dream-shattering for her.
She'd been living these past couple of years with the idea that we'd buy an apartment in Prague. And then she saw the condos in Tulum…the designer kitchens, the expansive master baths with stone tubs, the patio decks with plunge pools right off the master bedroom.
"That is what I want," she said. "I can't believe that price. That would be a tiny place in Prague. That's really the price?"
Yes, I told her. That's really the price.
Like I said, life-changing.
Editor's Note: Like Jeff says, the opportunities that Ronan McMahon brings to members of his Real Estate Trend Alert group can be truly life-changing. Ronan does all the grunt work for members, from finding deals, vetting them, and even negotiating prices. You barely have to lift a finger… And he brings you off-market deals in the most desirable places on the planet.
Join Real Estate Trend Alert here today.
Jeff lives a truly international life from his home base in Prague. But you don't need to be a financial whizz like him to do the same. In fact, all you need to live a rich man's life of adventure is the right shortcuts. Shortcuts that we can show you right here.