Today we're back with IL readers Kirsten and Mark as they continue their scouting trip of Mexico's Riviera Maya
If you've been following your Daily Postcards you'll know that Kirsten and Mark started out as readers just like you. After attending an IL conference in Las Vegas in 2012, they moved to Penang, Malaysia.
Now they're in Mexico, hunting for the next place to call home—and we've arranged for you to "ride along" with them on their journey.
Their first port of call was Playa del Carmen, a fast-growing beach town about 42 miles south of the international airport in Cancun.
You got their on-the-ground reports as they happened here in your Postcards.
Over the weekend, they had time to stop and think a bit about their experience—the good and the bad of Playa del Carmen. They share their thoughts with you in the video below.


Click to Play. Kirsten and Mark take time to reflect on their stay in Playa del Carmen. They share their pros and cons of the city with you. If you want to get their full, in-depth report on the Riviera Maya when it drops, then you need to subscribe to IL magazine right here.
After Playa, the pair hit the road again, farther south to the little town of Akumal, which in Maya means "Place of the Turtle." A name that Kirsten and Mark found out is more than appropriate as they got to swim with sea turtles.
Read their thoughts on Akumal below.
Turtle Happy Hour in Akumal
By Kirsten Raccuia
Waking up in Akumal is like waking up on vacation.
The birds are singing, the squirrels are hopping, and the iguanas are sauntering from one pocket of the sun to the next.
It's only 30 minutes away from Playa del Carmen, but it couldn't be farther away in terms of atmosphere. Where Playa has a booming tourism scene, Akumal doesn't have anything booming at all. There is no scene. Nothing is booming.
It's two towns in one, Akumal Playa (beach) and Akumal Pueblo (town). But between both, there are still only a handful of streets.
And not much to do on any of them. It's the exact antithesis of Playa.
Which is exactly the reason you come here. To do almost nothing.
I say almost because one of the things you can do here might blow your mind.
Swimming with sea turtles right off the beach!
Yes, please!
We had to do it.
As we pulled onto the beach street, we saw a little palapa with a thatched roof and snorkeling sign. We read that the best time to see turtles was early morning or late afternoon. And our guide confirmed that both are good times, but most people go early in the morning, so he prefers the afternoon.
It was almost 4 o'clock, and only about a dozen people were in the water. The turtle tour buses from Cancun, Playa and Tulum were long gone.
We donned our snorkel gear and life jackets and headed to the beachfront, where we walked into the clear water.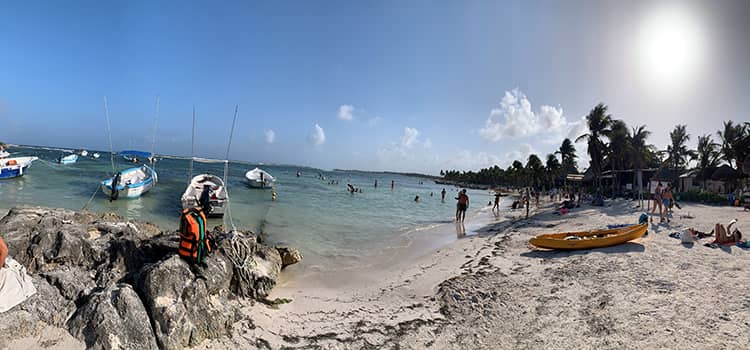 Within 30 seconds of bobbing around, Iben, our guide extraordinaire, waved us over to see a craggy-faced, giant turtle munching away on the swaying seagrass just a few feet below us. He was massive, the size of a small Volkswagen, but floated like a butterfly through the water. After a few minutes of chilling with Tito (yes, I named them), he surfaced for a breath of fresh air. The remoras on his back never losing pace. These lazy remoras use the turtles as a taxi to get around, though I can't imagine they get anywhere very fast.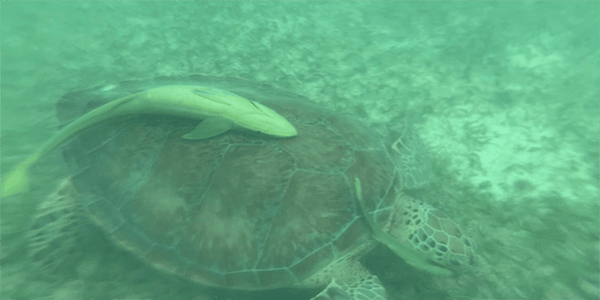 I'm not sure who was more excited, Iben or us.
I was happy we saw one guy, but Iben knew better. It was turtle happy hour, and we were going to see all of them.
So, on we went for another few seconds. This time saw a baby turtle, Tula. She was adorable, and because she couldn't stay underwater as long as Tito, she came up for three large gulps of air and swam right by us. Her little white and green face side-eyeing us as she paddled by.
And so, the hour went. Us stopping every few feet to see turtles, big and small. Our cheeks hurt from the sheer joy of seeing such incredible creatures in their natural habitat.
Akumal will always hold a special place in our hearts because of turtle happy hour. Could we live here? Probably not. It's too slow for us. But, would we go back for a vacation? Absolutely.
But if you're looking for a quieter place than Playa but still want to be able to reach the action when you want, Akumal could be the place for you. Plus, you get turtle happy hour whenever you want.
Our next stop is Tulum, just south of here. Tulum has a reputation as a haven for the hippy crowd, and we're looking forward to seeing what it has to offer. Stay tuned.
For now though, it's goodbye from Akumal, where there is more than one kind of happy hour.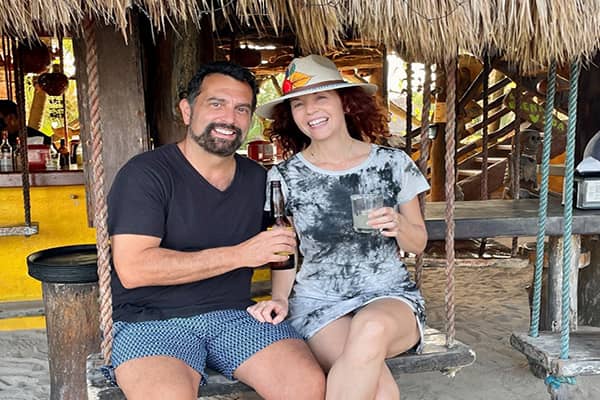 Editor's Note: The Riviera Maya offers a lot of choice for a stretch of coast only 80 miles long. As Kirsten and Mark found out, just a short drive south of bustling Playa is Akumal—a place perfect for getting away from the chaos of daily life back home and recharging with sea swims and the peace of nature.
Ideal for somebody looking for a peaceful full- or part-time home on the Riviera Maya.
Akumal is in the heart of the Riviera Maya, about half way between eco-chic Tulum and vibrant Playa del Carmen. You'll find some superb cafés, restaurants, a grocery store, ATMs, and a dive shop all right by the beach here.
The story of how the Akumal coast developed into a beachfront enclave involves a few characters.
One of the most well-known is Pablo Bush Romero, a writer, adventurer, businessman, and big game hunter. Until the mid-1960s, Akumal was only accessible by boat. However, in 1959 Bush Romero came to Akumal to search for a sunken Spanish wreck (the Matanceros) that ran aground on an offshore coral reef in 1741. The sea around Akumal was rich with wildlife and wrecks, an amazing snorkel and dive location. But there were no hotels. Bush Romero set up a dive club, bought land in Akumal and set about building a resort where visiting divers could stay. That was the start of Akumal's transformation.
As the Riviera Maya developed, the land around Akumal was locked down by big luxury resorts, wealthy folks from Mexico City, and in-the-know North American expats with money and a sense of adventure.
International real estate expert Ronan McMahon brought members of his Real Estate Trend Alert group the opportunity in October 2019 to buy in the high end beachside community of Santamar, Akumal from a crazy low $174,800 for a 2-bed condo.
Ronan was on the Riviera Maya in January, and he stopped by Santamar to check in on the progress of this community. You can see his video report below.


Click to Play. Join international real estate expert Ronan McMahon for a walkthrough of Santamar in Akumal on Mexico's Riviera Maya to check out construction progress on this community, with delivery slated for Summer 2022.
The curve of beach just steps from Santamar is protected by a reef. That makes for perfect snorkelling conditions year round—something that visitors to Akumal like Kirsten and Mark love to do.
That's a good plus for owners here marketing their condos as rentals. An income of $22,500 gross a year is Ronan's conservative estimate on the condos RETA members locked down for $174,800.