After over a decade of travel and 130 countries, my husband Tim and I have learned that it's best not to build up too many preconceptions before we visit a new country. But that proved difficult as our plans for an adventure in the mysterious Sultanate of Oman came together. Exotic markets filled with golden treasures, spices, frankincense, and myrrh crowded my dreams. Palm-fringed oases featured, too, along with olive-skinned sheikhs in flowing white robes leading camel trains across an endless sea of sand.
Strategically positioned in the Persian Gulf, Oman has managed to avoid the troubles, notoriety, and negative reporting so prevalent in the region. It has land borders with Saudi Arabia, Yemen, and the United Arab Emirates, and sea borders with Iran and Pakistan. Many of our friends had not even heard of it, let alone put it on their list of vacation spots. Yet those who had, raved about its charms.
A quick look at the State Department Travel Advisory told us that, apart from the southwest border with Yemen, the country is no more dangerous to visit than New Zealand, Canada, Fiji, or Finland, and that we'd only need to "exercise normal safety precautions." The country's economic policy now focuses on developing industries other than oil production, such as tourism and agriculture. And the strategy is working. Visitor numbers are on the rise, as word gets out about how much this country has to offer.
The upshot is that Oman retains its romantic appeal, with resplendent historical architecture, majestic landscapes, and centuries-old cultural traditions. However, significant investment in infrastructure now makes these highlights so much easier to discover.
The brand-new airport in Muscat had been open only one day when we arrived. We'd had a long journey from the Maldives, via Sri Lanka and Dubai, and the last thing we needed was a complicated or confusing entry process. We needn't have worried. Traditionally dressed staff at every station in the airport practically burst with pride as they welcomed us with warm greetings and wide, beaming smiles. We couldn't help but smile back at their infectious enthusiasm.
Getting our visas on arrival was a simple procedure. It's now even more straightforward, with an online application available, and visa fees of less than $20 for stays of 10 days or less.
Oman is quite a large country, with significant distances between major sites and limited public transport. Thankfully, gasoline is cheap, around $2 a gallon, roughly 60% of the U.S. price. Alluring desert sunsets, lush oases, deep canyons, ancient forts, and crumbling ghost towns can be explored at leisure just by filling out the paperwork at the rental desk and getting to your car. We rarely take organized tours, so hiring a car seemed the logical option. We drove away in a Toyota Fortuner 4×4. To allow us even more freedom, we stopped off at a large department store and bought a mattress, pillows, and a comforter, so we could stay in the wilderness, where accommodation is unavailable.
We've visited Cairo, Damascus, Tehran, and Amman over the years, so we thought the Omani capital would present the same Middle Eastern urban chaos we've found in the region before. But on the contrary brand-new highways cut a swath through the clean, bright, modern city, punctuated by the tall minarets of large mosques and modern, Western-style shopping malls. The traffic, mostly new SUVs, moved quickly along the wide, uncrowded boulevards, with their manicured median strips and roundabouts. Considering that Oman only had six miles of paved road before 1970, the development is impressive.
Signage in English, combined with Google maps, meant we arrived at our hotel without incident. In fact, it wasn't just road signs that were in English. A large number of businesses throughout the country have a detailed explanation of what they do or sell printed in big letters outside. There's no mistaking what establishments boasting "Retail of Refreshments and Soft Drinks" or "Sale and Repair of Computer Equipment" specialize in. In practice, the vast majority of people we met spoke excellent English, even in remote areas.
Most people we met spoke excellent English.
We planned a route to visit most of the natural and cultural highlights within a 160-mile radius of Muscat, topping and tailing the journey with the sites in the capital itself.
Losing ourselves in ancient towns and markets is one of our favorite activities, so Muttrah, one of the oldest parts of the city, was at the top of our list. A walk along the waterfront corniche revealed yet more examples of the melding of traditional and modern Oman. Manicured gardens border a new road, overlooked by the ramparts of a crumbling hill-top fort. Traditional wooden boats are anchored right next to luxurious cruise ships, and traffic lights halt a stream of luxury cars, so you can cross safely into one of the oldest market-places in the Arab world.
Al Dhalam Souq is a labyrinth of independent vendors selling everything from elaborate gifts and souvenirs to the basic necessities of life. Locals seeking everything from household goods to brightly colored and intricately embroidered traditional costumes jostle with open-mouthed tourists agog at the Aladdin's cave of spices, perfumes, Omani handicrafts, textiles, art, and jewelry.
Moving on, and out of the capital, 100 miles southeast of Muscat is the rugged Wadi Shab, a long, narrow canyon with a flowing stream that is one of only two in the country that never dries up. An underground aquifer feeds the stream. And despite the outside heat, the water is always clear and refreshing for swimming. The journey to explore it is all part of the adventure. The trek begins with a boat ride to the other side of the stream, where you pick up a trail alongside it. Steep canyon walls rise impressively on both sides. About two miles down the path, you must scramble over some giant boulders before you can continue another mile or so…to a point where you have no choice but to swim. A series of deep pools entice you over slippery rocks deeper into the canyon, leading you to what looks like a dead end.
Not until you press all the way to the end do you see a narrow slot in the striated limestone wall. Peering into the gap reveals a 30-foot-long passage between huge boulders, which has just enough room to keep your head above the water. Not everyone has the curiosity or courage to explore much farther, and claustrophobics should give it a miss. But if you do venture forth, a reward awaits you, as the rocks open into a small grotto with a waterfall. Gaps in the ceiling admit narrow rays of light to illuminate the translucent, turquoise water. It's a heavenly sight, well worth the extra effort. Intrepid souls can climb the waterfall, scramble over rocks, and launch themselves off the side into the seemingly bottomless pool. The rest of us can relax and float about, watching their antics.
Wadi Bani Khalid, the second of the permanent oases in Oman, is much easier to access and far more developed. But it's no less spectacular in its own way. A small, shaded restaurant serves up cold drinks and an extensive buffet, so you can enjoy the natural beauty of the palm-fringed pools and their crystal waters in relative comfort.
Enjoy the natural beauty of palm-fringed pools.
Just to the south, Wahiba (Sharqiya) Sands—4,800 square miles of desert and dunes—conjures up images of Bedouins and camel trains forging their way across ancient trade routes. Sunset viewed from the top of a dune is almost hallucinatory, a distillation of the region's intense beauty. As we woke from our slumber the next morning, a group of camels wandered through our camp, heading to who knows where. We never did meet their owners, but I'm sure they were close by.
The immaculately restored Nizwa fort provides an insight into the history of the Sultanate in the 17th century. Sitting at the crossroads of several important trade routes, the fort was a formidable barrier to invaders seeking to plunder Nizwa's abundant natural wealth. Visitors can climb the ramparts to enjoy the well-presented exhibits and mesmerizing views of the Al Hajar mountains, along with an impressive range of souvenirs and artisan products within the castle's outer walls.
Al Hamra provides a gateway to the spectacular Al Hajar mountains, and it's a must-see for anyone who enjoys dramatic scenery and natural wonders. A short uphill drive from Al Hamra is the mountain village of Misfat Al Abriyyin, which clings precariously to the side of an almost vertical canyon wall. Several hiking trails provide an insight into the local culture, as well as views of the hamlet from the other side of the canyon. However, as I found out, it's easy to get hopelessly lost. Thankfully, the locals are happy to point you in the right direction.
Jebel Shams (Mountain of the Sun) is the highest and best known of Oman's rugged peaks. It towers over the spectacular Wadi Ghul (which is known by locals as the Grand Canyon of Arabia). The aptly named Balcony Trail provides spectacular views over the canyon, with its 3,500-foot vertical cliffs. It's not for the faint-hearted or those who suffer vertigo. Neither is the drive from Al Hamra, down a precipitous dirt track, to the picturesque desert village of Balad Sayt. At times the road is so steep you can't see over the hood of the car to where it leads. With no guard rails, it's a vertical drop to a certain death should you misjudge anything. But the views are outstanding if you're game enough to look out and down. And it rewards those who successfully complete it with an overwhelming sense of survivor's elation.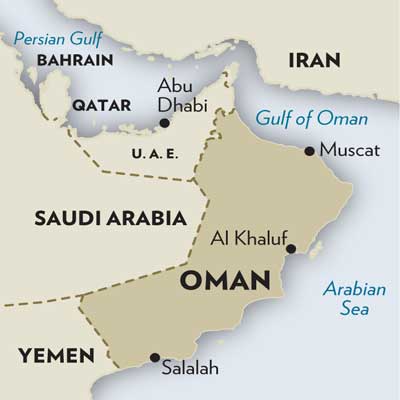 We finished our journey with a visit to the stunning Sultan Qaboos Grand Mosque, in the center of Muscat. The structure is relatively new, but what it lacks in age, it makes up in magnificence. Islamic architecture has always appealed to us from a design perspective, and this one didn't let us down. From golden domes, high tiled arches, shady porticoes, and gigantic chandeliers, the building radiates its importance as an icon of Oman and its people.
The only regret we have from our trip is that we didn't have more time. There are a lot more activities and places to see than we could manage in 10 days. Marine sanctuaries, pristine beaches, and ancient cities, like Salalah to the south and Solah to the north. Not to mention the great diving, beautiful hiking routes, and dozens of museums we missed. Oman now holds a special place in our hearts, and it sits firmly on our list of places to return to.
Previous
 Next