---
"If you like beer, you will like the city of Qingdao in northeastern China," writes IL Correspondent, Steve LePoidevin. "At one point in history, Tsingtao beer accounted for over 90% of China's exports to the rest of the world, and there's a logical reason why this Chinese city of 7 million is the country's brewing capital.
"Qingdao was seized by Germany in 1897. Soon the Ger-mans had transformed what was then an old fishing village into a town with wide streets and good housing areas, along with electric-ity and a good sewage system throughout. But its claim to fame was the Germania Brewery, es-tablished in 1903, that has grown into the world-famous Tsingtao brewery.
"The Tsingtao firm has retained the original brewery as the Tsingtao Brewery Museum that you can walk through at your own pace with a self-guided map.
The last part of the tour walks you through the modern plant, where you can view the brewing and bottling process in action.
"I recommend you head over to Qingdao Beer Street, located near the brewery, where you can drink to your heart's content in one of dozens of bars and restau-rants. Inexpensive beer is served in everything from small glasses to steins to large plastic bags." Yes, you read that correctly! Street-side keg vendors fill plastic bags with beer, tie them off and then punch a straw through the bag for you to enjoy.
A "Free" Car in Panama
"Many prospective expats interested in Panama come to explore the country, its sights and backroads, and want to do it on their own pace," writes IL Chiriquí Correspondent, Nanette Witmer. "And more and more of them are figuring out a way to travel around almost free, except for the price of gas.
"No matter what rental agency you find in Panama, long-term rental of a vehicle can be upwards of $1,000 a month including insurance. So, the choice becomes rent a car or use the public transportation system.
"So, what to do? Buy a vehicle and use it for the period you are here and sell it when you leave. The process only takes about an hour and is painless. A couple recently planning on being here only eight months bought a car for $5,000. It was a 2012 make and stick shift. Insurance was easy to get and reasonable at less than $400, and it was actually transferred by the previous owner. They drove the car everywhere and sold it when they left for $5,500. So basically, they had a free car for the time they were here, avoiding the $1,000 a month fee for a rental!"
Asia's New Super Casino
In the heart of the Cambodian capital, Phnom Penh, Asia's newest "Super Casino," Naga 2 consists of two towers covered in reflective gold tinted glass. Built at a cost of US$369 million, with 903 hotel rooms, a luxury spa with 65 sauna and steam rooms, a theater with 2,200 seat capacity, 300 slot machines, and 35 gaming tables, it is already drawing in foreign gamblers.
Why Naga 2? The original Nagaworld Hotel & Casino located across the street is Naga 1. With 90% room occupancy and a decades-long monopoly to run the only casinos in the city, opening a second one made sense.
Backers even invested $90 million so superstitious gamblers can switch casinos to improve their luck, by building an underground tunnel and luxury shopping mall linking the two buildings.
Already one of Asia's most profitable casinos, it also offers a fleet of airplanes to shuttle tour groups and high rollers back and forth across the region. So if you do blow through your rainy day fund, don't be afraid to ask for a free flight home!
Mud Baths in Ecuador
It is estimated that the southern coast of Ecuador has been home to humans for at least 10,000 years. Today, there are still places where you can go to get a glimpse of what life was once like, where the Pacific Ocean and rainforests meet," writes IL Correspondent, Jim Santos.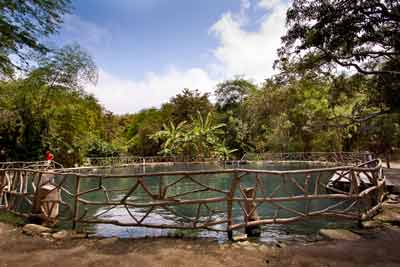 "One of those places is Agua Blanca, which is a small village in the heart of over 100,000 acres set aside as the Machialia National Park. The village is a small community of about 300 people, some believed to be direct descendants of the Monteño who used to dominate this land. The entrance to the park is just a few miles north of the growing city of Puerto Lopez. A $5 entry fee per car gives you access to the village, museum, and the hot baths from which the village gets its name.
At the site's museum, a Spanish-speaking guide proudly walks you through the display of pre-Columbian artifacts. Prominently displayed are burial urns and primitive art.
"After the museum, you can take one of the paths that lead down past some dig sites and along a riverbank. Don't be startled if you find you are sharing the path with pigs or goats—life goes on in the village, after all. At the end of the trail, you can enjoy a bath in the warm sulphur-water lagoon. Locals dredge up the light-coloured mud from the bottom daily, so you can apply your own mudpacks while you relax. You walk out on a wooden platform and just jump or lower yourself into the water and mud, while parrots and curious monkeys watch."
Fried Grasshoppers
"Every Sunday the main highway in the Mexican village of Tlacolula is closed, as one of the largest open market places in the Central Valley region takes place," writes IL Correspondent, Don Murray. "Eight blocks of vendors sell regional food specialties, fruits, vegetables, traditional clothing, and other necessaries.
"Hot chocolate vendors are everywhere. It's a regional favorite, made from locally grown and ground cocoa beans and various spices. The favored alcoholic beverage of the region is mezcal and is on sale alongside chapulines (fried grasshoppers), barbecue goat, and various special molé sauces. The hot chocolate is irresistible and I never leave without a bottle of mezcal to take back to the house.
"Market day is a big event, when local women often come out in traditional dresses."
The Best Chocolate in the World
"It might come as a surprise, but some of the best chocolate being produced anywhere in the world right now comes from Japan. IL's Vietnam Correspondent, Wendy Justice, says, "As a chocolate connoisseur, I'd say that it's better than the finest European chocolates.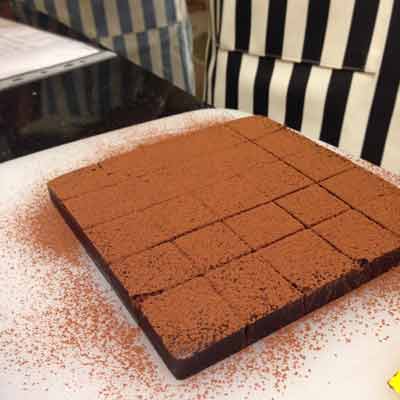 "When I feel like having an indulgent treat, I look for Royce chocolate. It's made near the city of Sapporo on the island of Hokkaido, sold in finer stores throughout Southeast Asia, and is pure melt-in-your-mouth luxury." Stores pack it in dry ice so that it doesn't melt on the way home and it has to be kept in the refrigerator; their website shows it is eaten not with the fingers but with a fork.
"Royce comes in several varieties including green tea, white, and Pierre Mignon champagne-infused chocolate.
Other creamy, delicious Japanese brands I recommend are Meiji, Tirol—I absolutely love their milk chocolate squares—and Goncharoff."
Brazil's New E-Visa Program
Whether you're drawn to the big city buzz of Rio or to the languid colonial charm of Bahia, visitors to Brazil can now enjoy the benefits of a streamlined e-Visa program.
US and Canadian travelers can now request and obtain an e-Visa online at Vfsglobal.com/brazil-evisa.
The document, completed online, can be shown to airline authorities on the way to Brazil.
Present it again to the Federal Police on arrival, and you're good to go!
They'll accept printed or electron-ic versions of the document too, making the process even more convenient.
The e-Visa, valid for two years, will cost $40. It takes around 72 hours to process, meaning that although it's not quite instant, it certainly beats waiting in line at an Embassy or Consulate in freezing February conditions.
Save your energy for carnival instead. You'll need it.