Beautiful surroundings. Warm evenings and long strolls. An intimate atmosphere. It's hard to say exactly what makes a romantic destination…romantic. The formula is different for everybody, but it's unlikely to be found in a dull, generic suburb.
One thing that's clear is that there are certain locations around the world that have the elusive combination of ingredients. Places that hit the spot with couples looking for special, memorable moments to kindle, or rekindle, relationships. Some of them have established reputations as romantic getaways (Paris in spring, anyone?) others slip under the radar, but deliver the goods.
From white-sand beaches, to cherry blossom boulevards, to world-class cities; this month's locations are diverse in look and feel. What they have in common, is that they're each a perfect setting for love.
San Miguel de Allende, Mexico
Three-bedroom home for $225,000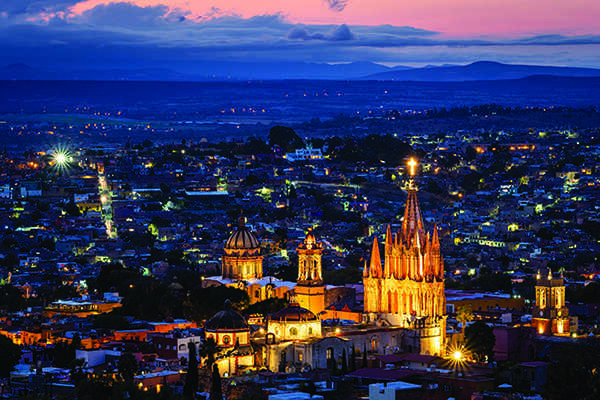 Visit El Jardin, the main plaza of the Mexican colonial city of San Miguel de Allende, on a Friday or Saturday night, and you're likely to see something that can't help but make you feel the romance in the air.
A circle of elaborately dressed mariachis surround a gentleman on one knee proposing to his lady. Suddenly, the mariachis break into fanfare as she exclaims in delight. She says yes, and the watching crowd claps and cheers.
This historic city is not just a place of proposals, but is also a popular choice for destination weddings.
Frequently, wedding parties parade through the streets, ambling from the ceremony at one of the historic centro's churches all the way to the reception.
But even if you're just looking for a romantic place to spend time with your special someone, San Miguel is a solid choice. The historic center's narrow cobblestone streets are lined with preserved Baroque Spanish colonial architecture. It's perfect for long late afternoon strolls. There are pleasant parks and plazas where you can sit in the shade and chat. Street vendors sell a dozen roses for $2. And when you're ready for a quiet drink or intimate meal, there's no shortage of cozy cafés, chic low-key bars, and courtyard restaurants in those historic buildings.
A three-bedroom home in the popular San Antonio neighborhood is on sale right now. You can walk everywhere. The rooftop terrace offers panoramic views over the city.
Paris, France
One-bedroom apartment for $292,242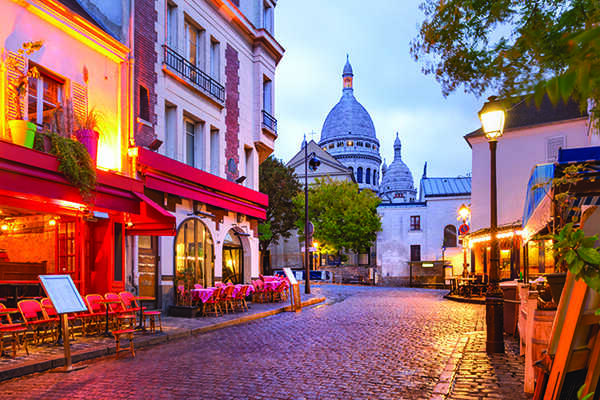 Paris is the go-to setting for scores of romantic movies for good reason. It's a place of honeymoons, and of vacation getaways for couples seeking to inject a little romance into their relationship. No wonder one of its nicknames is the City of Love.
Looking for a special moment? Head to the top of Eiffel Tower after dark to take in the expanse of twinkling city lights surrounding you. Take a picnic of wine, cheese, and a baguette to the banks of the Seine. Linger over coffee and pastries at a little café in one of the narrow backstreets of the Latin Quarter or Montmartre. There's no shortage of places to get lost in romance in Paris.
One thing to delete from your list: leaving a "love lock" with you and your partner's initials on the Pont des Arts. City officials removed thousands of padlocks because they were weighing the bridge down dangerously (before you roll your eyes and think "killjoys," when the Paris authorities removed the accumulated locks, they amounted to some 45 tons of metal).
Love locks or no, what could be more romantic than having a pied-a-terre in the heart of Paris? A one-bedroom apartment in a historic building close to parks, shops, and public transport is available for less than $300,000. A small price to pay for true love.
Eagle Beach, Aruba
Walk-to-the-beach condo for $299,000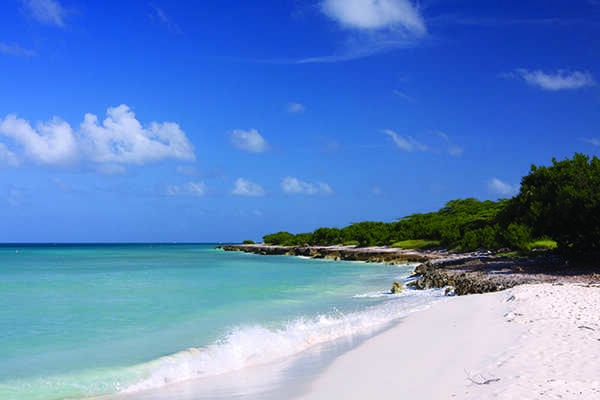 For a more tropical take on romance, how about a Caribbean getaway? With miles of beautiful white- and golden-sand beaches and clear waters fringed with coral reefs, and with more sunny days than any other Caribbean island, Aruba should be on your list. And it's a small, cozy island at that, just 20 miles by six miles at its widest.
Laze away the day by the water on a lounger in the shade, swim in the warm Caribbean, take a sunset cruise, or linger over a long dinner at a table right on the sand. Shoes are optional, of course. For a glimpse into what Amsterdam might have looked like if it were situated on a tropical island, the charming historic capital, Oranjestad, is worth a visit too.
A condo with two bedrooms, each with en-suite bathroom, is listed now in a small community with a pool. You can walk to white-sand Eagle Beach, considered one of the most beautiful on Aruba, as well as any number of restaurants, spas (couples massage, perhaps?), and other fun attractions. There are plenty of bars and clubs as well, meaning you can have a big night out on the town, if you'd like. Or just stay put. Eagle Beach faces west, and the setting sun is arguably the best show on the island.
Note: Unless I say otherwise, I haven't seen the properties mentioned above in person nor have I conducted any due diligence. As always, it's critical you do your own due diligence on any real estate.
Your Real Estate Questions Answered
Lillian asks: Hi Ronan, do you have any plans to scout France or Spain? My husband and I love Europe and we're hoping to retire next year and spend some time there. We'd love somewhere easy to get to and less than an hour from the ocean.
Ronan says: Good news! My team are on the move. Both Spain and France are slated for major scouting trips this year.
Last year I sent two scouts to Italy. They split up to cover well over 1,500 miles in their search for bargains and opportunity. They rented cars, hopped trains, trams, and pounded mile-upon-mile of pavements. One of them even complained of wearing out his shoes! And, you might recall, I sent their reports direct to International Living readers in my daily Dream Home Letter.
We're taking the same approach with France and Spain. As I write, plans are still in the works, but broad strokes:
In France, the southern coast region of the Languedoc, known as the "poor man's Provence" is high on the list. The Languedoc's Mediterranean coast is part of France's sunbelt and its long sandy beaches are still fairly uncrowded.
For many buyers, the Languedoc is a value play. In some cases, you will pay one third to one quarter of what you could expect to pay in glamorous Provence next door.
Another team member plans to go down the Atlantic coast of France taking in Nantes, Bordeaux, and the Côte d'Argent—the longest, straightest, sandiest stretch of coast in Europe.
Over in Spain, my scout Eoin Bassett has spent a lot of time in the north, around Cantabria and the Basque Country. I know he wrote about it for IL and it should be in your archives.
He'll be back in Spain, and the guys are hitting the south as well. Spain's Costa del Sol is one of my favorite places for profitable real estate in Europe. It offers a wonderful stretch of coast with all the ingredients of a successful internationalized destination.
The weather is amazing (the sun shines here 320 days a year), the beaches are stunning, and it has appeal for a towns and cities, incredible locally produced food, world-class golf courses and marinas, shopping, and entertainment).
And members of my Real Estate Trend Alert group have a long history in this region. For instance, a RETA member bought a two-bed condo on the Costa del Sol in mid-2014 for €99,000. In July 2019, a similar unit was listed at €229,000. And I suspect it's shot up more since then.
The big opportunity I see now in both France and Spain is to profit from what I'm calling the "Brexit effect."
For years, British expats have been by far the largest group of second-home owners in both countries. But now, Brexit—Britain's decision to leave the European Union—is beginning to change things. Fewer Brits are buying, and more are selling up.
Thousands of expats who lived in France for years failed to apply for residency before the deadline. As a consequence, they are now limited to spending only 90 out of every 180-day period in France (or anywhere else in the EU).
That means right now is the best possible time to find some motivated sellers.
You'll get all my scouts' discoveries from the road, raw and unfiltered in your Dream Home Letter (including a lot of short videos of properties.) And, as with our Mission Italy, the full report will be delivered to IL readers when the guys get back and compile all their findings.
So, my best advice is to stay tuned to your IL e-letters as well as your magazine.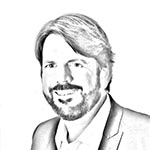 Editor's Note: You can email Ronan with your questions and comments at [email protected]. Please note that we may publish your question along with Ronan's reply, in his Dream Home Letter or right here in IL magazine. If we do so, we will not use your full name or your email address. If you wish us to use a pseudonym, please state this clearly in your feedback email. All manner of feedback is welcome. Ronan will respond to as many of your emails as possible. (Ronan McMahon is the editor of Real Estate Trend Alert and a contributing editor to IL.)
Previous
Next