What is it about the word "island" that makes a mind race instantly to "escape?" I suppose it's that watery obstacle that separates any dollop of sand from its mainland neighbor. You must cross over…and so with your back turned to the old, you train your eyes toward that new shore.
Around the office, we've been calling this month's issue our "Grownup's Guide to Running Away," which begins with our report on the best tropical islands for retirees on a budget. From the Caribbean to the South China Sea, you've got excellent, sandy, palm-rimmed options. And none will break the bank. Yes, island living typically costs more—after all, everything must be imported. But we bring you five sun-splashed escapes where you can live simply, but comfortably starting from less than $2,000 a month.
And it's not just islands you could run away to…you'll meet an expat couple who've been traveling full-time since 2010. From Europe to Antarctica to the Americas, they've wandered the world—creating an income along the way—and they show you just how they do it here.
You could escape to Europe today, where a strong dollar has put everything on sale. Steenie Harvey sings the praises of Italy's "unspoiled, laidback, and endearingly eccentric" heel. With its sandy beaches, vineyards, and silvery olive groves, the values are strong and there's plenty on the market for under $113,000.
Or you could slip away with real panache in South America. At the heart of Colombia's coffee triangle you'll find one of Latin America's most stylish cities. Running away has never looked more attractive.
Download Your March 2015 Issue Here
Read more about these destinations in the articles below.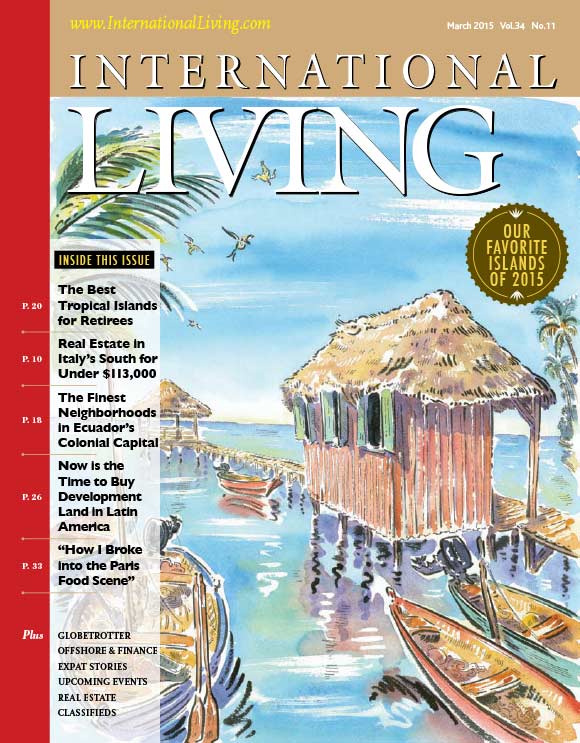 Did you know you can download and read your entire March issue as a PDF?