---
You could spend weeks or months exploring historic Hanoi. I spent five years living at the heart of Vietnam's capital, and discoveries large and small were a daily affair. Day trips offer you even more excitement and adventure.
Ha Long Bay is the most visited place in all of Vietnam. You can go there in the morning, take a cruise among its sheer limestone islands and be back home before bedtime… along with everyone else. Hordes of tourists visit the bay. Yet I know so many secret getaways and lesser known sites near the city. Here are five of my favorites.
An Ancient Village and a French Hill Station
The ancient village of Duong Lam, birthplace of two of Vietnam's great historic kings, is less than two hours' drive west of Hanoi. But it's a world away from the bustling city. Step back in time as you wander along the narrow streets and lanes of this peaceful, countryside town.
Though the village is about 1,200 years old, the oldest houses still in use date only to 1649. More than 950 ancient houses and 21 relic sites are in and around the town. Most of these are made from bricks of burnt-ochre clay taken from local ponds. Ornate wooden doors are also common.
Several communal houses, including the 17th-century Mong Phu house, are used as meeting places for the villagers, as well as venues for cultural activities. There's also an imposing Gothic-style Catholic church here that was built by the French during their colonial rule of Vietnam.
Phung Hung Temple, Ngo Quyen Temple, and the multi-tiered Mia Pagoda are just five minutes from the village center. These are active places of worship; you'll smell the incense and see devotees making offerings and praying at the altars.
Ba Vi Mountain is just eight miles from the village. A steep and winding road makes its way toward the mountain's 4,252-foot-high summit. The tropical vegetation gradually gives way to pine forests and noticeably cooler temperatures. Along the way, at the site of a former French hill station, is a small restaurant nestled in the pines that offers jaw-dropping views of the Red River Valley far below.
The road continues its ascent to a parking area, where two trails lead to the top of the mountain. The steep trail on the left leads to a temple honoring modern Vietnam's founding father, Ho Chi Minh. The shorter trail on the right ascends to a second summit with an 11th-century shrine dedicated to the mountain god. On a clear day, the view is superb; on a cloudy day, it's eerie.
Trang An—Take a Rowboat Through the Caves
One of my favorite getaways is going to Trang An, less than a two-hour drive from Hanoi, to float down its scenic river on a rowboat. Trang An is a recognized UNESCO World Heritage Site but receives surprisingly few tourists.
Local women ferry visitors along the clear, calm river, past dramatic limestone cliffs, solitary Buddhist temples and pagodas, lush jungle foliage, isolated fields, and deep valleys. They often use their feet, rather than their arms, to row the boat. The surrounding terrain is extraordinary, but it's just a preview of what's to come.
Depending on the season, the river flows through up to nine caves. These aren't caves that you explore on your own; you'll be relaxing in the rowboat the entire time. Some of the caves are quite long, and it takes several minutes to reach the other side.
An Exotic Private Museum and a Giant Bronze Horse
The Thanh Chuong Viet Palace is near the town of Soc Son, less than an hour from Hanoi, but few visitors know about it. The extensive collection of art here represents the life's work of the celebrated painter Thanh Chuong, but the best parts of the palace are the grounds.
When you wander the paths, you'll pass small lotus-filled ponds stocked with lazy, red koi fish. There are towering pagodas, Buddhist temples guarded by horses rather than the traditional dragons, bonsai trees, and hundreds of stone, wood, bronze, and ceramic statues. A tree may have a little red Buddha nestled among its branches; stone horses, water buffalos, elephants, dragons, and whimsical statues of soldiers, workers, and farmers rest under the shade of the leafy tropical foliage. Around the ponds and elsewhere on the grounds, you'll find intricately carved Buddha statues standing guard over pots filled with burning incense. Traditional wooden Vietnamese houses offer quiet areas to sit and relax or have a cup of tea.
The surrounding area is green and mountainous, full of bamboo, lush tropical plants, and trees. When you come, it's likely that you'll have the place practically to yourself.
While you're in the area, visit the 85-ton bronze horse that overlooks the hills and valleys far below Thanh Giong temple. The temple was built in 980 A.D. to honor the mythical Saint Giong, who grew from a child to a man in just a few days, then defeated the Chinese invaders with his bamboo sword and returned to heaven on his horse. The back of the temple opens into a cave that you can explore; locals believe that when you look to the statue of Saint Giong from inside the cave, the "holy air" you breathe will give you strength and a longer life.
Pagodas, Jungle Walks, and Cool Weather in Tam Dao
The former French hill station of Tam Dao, just 50 miles northwest of the city, sits at a lofty 3,051 feet and is noticeably cooler than Hanoi. On a clear day, you can see across the Red River delta—an impressive sight. When the fog rolls in each evening, the clouds seem to chase each other around the mountainside as if they were alive, often reversing direction—north to south, east to west—and the effect is magical.
Tam Dao National Park is just a 10-minute drive from the town center. You can walk through the forest in solitude; it's not a busy park and, most likely, you won't run into another soul.
A steep paved trail from the Mela Hotel leads down to a pretty waterfall. Vendors selling beverages and light snacks are set up alongside the trail. There's also an interesting Buddhist temple just five minutes or so from town.
Be sure to try the su su—a delicious, leafy green vegetable that is found only in Tam Dao. This is also the place to taste venison, squirrel, porcupine, or boar, though more standard fare is also available.
Tam Dao is an excellent day trip from Hanoi, but if you want to have some dinner and watch the fog, there are plenty of hotels where you can spend the night.
Get in Touch With Your Spiritual Side—in a Cave
The Perfume Pagoda (Chùa Huong) is a temple complex just a couple of hours from Hanoi. No roads lead to the complex; instead, rowboats take visitors and devotees past several busy Buddhist temples to the base of the main complex. Hundreds of steps lead up to the Perfume Pagoda—it's an arduous climb. Fortunately, a gondola is available to ferry passengers to the top and back.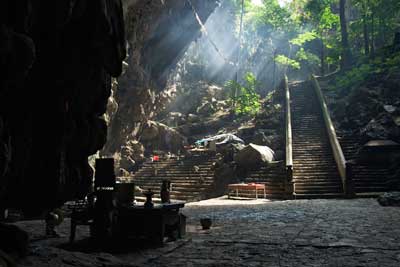 The cave that houses the main temple is massive, with high ceilings and huge formations. It's a popular pilgrimage site for pregnant Vietnamese mothers, who come here to pray for a healthy baby. Many people in the north try to visit it at least once a year—usually in early spring, during the Huong Pagoda Festival—to' 'pray for health and good fortune. The cave is impressive, and the temples at the base are worth exploring, too. There's an area near the base where monks will prepare "temple food" for you—delicious vegetarian cuisine at a reasonable price.