On the Yucatán Ceviche Trail
With its roots in Peru, ceviche is also a culinary mainstay along Mexico's Caribbean shore. The dish is traditionally made with fresh raw seafood cured in lime or lemon juice. Popular as an appetizer or main dish, chefs up and down the Yucatán prepare it in a variety of ways.
La Buena Vida restaurant sits directly on the coral strewn beach of Akumal. The house ceviche features bright purple pulpo, better known as octopus up north. It's tart, spicy, and you should probably go easy on the hot sauce.
A bit farther north on the coastal road, La Lunita offers several alternatives of the dish. Sitting at outdoor tables, diners dig their toes in the sand and choose from varieties including Mediterranean, Peruvian, and Asian styles. The classic Yucatán version mixes shrimp and fish, tossed with black beans, yam, jicama, and cucumber. As they say here: "Delicioso!"
Tucked into the jungle near Tulum, Oscar & Lalo is cozy, quiet, and one of the oldest eateries in the area. Adventurous ceviche fans find many options here, including a sampler offering three varieties: with mango, serrano pepper, or minced green apple. They're very tasty thanks to complementary contrasts in flavors.
Just a short drive from Cancún, Puerto Morelos has a landmark leaning lighthouse and several dining destinations. Pelicanos open air bar and restaurant overlooks a relaxed but active marina. One unique, house-made ceviche called "A Little of Everything" is perfectly named. The grande serving costs about 15 bucks and is more than enough for two.—Chip Hunter.
NOTES FROM IL CORRESPONDENTS
Nanette Witmer
Just before sunrise, the skies are full of green parrots flying in pairs from where I live in David up toward the mountains. Their calls fill the air with a sound that quite literally wakes you up. Rain or shine, my day starts with the sounds of nature, at the perfect time to grab a cup of Panama coffee and watch the sunrise.
Suzan Haskins
What should I take with me when I move overseas? High-thread-count sheets? Chef's knives? XXL clothes? The short answer is, "Take what you want." The long answer, with some qualifications, is "You'll likely find what you need when you get there." But do take your sense of humor and thirst for adventure. That's what you'll appreciate most.
Rice Terraces of the Philippines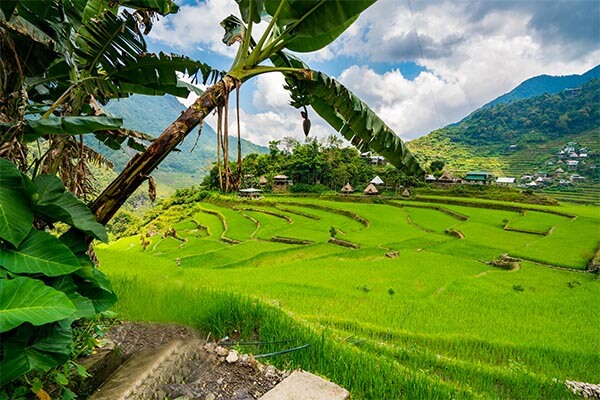 The Ifugao Rice Terraces have transformed parts of the Philippines' Cordilleras mountain range into a staircase-like landscape and have long provided nourishment to villagers.
Demonstrating great engineering know-how, the Ifugao people carved these irrigated terraces out of the mountains—perhaps as far back as 2,000 years ago. Today, their descendants still painstakingly maintain the terraces and grow rice there. Located on the island of Luzon, about 225 miles north of Manila, many clusters of rice terraces dot the Cordilleras. However, only five are UNESCO World Heritage sites: Batad, Bangaan, Hungduan, Mayoyao, and Nagacadan.
Batad's rice terraces are the most famous of the bunch. They're accessible by taking an overnight bus from Manila to Banaue, riding local transport, and hiking one hour downhill. When we visited, the lush setting was foggy, lending the landscape a mystical air. Using wooden walking sticks, our small group descended into the village of Batad. After the hike, we stopped at a family's house for a home-cooked meal of red rice and vegetables, all while savoring the amphitheater-like terrain. Ifugao wood carvings adorned the walls of the house, and residents threshed rice on-site, making the informal restaurant feel authentic.
The colors of the rice terraces vary throughout the year.
The colors of the rice terraces vary throughout the year, based upon when each terrace is planted and harvested. As you plan your trip, it's worth checking with the country's Department of Tourism (See: Tourism.gov.ph) to determine when the terraces are at their peak.— Tricia A. Mitchell.
Ancient Sculptures Exhibit in Rome
Exciting news for admirers of ancient sculptures—some of the private Torlonia Collection of Roman treasures will be on display in Rome between this March 25 and Jan. 10, 2021. The collection is probably the most important private holding of ancient art in the world, comprising more than 600 pieces. The family is allowing a selection of them to be displayed publicly for the first time. The works have been stored in the basement of one of the Torlonia palaces since 1976, before undergoing a restoration financed by Bulgari. There will be 96 pieces shown in all their ancient marble and alabaster glory in the Palazzo Caffarelli, part of the Capitoline Museums in Rome.—Valerie Fortney-Schneider.
Bring Your Pets to Mexico, Easily
If you're traveling or moving to Mexico and bringing along your cat or dog, the process has been streamlined. New regulations eliminate the requirement to get a health certificate and proof of vaccines from a vet in your home country, a somewhat time-consuming and expensive process. Now you simply fly into Mexico or cross the land border with your pet and submit it for free inspection by officials from the government's agriculture department, SENASICA. Their offices are next to customs and baggage claim. They're simply looking for obvious signs of disease or illness. Other standard pet travel rules apply. Before booking tickets, check that the airline allows pets, whether in the cabin (in a carrier that fits under the seat) or with the luggage. Some breeds of dog are never allowed to fly because of breathing issues. Also, pet travel in the cargo hold is restricted during hot weather, typically from Memorial Day to Labor Day.—Jason Holland.
DID YOU KNOW? Ecuadorians love to point out that the so-called "Panama" hat originates in Ecuador. Similarly, the beret, although it's traditionally associated with France, actually comes from Spain.