While we wait for the boat to pull away from the dock, we pose in our orange lifejackets. The breeze is whipping our hair into our faces, and the sun is shining brightly. The ocean varies from intense sapphire to a crystal clear aqua. There's exuberant greenery along the shore, and the striking city skyline gleams in the background. We all smile wide for the inevitable photo. Soon we'll be digging our toes into white sands and wading into warm waters.
This day trip—we're taking a 45-minute ferry ride from Panama City to Taboga island—is like a tour through Panamanian history. As we depart, I can see the colonial architecture of centuries-old Casco Viejo and the flamboyant Biomuseum, a recent Frank Gehry design. Above the horizon, the iconic Bridge of the Americas spans the Pacific entrance to the Panama Canal.
Once we reach Taboga and lay out our towels, the city feels light years away. (The actual distance is a mere 12 miles.) There's a group of Panamanians seated close by. They have a deluxe set-up…a pergola, camping chairs, coolers…and a wide repertoire of music.
As the day wears on, our groups mingle, and there's friendly conversation, sharing of food, and even a bit of dancing. We start the day with salsa and end it with plena—Panama's own brand of reggae en español.
This is today's Panama. Warm and tropical. Modern and surprisingly wealthy. In a word, comfortable.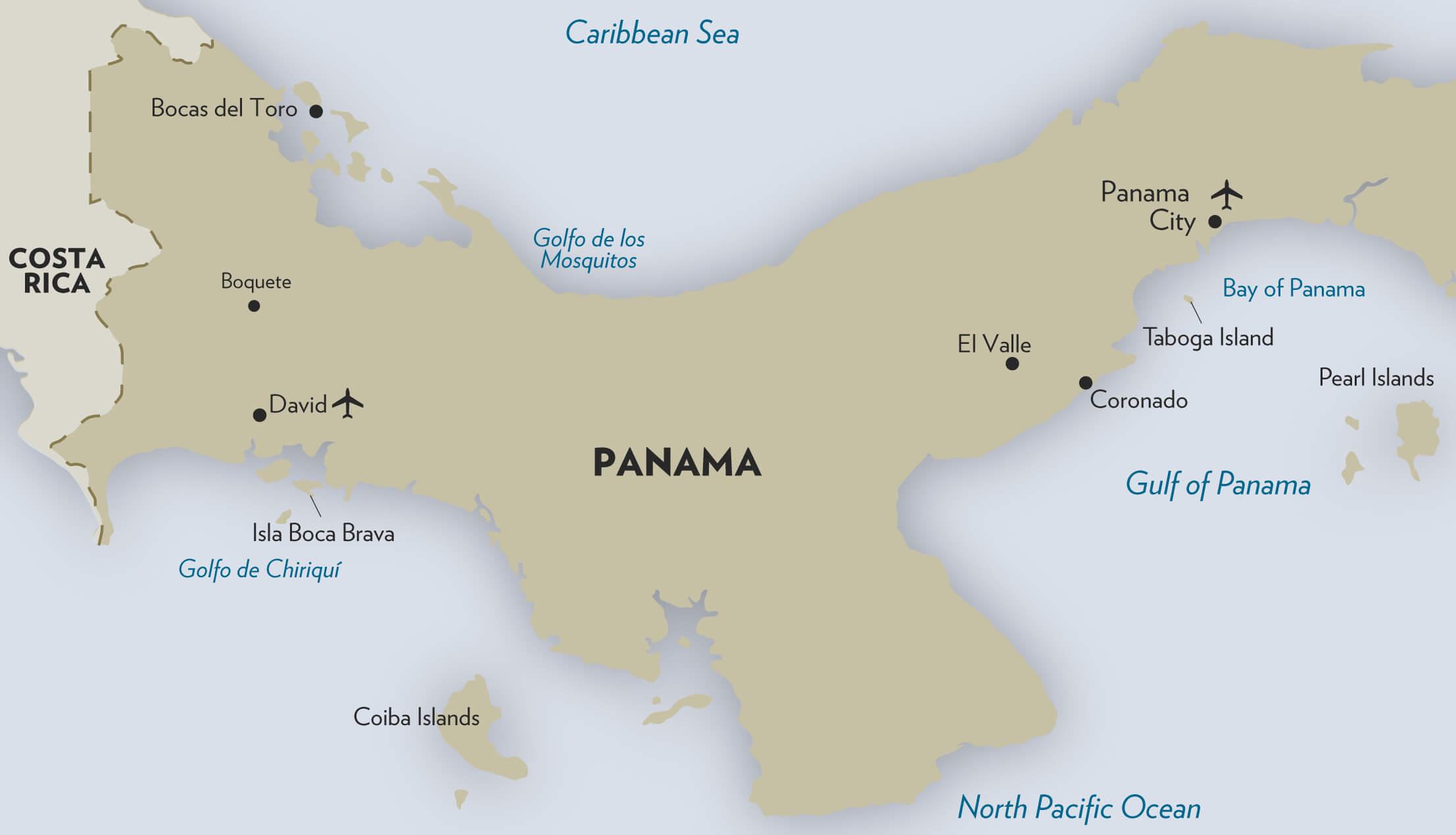 Because of its peculiar shape, size, and location, Panama doesn't fit the regional mold. It's routinely described as "not touristy" and, at the same time, as incredibly business- and foreigner-friendly. An international hub not only for ships traversing the canal, but also for air travel. It's what Latin America looks like with strong economic growth and an industriousness more often associated with the North.
Want to live off-grid on a coffee farm? You can do that here. Much of the country consists of rainforest and rural areas. It's not densely populated. But if you're looking for mature expat communities where you won't have to reinvent the wheel…well, that's where Panama shines. Base yourself in or near one of its major hubs and you'll have easy access to urban amenities, cool mountain towns, and attractive beaches.
Tocumen Airport, Panama City, and Surrounds
Panama City is a vibrant world capital with warm, mild weather year-round. But many of the expats I meet came here in search of something more—these days people want a hub from which they can travel.
Some want direct flights that make it easy to visit kids or grandkids back home. Others, like me, have bucket lists that span the globe. In recent years I've been as far afield as Hong Kong and the Philippines. I've also explored parts of Colombia and Ecuador, just a couple hours away when you're flying from Panama.
Tocumen International Airport (PTY) is the best and busiest airport in the region. It's known as the Hub of the Americas, with direct flights to cities all over the U.S. I can also fly direct to Montreal, Toronto, Paris, or Amsterdam.
I take advantage of everything the city offers.
When I'm not traveling, I take advantage of everything the city has to offer. When I moved here back in 2005, it was already a modern, convenient capital. The infrastructure was the best in the region, particularly when it came to cellphone and internet service. As the world got smartphones and internet fast enough to stream Netflix, so did we.
Getting around wasn't as easy, though. There was the sheer volume of traffic— Panamanians were getting richer and constantly buying new cars. The public bus "system" consisted of old, worn-out school buses that couldn't keep up with demand. Despite the beautiful sunny days, this wasn't a pleasant place for pedestrians.
Today, things couldn't be more different. We have attractive new sidewalks in central areas and an air-conditioned fleet of buses—with schedules you can see online. With the advent of Uber and the Metro de Panama—the only subway system in Central America—we've seen a fall in car sales. I have a station about a seven-minute walk from my apartment, so I rarely use my car.
Now I combine metro trips and 10- to 20-minute walks to get to the dentist, the chiropractor, the city's best Indian restaurant (Taj Mahal), and my favorite tapas bar (Malagueña, just a few blocks from the Via Argentina station). Subway rides cost $0.35 and I spend about $10 a month on gas. I've even lost weight because I'm walking more. I have the cosmopolitan lifestyle I always wanted.
It's a lifestyle that you can easily test-drive. Come to Panama City and walk along the new bayside promenade known as the Cinta Costera. It starts in the bustling banking district, with its tall towers and many conveniences.
There are ocean-view condos, two major hospitals—one of them is affiliated with Johns Hopkins International—and pretty much anything else you could possibly want. Shops that sell gourmet, kosher, and organic ingredients; malls featuring local and international outlets; fancy restaurants, and welcoming little pubs.
The Cinta itself changed life in the city in a big way. It is lined with greenery and recreation areas to entice people out of doors. It's perfect for a stroll (there are also bike lanes), but it's also popular for activities, from fitness classes and marathons to fairs and concerts.
Basketball courts, gym equipment, an amphitheater, monkey bars for the kids… the Cinta has it all, and Panamanians come out to enjoy it in droves. You'll see people from all walks of life and get a real sense for the city here.
Walk about 45 minutes due west and you'll hit Casco Viejo, the beating heart of the city's abundant nightlife. Photograph colonial plazas, visit the newly refurbished National Theater, or hit up a swinging rooftop bar. There are parts of Casco that are too touristy and expensive for me, but there's something for everyone. I tend to choose cozy little spots, like late-night favorite Stranger's Club and Pan-Asian eatery Aki, where I can get a nice glass of wine for $6.
Panama City is on the costlier end of the expat-retiree destination spectrum. But for those of us who choose to live here, the value that we get for our money is unbeatable. This is a cosmopolitan capital— on the water and just a three-hour flight from Miami. I enjoy a staggering number of events and amenities, considering that this is a city of only about 1.5 million.
Beaches like Veracruz, Taboga, and Coronado are an hour or less away. Most mornings in this region are sunny; our daytime average temperature is 88 F and evenings are about 10 degrees cooler.
We're also completely outside the hurricane belt. Where else in the world could you have all this in such close proximity to the U.S.? Very few destinations can even come close.
If city life and cultural events are a must for you, then Panama City should be on your list. Attractive one- and two-bedroom apartments rent for $900 to $1,500 a month. I spent a couple weeks pounding the pavement and found a four-bedroom apartment that I rent for a little less— there are plenty of bargains here if you're happy to live four or five miles inland.
A single expat can live on as little as $2,400 a month, including rent, utilities, transportation, and weekly outings. If centrally located city condos don't appeal to you, the green neighborhoods around Ancon Hill—on the city's western edge—are calm and tranquil, albeit more expensive.
Expats who want to live at the beach and still have access to the city tend to choose Coronado, just an hour's drive along the broad PanAmerican Highway. It's long been popular with well-heeled Panamanians, but now this region is also home to a sizeable expat community. And it has become a bustling little hub in its own right.
I remember when trips to Coronado meant stocking up on everything from decent wine to cheese before leaving the city. I don't have to do that anymore. I can get anything I need from the big El Rey supermarket or the specialty Riba Smith store at Coronado's entrance.
There's also an excellent medical center—a satellite of Panama City's prestigious San Fernando Hospital. Specialists from the city travel here periodically to see patients. You can get everything from X-rays and blood work to root canals and dental implants done here.
First-time visitors may not be impressed with Coronado's meandering gravel lanes and hodgepodge of houses. But the beach is tranquil and always immaculate. This isn't the showy Caribbean— here, white sand is intercut with glittering black volcanic grains—but its unblemished beauty continues to attract people.
The community is also a major draw. It provides a soft, safe landing for first-time expats. Whatever you need…recommendations for doctors or repairmen, tips on where to get a cellphone fixed or borrow a wheelchair…all you have to do is ask. People here are friendly and generous with advice. It's very social, so it can feel like everyone knows everyone. That's a big plus when you need the expat grapevine to provide help and answers.
Oceanview apartments tend to rent for around $1,500 in Coronado. Anyone who prefers to own might be better off buying, as you see listings nowadays for $195,000 to $255,000. But remember—if you're happy to be a few miles from the shoreline, you could save a few hundred dollars a month on rent.
Neighboring Gorgona has several buildings right on the water, with 24-hour security. Drive another 15 minutes west and you'll find beaches like San Carlos and Farallón offer simple Panamanian-style homes as well as luxury condos.
If you find the weather at sea level too warm, there are also mountain areas nearby. My favorite is El Valle, a pretty town that's gotten increasingly convenient while retaining its small-town vibe.
It's lush and green—El Valle gets around 100 inches of rain a year—and the mountain views will take your breath away. Here you can live at an elevation of 2,000 feet and enjoy temperatures around 10 degrees lower than at sea level.
It's a small town—the kind of place where people get around on bicycles and golf carts. But it's just a 45-minute drive from Coronado's clinic and other amenities. That said, you may not feel the need to leave very often. There's a neat new shopping plaza with a well-stocked El Rey supermarket and plenty of places to eat.
Locals and foreigners trickle into El Valle for the hiking trails, orchid center, hot springs, waterfalls, and more. The tourist trade makes it livelier than other mountain towns in this region. Still, streets tend to be empty by 9 p.m. outside of holidays.
During a recent month-long stay, I spent my days taking yoga classes and sitting on my terrace, waiting for colorful hummingbirds and butterflies to visit. My costs were low. I rented a three-bedroom cabin with a large terrace for $800 a month, including internet and utilities. And I saw small spruce cottages available for as little as $600.
I wasn't going to the opera or ballet every weekend—you'll see little of such high culture offerings outside of Panama City. And the expat community in El Valle is small. But it's also incredibly welcoming and social.
Within the first week, I'd been to several activities, made some friends, and been clued in to a bevy of little secrets. The unmarked trail past the watercress farms…the Peruvian restaurant with an off-menu $3.50 lunch special…and the German expat who sold artisan bread and sauerkraut.
Convenient and Inexpensive: David and Surrounds
If you're not concerned about being close to Panama City (and its international airport), you can live well on as little as $1,600 a month in or around the city of David. Located in the Chiriquí province, near the Costa Rica border, it's a five-hour drive or hour-long plane ride from Panama City.
For a long time, all flights to David departed from Panama City's domestic airport, clear across town from Tocumen International. Now, however, you can fly to David from either airport. The new flights can help save time and money for anyone connecting to or from the U.S.
David is much smaller than Panama City—about 10 times so in terms of population. But when it comes to services and amenities, David delivers. It has grown a lot over the last decade, and now there are malls, home improvement stores, and large supermarkets—all offering tremendous variety.
There may not be many ethnic or gourmet restaurants, but David tends to appeal to people with simple tastes. If you choose to settle here, you should know that it's usually a few degrees warmer than Panama City, and the expat community isn't all that cohesive. Folks here blend into the landscape, and many socialize more with local neighbors than other expats. You'll need enough Spanish to communicate with store clerks and taxi drivers.
The Boquete highland district, just a 40-minute drive away, is another story. It's the top expat destination in Panama, and with good reason. Thanks in large part to the expat community, Boquete has one of the country's best weekly markets, a theater group, an annual jazz and blues festival, and so much more.
Parts of Boquete look European, with Swiss-style or A-frame houses—some even have stone facades. Not surprising, since Europeans drawn by the cool climate started settling here in the late 1800s and early 1900s.
You can rent long-term for as little as $500 a month.
You can rent long-term for as little as $500 a month, furnished, if you are OK with simply built digs. But there are plenty of houses for sale and rent here— it's not difficult to find something to match your needs and budget. I just saw a home in an attractive upscale gated community called Los Molinos for $1,000 a month. A big difference in price, but this home is newly built, with open kitchen, granite countertops, and three bathrooms. Most of the older, Panamanian-style homes have one or two bathrooms and small, closed kitchens.
I've seen some good bargains for sale—homes for $150,000 to $175,000 in Boquete. In David, you could spend less than $90,000 on a small house in a new cookie-cutter community. Not all the best listings will be online, so you're better off staying at an inn or lodge for a week and seeing what's available once you've got boots on the ground.
Like El Valle, Boquete is lush and green, with colorful flowers blooming virtually everywhere you look. I've experienced some big storms and heavy downpours in the thick of the rainy season (August through November). But this is Panama, and that means that you still see the sun most days.
"It's impossible to be bored in Boquete" is a common refrain in these parts, and it's true. You can start a small business, volunteer, or attend a different social gathering every night of the week. More than a few friends have told me there's almost too much to do. And for everything from banks to government services and shopping, David is minutes away.
In fact, the Hospital Chiriquí in David is a major reason so many expats have chosen to settle nearby. It has an excellent reputation among expats who've used its services for years. Many of them have a local insurance plan offered by PanAmerican Life. It grants members coverage for 70% to 100% of treatments at Hospital Chiriquí, as well as at the San Fernando Hospital in Panama City and the satellite clinic in Coronado. It's a rare plan because applicants are accepted at any age and sometimes even with pre-existing conditions.
Chiriquí is known as the breadbasket of Panama. It's a large province, and around 80% of our produce is grown here. Most of it comes from the highlands around Boquete and smaller towns like Cerro Punta or Volcán. The area is renowned for its coffee and flowers—orchids, in particular— but you can plant just about anything and it'll grow. Oranges, limes, passionfruit, strawberries, pineapple, tomatoes, arugula, cilantro, spring onions…the list is extensive.
The massive La Amistad park starts in Chiriquí and stretches into neighboring Costa Rica. You can hike the cloud forests, do some world-class bird watching, visit hot springs, and then stop at a little kiosk for strawberries and cream.
Most expats opt to live right in the Boquete district, at elevations of 3,000 to 3,500 feet. But if you want to save a bit more, there are plenty of smaller towns that offer easy access to David's amenities and Boquete's many expat activities. I am partial to Volcán. It's a bit higher up (and cooler) than Boquete.
Other expats have chosen to live just off the road between Boquete and David. There are plenty of tiny towns—Potrerillos, Dolega, and Caldera are a few—where a smattering of expats have found they can live more simply. For some, the climate—a little warmer than Boquete but still cooler than David—was also a better fit.
No matter where you choose to live in this region, you'll find that life is simple and convenient. And that you can (and should) benefit from the expat networks and resources already in place.
For me, living in a modern area—with a well-established international community— hasn't made my life in Panama any less of an adventure. I've explored remote corners of the country, from the Darién jungle region to the Caribbean islands of Bocas del Toro. I enjoy travel within Panama immensely.
But after each trip, I'm thrilled to return to my comfy apartment, and maybe even indulge in some of the less glamorous pursuits of expat living: Netflix and a glass of really good wine.
Editor's note: In Panama you can have it all—great weather, gorgeous beaches, fresh mountain air, warm, friendly people and all the luxuries you deserve…but at a fraction of the cost you'd pay at home. Dig into Escape to Panama: Everything You Need to Know to Retire Better, Invest Well, and Enjoy the Good Life for Less and get the inside scoop straight from experts and expats living there full-time. Learn more here.
Previous
Next