"We Knew We Had to Find Somewhere Warm to Live"
Names: Bob Kranz, Nancy Simon
From: Minneapolis and St. Paul, Minnesota
Living in: Hua Hin, Thailand
Having retired nearly 20 years ago, Bob Kranz and Nancy Simon have spent the last 17 years between Thailand, New Zealand, and the States. Add to that cycle touring, and trekking. They have a very active lifestyle.
Bob's university education came thanks to a scholarship for track and field and football, in which he excelled. Now some 50 years later, he's still competing. This time in the Senior Olympics held biennially in the U.S., and the International Masters Games, held around the world every four years. And since retirement, he's also taken up triathlons.
As Bob tells it, "I was OK at running and cycling, but if the really good guys turned up, I wouldn't get near the podium. So, I had a coach teach me swimming and now I do triathlons. As I get older, fewer guys are competing, so my chances of receiving some winner's 'bling' improve." In the summer of 2020, and at age 73, Bob plans to complete his 100th triathlon.
Both were teachers in Minnesota when they first met—Bob teaching high school math and Nancy at elementary school. In 1989 they secured jobs at the American International School in Abu Dhabi (UAE) and remained there for 10 years. "I was 42 and Nancy was 33 when we first moved overseas, and that was the start of our interest in international travel," says Bob.
Their connection with Thailand began in that first year in the UAE when their boss invited them to join him and his wife in their regular Thailand winter vacation. "We fell in love with the country that first year and have been coming back to the 'Land of Smiles' year after year ever since," Bob says. "We grew up in Minnesota and that's cold, and after our years in Abu Dhabi, we could not do these cold winters again. We knew we had to find somewhere warm to live."
In 2003 Bob made a trip to the coastal city of Hua Hin, just a few hours south of Bangkok, to scope out the property market. After a week of searching, he viewed a condo complex in the final stages of construction. A two-bedroom two-bathroom furnished apartment on the 10th floor with wrap-around balcony and uninterrupted ocean views captivated Bob. He paid $187,000 for it, and they moved in as soon as it was finished.
On their Thailand life, Bob explains that, "After so many years living here, we know it's easy and cheap, with no real hardships. There's the culture, history, food, and nature. You name it: it's here.
"Our monthly budget is in the range of $1,800, including $120 for condominium association fees. For the two of us, a meal out can cost $10. In the States, I go out with my buddies for a couple of beers and a light meal and it will easily cost $35, just for me."
Nancy sums it up: "Even after all these years, the best part of the day is sitting here on our balcony for happy hour, looking out at the ocean, and enjoying each other's company. It's a good life!"—Michael Cullen. 
"Vung Tau Is Like a Best-Kept Secret"
Name: Molly Glasoe
From: Wasilla, Alaska
Living in: Vung Tau, Vietnam
Having spent many years in the icy climes of Alaska, 60-year-old Molly Glasoe has now traded the majestic, frozen wilderness for the gently rolling surf and warm and inviting sunshine of Vung Tau in tropical Vietnam. Since her first visit in 2007 with her husband, Mark, Molly has immersed herself in the Vung Tau community through several charity initiatives and social clubs.
She also owned and operated Matilda's, a successful pub/restaurant in Vung Tau (which she has since sold). Nowadays, there is a strong family connection as well. They have an adopted daughter and a five-year-old granddaughter living with them.
So, now that she's sold the business, what does Molly do in Vung Tau? "Any damn thing I want!" she laughs. Although she devotes much of her time to her charity work, Molly is also involved with many social activities around town and is not one to miss out on her regular game of golf. "There's fabulous golf in Vung Tau," says Molly.
Most of the courses in the local area waive membership for a "pay as you play" fee. "If you play on a weekly basis, you can receive a discounted rate," explains Molly. If you like a little luxury, the Ho Tram Course just east of Vung Tau is a 5-star course designed by Greg Norman. Nearby Long Tan has two 18-hole courses. "They are both very swanky, and attract players from all around Asia," says Molly.
There's no need to worry if golf isn't your thing either. Molly and her friends play bocce twice a week on Tuesdays and Thursdays. Getting involved in the many charities and social groups is straightforward through social media. "That's how most everyone here advertises," says Molly. "Just join up to one over several Facebook groups, like 'Expats In Vung Tau' and 'The Polite Expat Group'."
There are two beaches in Vung Tau, Front Beach and Back Beach. The latter is popular with kitesurfers and jet ski riders, while the former is more laidback, calm, and family-friendly. Molly and Mark live in an apartment on Front Beach with a huge deck that overlooks the ocean, paying just $550 a month, a standard price for the location.
Accommodation back from the beach can be even cheaper. A two-bedroom apartment can cost as little as $450 a month, while a modern three-bedroom apartment can go for as little as $800 a month.
Eating out is a Vung Tau tradition. Molly and Mark live just a short walk from a range of international-standard restaurants. They can choose from Italian, French, Korean, Thai, Japanese, or a number of local places. Vung Tau's specialty is seafood. It's plentiful and it's cheap. A meal for two starts at around $25. If you enjoy cooking at home, there are well-stocked, modern supermarkets and colorful local markets to choose from.
Can you have your cake and eat it too? Molly is certainly giving it her best shot in Vung Tau. With a myriad of activities and the flexibility to travel at will, she is living her dream lifestyle on Vietnam's southern beaches. "Vung Tau is like a best-kept secret. We don't want too many people finding out about it," she jokes.—Tim Nilsen.
"Life Is Easier With a Coconut and a Smile"
Name: Jerry Powell
From: Seattle, Washington
Living in: Phnom Penh, Cambodia
Jerry always wanted to see the world, but the appeal of living overseas only captured his imagination after retirement. What started as little more than wishful thinking eventually transformed into the start of an exciting new chapter in Jerry's life.
"Retirement is one of those strange situations that caught me by surprise. You know it's going to happen, and you're supposed to figure out a game plan. Well, then life takes over…jobs to do, calls to make, bills to pay.
"I was good at keeping the wheels turning, terrible at looking at the road ahead. It feels like I spent several lifetimes working 12-hour days and weekends. By the time reality came knocking, I had a nice house with no mortgage, but a retirement with no clue."
Despite the ups and downs of the stock market, an amicable divorce, and helping his son through college, Jerry says his finances were reasonable, if a little on the modest side.
"Money-wise I was more or less OK, at least enough to cover a basic lifestyle. Sticking to a budget wasn't the main issue. The problem was how to fill up all my spare time? The concept of life after work was totally alien. Mooching around the house or staying entertained without spending money left me feeling lifeless."
Jerry began exploring his options. Maybe there were other alternatives, more affordable places in a different state, or even another country.
"In hindsight, it seems so obvious. Change my location, change my costs. Rent out the house for a year and use the income to travel. That's all it took to change everything for the better," he explains with a smile as he sips from a fresh coconut.
"A few hundred dollars gets you a plane ticket halfway around the world nowadays. International flights to Asia are almost as cheap as flying domestic, which made sense financially. I could afford to visit Thailand, Vietnam, and Cambodia, with the option of sticking around or flying back home if things didn't pan out."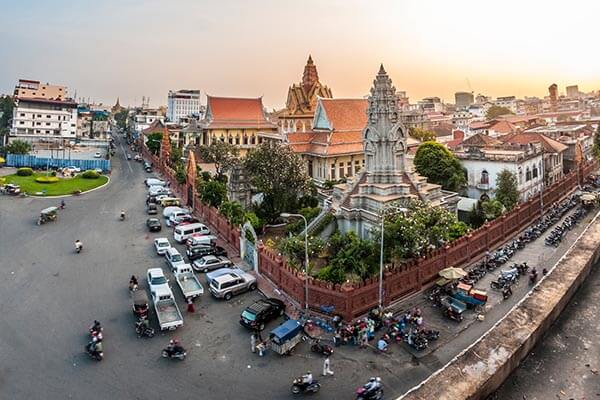 Jerry was impressed by Cambodia's retirement visa system, which made him feel welcome from the moment he arrived.
"Getting my retirement visa was a pleasant experience. They let you apply at the airport. Immigration asked whether I was retired and over 55, which I am, gave me a form, then issued a one-month visa. It probably took all of 10 minutes and they were genuinely nice and helpful. The opposite of most other airport encounters I've ever had.
"It was amazing how uncomplicated extending the visa was. All I had to do was walk into a travel agency, where they helped prepare the application letter to sign. For $300 the agency did all the processing to arrange a one-year, multiple entry retirement visa extension inside of a week. Super simple, no extra fees, bank deposits, or payments needed."
Nearly 10 months later, Jerry's happy where he is and has no plans to return to the U.S. any time soon.
"I pay $450 for a condominium overlooking the Mekong River on the Chroy Changvar peninsula. It's a peaceful community about 30 minutes from the center of Phnom Penh and we have our own swimming pool, gym, and restaurant, as well as minimarts, markets, and coffee shops close by.
Now budgeting isn't the issue it was.
"A tuk-tuk takes me over the bridge for a few dollars whenever I want to meet with friends or get a prescription filled. Affordable medication makes a massive difference in my living standards, even big name brands are four or five times cheaper. The savings on meds alone is enough to cover rent and groceries, so budgeting isn't the issue it was. Life is easier with a coconut and a smile. What more can I say?"—Steven King.