Have you ever just wanted to run away from your life and start over somewhere completely new? Maybe you'd even use a different name and create a whole new identity?
Those feelings are not a good reason to make any major moves. Most of us have probably attempted to run away from our problems by moving somewhere else, at some point. My first one was when I ran off to a small town in Arizona to live with some guy I'd fallen in love with. The next geographical escape was a trip to Romania during my first Christmas alone after the end of my marriage.
But when I returned home from that trip, I was still consumed with pain and had a lot of healing to do. It didn't cure the fact that my marriage had failed. I couldn't run away from myself.
Here's my advice: If you're thinking of starting a new life in a foreign country—which can be a wonderful adventure to take on—make sure you're bringing the highest and best version of yourself. If you have wounds to heal, it's better to "do the work" before any big life changes.
For several years after my divorce, I worked on developing a healthy relationship with myself. The aftermath of my divorce taught me to become my own best friend, to enjoy my own company, and to appreciate solitude without the painful grip of loneliness. I achieved a balance between what I needed from others and my own self-reliance.
Mostly, my work involved reframing my thoughts so that I could become happy within myself. I needed to align my happiness with my own goals and live in the moment, rather than fulfil expectations placed on me by others.
Each person's journey to wholeness is different.
Each person's journey toward wholeness is different. Whether you work with a coach or therapist, read books, listen to podcasts, or attend a spiritual retreat, you will find your way when you have the intention to do so.
With my strengthened sense of self, I trusted my ability to make friends and find community wherever I chose to be.
With that mindset, I was open to the world and ready to explore it. Ready for full-time life overseas. I knew I wouldn't be carrying my "baggage" with me, holding me back.
What I'm saying here is that a move abroad can be a wonderful way to restart your life on your own terms, when it's the right time. Just be sure that you don't let your pain pick the place.
Like the journey to wholeness, the criteria for an overseas base can be different for everyone. I still wanted to be close enough to family in the United States. To be able to use my U.S. currency, if possible. Plenty of natural wonders from beaches to mountains. No mass shootings. Friendly, warm people and a diverse population. Temperate climate, no hurricanes and no history of severe earthquakes, no wildfires.
All of that led me to move to… Panama.
I felt confident about my move to Panama based on prior international volunteer trips when I explored three potential new countries to call home (Romania, Costa Rica, and the Dominican Republic). I'd even considered full-time RV living. In fact, I was in Florida on the RV trip when I fell in love online. With a house.
It was located in Altos del Maria, a gated mountain community above the town of Sorá, 60 miles southwest of Panama City. I booked the flight to Panama City on my accumulated miles, rented a car, and drove for over two hours to the mountains through the dark, curving roads. I arrived, exhausted, at my Airbnb after midnight.
I woke up in Shangri La. Soft bird calls, sweetly scented air, and the most vibrant array of green foliage I've ever seen. From the minute I'd stepped foot off the plane, Panama just felt like a place I could call home.
I'd arrived at a point in my life when the concept of home shifted from being something external—like a physical dwelling in a specific town, where I had a comfortable circle of friends, my favorite restaurants, and knew the layout of most of the grocery store aisles—to an internal knowing that my soul is my home. Wherever I am, I am always home.
As a happily single-by-choice woman, moving to Panama was purely driven by my desire to grow as an individual. There was nothing missing from my life, nor was I running from anything in the past. Unlike years prior, when I often wondered, What's going to happen to me?, all the inner work I did caused me to formulate the empowering question: What do I want to create for myself?
QUESTIONS FOR REFLECTION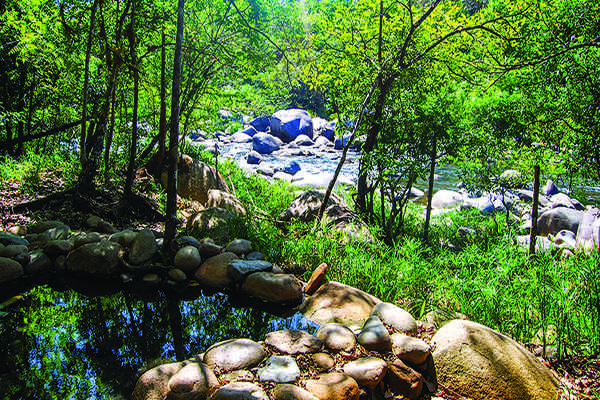 Have I let go of past pains and would this move be running from or to something?
Do I take responsibility for my life choices and feel empowered to create my future?
Can I look at myself in the mirror and feel love and compassion for myself?
At the end of my life, which choice will leave me with no regrets?
What do I need to heal or release in order to become the best version of myself?
Previous
Next