Pastel-colored buildings cascade to a shoreline fringed by the Mediterranean Sea. Warm breezes drift down from the forested hills in the background. The streets are a maze of tiny alleys, winding stairs and panoramic view terraces. This place feels French. But there's an Italian hint, too.
It's the town of Menton, the last stop on the Côte d'Azur before Italy.
In my quest for a new base in Europe, I spent time in Cannes and Antibes. Cannes, although charming, was too modern and too glitzy for my tastes. Antibes with its historic buildings, old city walls, and artsy credentials suited me better. I wasn't sure what to expect with Menton. What I discovered was a hidden gem.
The town is famous for its mild micro-climate, one of the warmest spots in France in winter. And for its citrus fruits, especially lemons. The town hosts an annual Fête du Citron, where tons of oranges and lemons are used to build up huge sculptures of dragons, elephants, even trains.
The mild climate first put Menton on the map as a destination in the 1860s. An English doctor, suffering from tuberculosis, thought the town would be a "quiet corner" to die in. Instead, his health improved. He wrote a book about his experiences, and voila! Menton became a fashionable wellness retreat.
In 1861, the town had three hotels. By 1875, it boasted 30. Many were elaborate "palace hotels" designed to cater to the seriously rich. They featured modern conveniences (hot water, elevators, electricity, en-suite bathrooms). And lavish ballrooms, exotic gardens, and opulent interiors. The famous César Ritz managed one of these hotels.
Queen Victoria, W.B. Yeats, Russian aristocrats…they all came to Menton.
Today, the town is not as well known. The palace hotels are mostly apartment buildings these days. The rich and famous head to Monaco, to Cannes, to Cap d'Antibes. And "regular" travelers usually skip Menton on their Riviera trip. They don't know what they're missing.
The seaside promenade goes to the Italian border.
Menton is known as the Pearl of France. It's a small town of around 30,000 people with a lovely historic center and civic buildings—the town hall's marriage room is decorated with frescoes by Jean Cocteau. You'll see other works by the artist at the Cocteau Museum and the Bastion Museum—drawings, paintings, ceramics, tapestries. The town's seaside promenade goes from the Italian border on one side to the neighboring town of Roquebrune-Cap-Martin. Menton's beaches range from pebbly to sand, and the sea is that incomparable and inviting shade of Mediterranean blue. Most mornings, you'll come across people relaxing on the promenade with coffee and a newspaper.
On the weekends, parts of the main drag through town are closed to traffic and fill with folks out on their bikes, scooters, and skates.
At the marina you can hire kayaks and canoes or take sailing lessons. From Plage des Sablettes, you can watch schoolkids learn how to raise a sail, navigate waves, and tack around a little inlet.
Menton isn't where you'd go for a buzzing nightlife scene. It's much more sedate (which suits me fine!). Like much of France, it's fantastic for food. There are dozens of cafés and restaurants, bakeries, and ice cream parlors. There's a 3-star Michelin restaurant, Mirazur, ranked number one in the Restaurant Top 50 in 2019. Inside the town's traditional covered market, you'll find locally produced cheese and butter, bread, fruits and vegetables, preserves, mountain honey. It's busy with locals picking up what's fresh and in season, whether that's white asparagus or creamy avocado.
What I enjoyed most was tracking down the palace hotels and the countless historic buildings around town. The palace hotels are huge and impressive, many with cupolas, turrets, crenellations, and lofty terraces. Everywhere you go, there's something to draw you in and make you want to explore more. One caveat, though: Menton is not a market where you'll find cheap bargains.
For $251,000, there's a new one-bed apartment close to shopping, the beach, and all amenities. It's small, only 312 square feet. But the bonus is a private patio garden of 225 square feet which offers additional living space.
Proximity to the beach and a view bump up the price. For $501,000 you can buy a 753-square-foot apartment in the town center with a sea view from one of the two terraces. The apartment is dated, though, and needs a remodel.
If you're planning a trip to the French Riviera and you're not looking for movie festivals, mega yachts, or blingy nightlife, put Menton on your itinerary. I think you'll be pleasantly surprised, as I was. I can see why so many French retirees make it their home. For looks, appeal, and quality of life, it's hard to beat.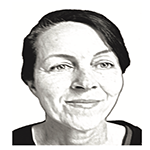 Margaret Summerfield is Ronan Mc Mahon's Senior Researcher at RETA. Sign up to the free e-letter, Your Overseas Dream Home at: IntLiving.com/retmag
Previous
Next