On a sunny day, Penang island is the most beautiful place in the world. Its jungles glow lush and green, and the seas that surround the island glitter a cool aquamarine blue.
Penang's best-known destination is George Town. Many of its buildings were built between 1810 and 1840 and still bustle with use today. The distinctive red terracotta roofs of shop houses color the backdrop of everyday city life.
For expats and long-term visitors, the advantages of living in Penang go deeper than how it looks. A cultural melting pot, the local population is 51% Chinese, 40% Malay, and 9% other, (which includes us Westerners). That means that you don't stick out as much as you might in another, less cosmopolitan location. The locals are friendly, relaxed, and it's an easy place to live.
My wife, Lisa, and I, suffered no culture shock moving here. We found everything we had at home and, best of all, everyone speaks English. For that reason alone, I think it's the best possible introduction into Southeast Asian living.
You can stay three months in Penang on a tourist visa. Those three months can give you an immersive taste of Malaysian life. In addition, it's a centrally situated staging post for further exploration of Southeast Asia.
Best of all, everyone speaks English.
In terms of getting around Malaysia, the roads here rank among the best in the world. Penang island is only a 20-minute drive from the mainland, and a four-hour drive from the capital city, Kuala Lumpur. One more advantage is that there are six world-class hospitals all within and around George Town. All the staff speak English, and most of the senior staff are trained in the U.S. or the U.K.
Lisa and I have been here for over 10 years because of everything that living in such a great city brings… But if you never look beyond George Town, you'll be missing out on the idyllic, forgotten west coast of Penang island. Travel with me on a tour west and I'll take you to these "undiscovered" beach towns with so much to offer.
IN THE HEART OF SOUTHEAST ASIA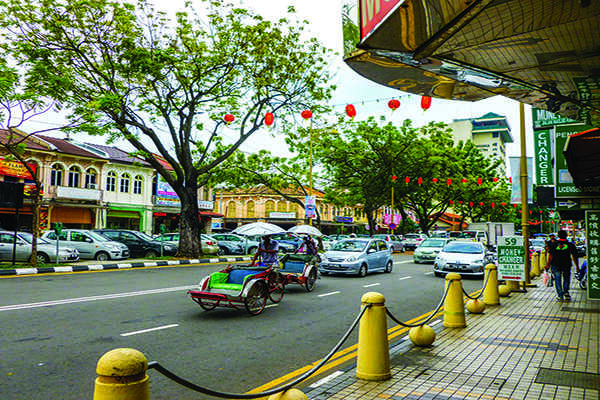 The state of Penang is in tropical northwest Malaysia, just two hours' drive south of Thailand, and eight hours' drive north of Singapore. While a large section of Penang state is on mainland Malaysia, Penang island sits offshore. However, it's connected by two large bridges, so it's not isolated completely. This western section of Malaysia is protected from cyclones and typhoons by a high ridge of mountains that run through the center of the country, north to south. So, while East Malaysia shuts down for three to four months of the year, you never have to worry about that in Penang.
The Road to West Penang
As you roll out northwest from George Town, you pass popular expat locations like Pulau Tikus, Tanjung Tokong, Tanjung Bungah, and then Batu Ferringhi. After Batu, things get more rural, and you hit the first real town, Teluk Bahang.
At this point, Penang starts to meander in time, and everything slows a gear. I'm attracted to this side of the island for that reason alone. Picture the island of Oahu, in Hawaii. Then think of Honolulu city, and how remote the forested east side of Oahu is in comparison. The contrast between George Town and rural Penang is similar.
The west of Penang island is less developed than the rest of the isle, and the Malays who live there are very traditional. They live in kampongs (villages) and fish for a living, as well as tending acres of paddy fields. It reminds me a lot of how Bali used to look and feel in the 1970s and 1980s when I first started surfing there. Bali's changed now, it's been over-populated and over-commercialized, but here on the western side of Penang island it's all still very beautiful.
The Straits of Malacca, a long, wide, fast-flowing body of water, have shaped the west side of Penang island, and its people. In the distance, far to the west, lies Indonesia. The rains that drift across in the monsoon season (May to July) have kept the land here emerald green, and the surrounding hills echo with waterfalls, flora, and fauna. Just make sure you bring a light rain jacket in case you get caught in a shower.
Balik Pulau, the main town on this side of the island, is a throwback to Malaysian towns that I remember traveling through with my parents in the early 1970s. It's a little like going into a time warp—a pleasant, deep sigh of a time warp. A single main road meanders past traditional Chinese vegetable shops, tailors, and old hardware stores where you can still buy wood drills—the old ones that you turn by hand.
It's a little like going into a time warp.
A distinct smell scents these stores. It's fresh vegetables, it's steel, it's paper, it's the sawdust on the floor. Shopping malls are so sterile these days. But not here. The locals are super helpful too, and will happily direct you to nearby cafés (there are no Western-style restaurants) where a simple meal of chicken and rice washed down with a glass of fresh lemongrass juice will set you back just $2.
Outside town, very little development intrudes. It feels gentle, and the pace of life slows perceptibly. There are fewer cars too, and it's not unusual to come across dogs and cats lying in the middle of the road, and chickens lazily strolling around.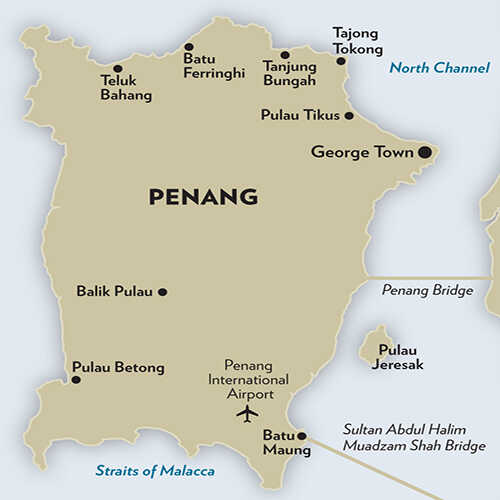 Hiking and Refueling
If you like hiking, the hill trails here are fantastic, and depending on whether you want to see waterfalls, birdlife, or just to hike for the fun of it, you can count on choices at every level of difficulty. If trails and hills are not your thing, there are large mangrove forests to explore, great for crabbing and birding, and vast stretches of sandy beaches where you won't see another soul for hours at a time.
For those looking for the unusual, the Bao Sheng Durian Farm is well worth a visit, and you absolutely must experience a durian fruit as part of your Malaysian journey. Novelist Anthony Burgess wrote that eating durian is "like eating sweet raspberry blancmange [similar to a custard] in the lavatory." Not convinced? Personally, I love them, and my mouth starts to water as soon as I smell the aroma. The fruits on this side of the island are sweet, juicy, and highly coveted. Every season, durian aficionados from China, Indonesia, Thailand, and Singapore fly in, searching for the best fruit. When they find one that they like, they book the entire tree's produce for the season.
The small kampong of Pulau Betong, only a few miles from the durian farm, is famed for its fresh seafood, and you have lots of local-style restaurants to choose from. The Jai Siang Café is very popular. Get there early as it's usually full by midday. What's good? Everything!
Talkative Locals
Malaysians like to talk, and they talk a lot. They haven't lost the art of conversation, and they excel at it. They are well-read too, and I think they're the friendliest people in Southeast Asia. As you wind and wend your way through the kampongs of west Penang island, don't be surprised to be invited in for tea, or just stopped for a chat.
Malaysians are very forward, so don't get offended by their direct approach. I drive an older Vespa scooter and it attracts a lot of attention. Usually the first question that I'm asked is, "How much you pay?" I'm used to it, and it still makes me smile.
A sense of humor helps. In the course of living here I've also been told by a salesperson that I was "too fat" to fit into 34 inch pants (yes, she got the sale), and an older friend who was getting a dress made was told by her tailor, as he was putting the tape around her waist, that she must have been "very beautiful once." Malaysians say what they think, and have no filter. It is one of the things that I find so endearing about them.
HEALTHCARE
Hospitals in Malaysia, and especially Penang, are highly respected. Visiting a specialist is easy, and the majority of the time you don't need to book an appointment or have a letter of recommendation from your doctor. You just turn up. Registering is straightforward, all you have to do is take your passport with you, and waiting time is minimal. They may charge you a little more as a foreigner, but you'll also be put through the system relatively quickly. A consultation with a specialist can cost as little as $20. All of the hospitals in Penang are within a 15-minute drive from George Town.
Affordable Rentals
There are some great-value rentals on the western side of the island. George Town's department stores, shopping malls, churches, etc., are all about 30 minutes' drive away, and if you don't mind the solitude, the peacefulness, or the half-hour drive to town, you can rent a house here for as little as $100 a month. Properties usually come unfurnished, and the most common leases are for one year, but for a part-time adventure, I'd negotiate a price for three months and pay upfront.
My friends Dawn and Phil Barber, an Australian couple in their late 60s, and I looked at renting here a few years ago. I was looking for a weekend base away from my main base in George Town. They were, too. Eventually, we chose to share a lease on a beach home on the west coast.
In 2019 we drove around that side of the island and looked at various properties. "I just love the idea of getting away for weekends, maybe fishing, and hanging out by the fire at night with friends," was how Phil put it.
A four-bedroom beach house… $100 a month.
I found a four-bedroom house on the beach for $100 a month, with no minimum lease. We took it for two years and used it as a weekend getaway. It was sparse, but we added beds, a fridge, some old armchairs, and a couch that was super comfy. On the weekends we would drive over with friends, just to get away from it all. There were no neighbors, so no one complained when we stayed up late talking by the fire. With our kayaks and fishing rods in tow, it was the perfect weekend getaway.
After we'd spent a month going there on weekends, local fishermen started calling on us selling fresh prawns, large crabs, and the best of their catch. It was idyllic. We hid the keys to the house under a rock, and if friends wanted to use it during the week, they were welcome to do so. It was a lovely change of pace.
However, if you want 5-star luxury, and the best views this side of Penang Hill, the Malihom Retreat is the place for you, and a good base if you are spending a few days in the area.
Malihom offers eight Thai-style cottages on the top of a jungled hill, and comes with an infinity pool, a restaurant, and a fully stocked bar. An art museum, privately owned by the owners of the hotel—Irene and Stephen Yeap—lies just a short stroll from the accommodation. It's filled with works by some of Malaysia's best artists. Although the museum is closed to the general public, I'm sure that if you ask nicely, Irene and Stephen will open it up for you.
Anywhere on Penang island is a good choice for an extended stay. Since everyone speaks English, you won't struggle with a language barrier. More importantly, there's no snobbery. When I moved here, I wanted local friends and to mix with them on their own terms. In a lot of places in Asia, you can't do that. In Bali, for instance, locals won't eat in the same places as expats because they can't afford $4 for a coffee. But in Malaysia, no one cares what you have or don't have.
It really is that kind of place, and no one here showcases their wealth. Sure, people will ask where you are staying on the island, but usually only because they are thinking about the cafés and restaurants that are close to you, so that they can share a new food outlet that you may not know about.
VISAS AND REGULATIONS
In normal circumstances, U.S. citizens are automatically allowed to enter Malaysia for 90 days. That visa is given to you when you arrive in Malaysia. At the time of writing, Malaysia is still in lockdown, but is set to reopen to international tourists in November/December 2021.
This article is written on the assumption that you will be spending no more than 90 days in the country. An excellent long-term residence program—Malaysia My Second Home (MM2H)—exists in Malaysia. Currently, though, the visa's future is uncertain..
Malaysia was also in a State of Emergency due to COVID-19, which effectively means that the government visa departments were running with minimal staff.
No long-term visas have been issued yet this year, but that national State of Emergency ended back in August.
Word is that MM2H, the 10-year renewable visa, will start to be issued again before the end of the year. However, the terms and conditions of that visa look likely to change.
At time of writing, the old requirements are still in force. If you are under 50 years of age, you are required to deposit $73,000 with a bank of your choice in Malaysia. If you are over 50 years of age the deposit drops to $36,600.
You also need to show an income of $3,300 per month, liquid assets outside Malaysia of $121,000, and pass a medical examination.
Those required income figures look likely to increase when the government resumes issuing MM2H visas. We'll keep you posted.
Crazy About Cuisine
Malaysians are all about their food. You know you've adapted to local ways when you're eating breakfast and thinking about where you are going to have lunch and dinner later that same day.
Cafés serve good coffee ($1), great local fare (Chinese, Indian, and Malay), and Penang has some of the best street food in Southeast Asia. It's not unusual to be seated at a café and chatting to someone, only to find out that they have driven all the way from Singapore, some eight hours away, just to savor the wares of a particular street stall. Local friends of mine, Fuan and Howard, often call and say that they have found an amazing noodle bar on the mainland and would I like to go? Some of these places have been three hours' drive away!
Another day, while cycling on the west of the island, I came across a café in the middle of endless paddy fields. There were six mountain bikes outside and six expats inside, all part of a Dutch cycling group. The café itself didn't have a name, but was known by this group for serving the best mee goreng Mamak on this side of the island. Mee goreng Mamak is a type of noodle dish made with fresh egg noodles, boiled potatoes, pan-fried tofu, choy sum (flowering cabbage), and tossed with a sweet/savory soy sauce. I have to say, it was excellent, but I don't know that I could ever find the café again.
Connections
Penang is a great launching point for the rest of Asia. Low-cost airlines like Air Asia offer very affordable fares. Getting to Bangkok from Penang International Airport takes just 90 minutes and costs as little as $100, round-trip. Jakarta, Bali, Hong Kong, Phnom Penh, and Ho Chi Minh City are just a hop away, and can cost as little as a bottle of good wine at a restaurant back home. And of course, there are hundreds of other destinations to choose from.
WHERE TO STAY AND WHAT TO SEE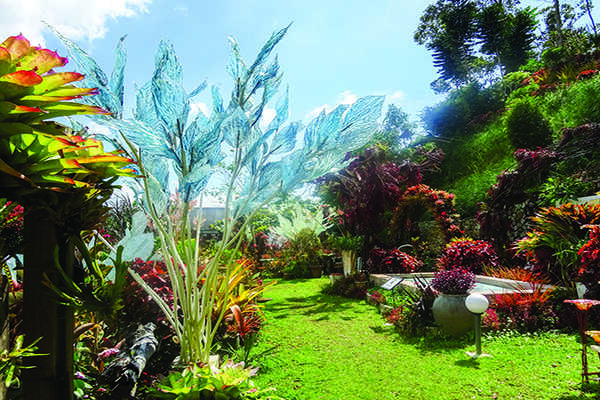 The colonial city of George Town, founded by the British East India Company in 1786, is visually spectacular. It's probably the best place to base yourself when you first visit Penang; get a feel for the big city, and then head west to explore the smaller towns and beach villages. George Town is perfectly walkable. For that reason alone I'd recommend The Edison Hotel, followed by Muntri Mews, and for something special, Seven Terraces. All three hotels allow you to stroll around the old town with ease, and each of them offers an experience unlike any other in Penang.
The main attractions in George Town, within walking distance of all three hotels, are The Blue Mansion, The Peranakan Mansion, The State Museum, The Esplanade, Fort Cornwallis, and Beach Street for its eclectic 19th- and 20th-century architecture.
George Town's streets and alleyways are well worth exploring. You could spend weeks doing so, and even after 11 years of living here I'm still finding nooks and crannies that I didn't know existed.
My favorite street is Love Lane, with some lovely mansions dating back to the 1820s, and a range of celebrated restaurants and cafés. The street itself was actually named after Captain Love (I know!) of the British East India Company. He lived in this street with his family back in the day, as did Sir Stamford Raffles, one of the founders of Singapore. Love Lane leads to Chulia Street at one end and Light Street at the other, both worthy of some time.
For a beach experience, and only five miles away from George Town in the leafy suburb of Tanjung Bungah, I'd recommend The Paradise Hotel. Farther north in the area of Batu Ferringhi, The Angsana, The Parkroyal Hotel, or The DoubleTree Resort by Hilton are all good. Batu, as it's known by everyone who lives in Penang, is 10 miles from George Town.
Attractions in the area include The Tropical Spice Gardens (they have a good Thai restaurant with views out to sea), The Tropical Fruit Farm (yes they have durians!), and Fuan's Art and Garden—eight acres of sculpture gardens created by Fuan Wong, a world-renowned artist who works with glass. A multitude of beaches fringe the region, as well as a small national park with hiking access to Monkey Beach and Turtle Beach, two of the best on the island.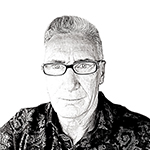 Keith Hockton moved to Malaysia with his wife, Lisa, in 2010, where he writes and publishes on his adopted home of Penang. [email protected]
Previous
Next