Pull up a map of Spain and Portugal's southern coasts. Now draw a thick line from Málaga, in Spain, to Lagos, in Portugal. This line rolls through some of Europe's prime resort and second-home destinations…Marbella and Puerto Banús in Spain, and Quinta do Lago, Vilamoura, and Lagos in Portugal. Your line will cover many dozens of golf courses and marinas, thousands of hotels, and multimillion-dollar villas. This region saw nearly 20 million visitors in 2017.
One thing you will struggle to find here: new, luxury, true beachfront condos for less than $1 million. Unless you know the right place to look….
True beachfront homes and condos are rare. Permitting is tight. And where true beachfront development is allowed, the land is so valuable it's used for dense hotel and resort development. Beachfront condos, where you find them, tend to be dated. Most were built in the 1960s and 1970s, before land prices took off. Construction tends to be poor, and views under-used.
A chance to buy non-crisis real estate at crisis pricing.
Once the northern Europeans started coming to these costas, land prices soared. Even charging seven figures didn't give developers enough of a profit margin to build beachfront condos.
There's one sand-fringed island, accessible by bridge, where development came and was successful. But the target market of Spanish family vacationers kept prices much lower than places where developers target the wealthy Germans, British, and Scandinavians. This is the one spot along the line you drew on the map where you can buy a luxury, true beachfront condo for less than $1 million.
In late August 2018, I put boots on the ground in Isla Canela, where I found true beachfront condos. These are under construction, with a sleek, stylish design that optimizes the sea views. They are classy two-bedroom condos set above the pool to ensure that each condo has great views. To get to the beach, you walk past the pool, across a cycle path, through a dune…and you are toes in sand. True beachfront condos of this standard along these costas are a rare thing, as I have been telling you.
To fill you in about Isla Canela…
It's an island of 4,200 acres that sits off southern Spain. A bridge connects it to the Spanish town of Ayamonte. It's only separated from Portugal's wonderful Algarve coast by the Guadiana River.
Isla Canela was overlooked until 1964, when the government designated it a "National Center of Tourist Interest," a status it still holds today. But things really got moving in the 1980s, when a development firm bought up the entire island. It planned to build a marina and to develop residential complexes, a golf course, and hotels.
Development occurred mainly toward the beachfront and to the entrance of the island, close to the bridge. But there's only so much of the island that can be developed. Seventy-five percent of it is a protected nature reserve.
It should have been a slam-dunk for the developers to sell the condos they built back in 2007. But when the crisis came, sales dried up right across Spain. The market went no-bid. For a lot of developers, this meant going under. Not on Isla Canela. This is a well-funded and successful development group—able to ride out the storm and wait for the market to return to where it should be. But the group wanted to focus on the future…and on new condo buildings.
That's why I got my first opportunity on Isla Canela last year, getting the chance to snap up some finished two-bedroom, two-bathroom condos for a very attractive price. I don't know the exact situation, but my guess is someone or some bank took a write-down on those condos. It suited everyone, including the developer, to sell them off discreetly at low prices. It meant I got a chance to buy non-crisis real estate at crisis pricing.
Today, the developer has plans to target affluent northern Europeans. That should bump up values. But there is also a convergence of trends that will supercharge an investment in the location.
Development of Spain's southern coast started just west of Málaga. And it has been moving steadily west over the decades.
In the meantime, development of Portugal's Algarve started around Faro and moved west from there. But land prices soared, and development potential became limited. Now development is moving in the other direction, east of Faro to the border with Spain.
These two Paths of Progress are set to converge right at Isla Canela. More visitors, more second-home buyers. More demand to rent and buy.
My discovery of Isla Canela was almost by accident. In 2015, I was on an extended trip that took me along the line on the map, from Málaga to Lagos. I had found some deals, but nothing that really stood out. And time was running out. On my last day, scouting the beaches east of Faro, my on-the-ground contact sent me a heads up. He'd just met the developer of Isla Canela at a trade show in London. I'd never heard of the island before. The private memo my contact sent on was intriguing. I knew I had to take a look. There was a hitch: I had an afternoon flight booked out of Faro.
Two Paths of Progress are set to converge.
In the end, I just made it to Isla Canela. I got to spend only 53 minutes on the island. But it was a game-changer for my trip. I've visited another three times since 2015. I recommended those distressed condos to my real estate investment group as a must-buy in 2017.
I felt instantly at ease on Isla Canela. Everything a vacationer needs is on the doorstep. There are smooth roads, wide cycle paths, and sidewalks around the island. On the way in, you pass an 18-hole golf course, designed by Juan Catarineu, and a boutique hotel. (There are also larger resort-style hotels on the island.)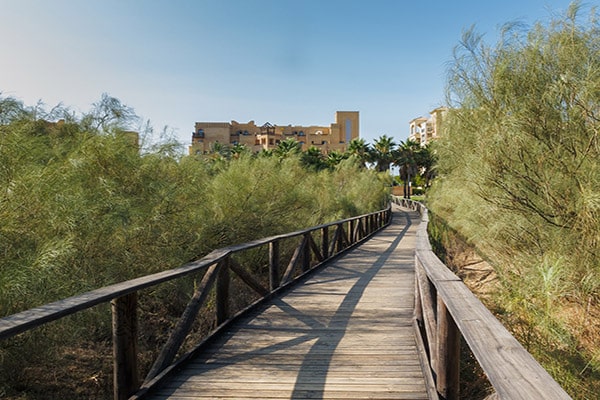 There is a huge beach, as wide as a couple of soccer pitches, and more than four miles long. Even when the island is busy, the white sands don't feel crowded. And in the summer evenings, you can sit on the beach to watch a free movie. There are restaurants, cafés, souvenir shops, and small supermarkets right in front of the beach. You can eat paella under a parasol, watching the bright sails of the kite surfers fly overhead.
Then there's the marina, where boats bob in the water. You can take a short boat ride to nearby Isla Cristina to see the protected marshlands there. A round trip, with a glass of wine and as many white prawns (a local specialty) as you can handle, is €10 ($11.45 at time of writing).
It's peaceful, laidback, and friendly— the perfect getaway from the hustle and bustle of everyday life. It's easy to see why Isla Canela has had such appeal for domestic vacationers for so long. The developer's plan to target northern Europeans will give an investment here an added competitive edge.
Visitor numbers and growth here have surged.
Northern Europe's affluent population craves sunshine. They're starved of it in the long winter months. Cheap air travel has opened up a world of possibilities for them, for weekend getaways, for family vacations, for golf trips. The stretch of coast that runs from Málaga to the western tip of Portugal's Algarve is the gold standard. It has everything: the sunshine, the beaches, the low cost of living, world-class infrastructure, and low-cost airlinks. Visitors from the countries that use the euro don't even need to worry about changing their currency.
Additionally, in recent years, visitor numbers and growth here have surged, driven by instability in places like Turkey, Egypt, and Tunisia. These were popular sun destinations for Europeans. Now they prefer to travel somewhere safer like Spain or Portugal.
For the past three years, Isla Canela's development company has been pitching more to northern Europeans. Scandinavians visit Isla Canela in groups of 10, 20, even 30, to golf here. The Dutch and Belgians are coming in greater numbers, too. And more Germans and Brits are following.
But the company plans a much bigger drive to attract more of those wealthy vacationers. In the medium term, the market here will grow and expand to include more northern European vacationers.
And by repositioning its marketing, the developer can immediately tap into the huge demand for vacation and second homes from northern Europeans.
All these things will combine to make this an opportunity where informed real estate investors could generate some serious profits.
Editor's Note: Ronan McMahon is executive director of Pathfinder, International Living's preferred real estate advertising partner. He is always ahead of the pack with the best real estate deals worldwide. Ronan shares his findings and profit opportunities with members of his Real Estate Trend Alert. Want in? Learn more about what Ronan does and the opportunities he brings his Real Estate Trend Alert members at Intliving.com/RETA.
Previous
Next