Soak in Spain's Arabic Baths
When the summer sun begins to scorch Madrid, my sanctuary is Hammam Al Ándalus. A hammam is a traditional Arabic bathhouse found throughout the Middle East and North Africa. They were introduced to Spain under Moorish rule, and contemporary versions survive today, offering luxurious soaking pools and scented massages.
From the blazing heat of the street, I step into a richly colored, semi-dark room lit with sparkling lanterns. After a hostess explains the amenities (in English or Spanish), I shower, put on my bathing suit, and walk down marble stairs to a magical wonderland of waters. Three turquoise pools shimmer in candlelight, highlighted by star-shaped beams from tiny skylights in the vaulted brick ceiling. It's quiet except for hushed voices and soothing Arabic music. The pools are three different temperatures: cold, hot, and tepid.
I lounge in the pools, marveling at the stillness and beauty, thinking of nothing. It's a pleasant contrast to the frenetic pace of the Spanish capital just outside.
Soon I'm escorted to the serene fragrance room. I choose from four different aromas for my massage oil: violet, rose, lavender, or red amber. Then I'm quietly ushered into the massage room, where gentle hands coax me into blissful relaxation.
Hammam Al Andalus has baths in Madrid, Granada, Córdoba, and Málaga. See: Hammamalandalus.com. Prices begin at €35 (around $40). Be sure to make an appointment either online or by phone. It's not daunting, English is spoken. —Marsha Scarbrough.
Notes from our Expat Editors
Jason Holland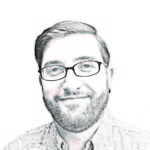 Because garish signage is limited in San Miguel de Allende, Mexico, you never quite know what you'll find. One of my favorite spots is a large open-air courtyard restaurant near the main plaza. I go to Maria Xoconostle for the delicious breakfast and to enjoy the tinkling fountain and scent of orange blossoms from the trees dotting the space.
Suzan Haskins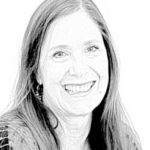 I never knew how much I loved waffles until I had breakfast…every morning I could…at the Waffle Monkey in Tamarindo. Run by a friendly Australian couple, you can get fresh fruit smoothies, delicious Costa Rican coffee, and the best waffles you'll ever eat. This tiny restaurant seats only a handful of people inside, so opt for a table on the beach.
A Nature Lover's Japan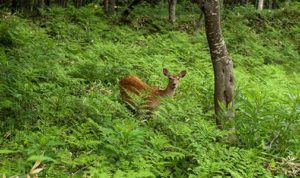 Moonlight spills through the leafy branches. I'm in a hidden corner of Tottori, the least-populated prefecture in Japan. This is the habitat of the Japanese giant salamander. My headlamp shines a beam into the crystal-clear river. Clad in rubber waders, I'm walking upstream on slippery rocks. I see one of these living dinosaurs of Japan, motionless. It looks like a submerged half-meter log—until I come too close for its comfort. With a surge of its tail, this shy creature darts to an underwater den.
Japanese ecotours range from ocean to alpine.
I'm with the world's foremost giant salamander expert, who gently retrieves it. The $180 I paid for this experience is supporting Dr. Okada's work, helping the local economy, and preserving the disappearing habitat of a unique species. It also gives me the opportunity to assist his research…I took photographs while he weighed, measured, tagged, and released the timid beast.
Japanese ecotours range from ocean explorations to alpine adventures. But not all educate visitors and safeguard nature. For authentic Englishlanguage ecotours in Japan, I recommend the Nichinan Japanese Giant Salamander Conservation Experience, described above.
Then there's Hokkaido, the least-developed of Japan's four main islands, with harsh winters and mild summers. Shiretoko National Park is home to bears, foxes, salmon, deer, sea eagles, and more. The Shiretoko Nature Office offers a variety of reasonably priced trips for all four seasons. Or, you can get up close to the world's largest flying squirrels in central Honshu, Japan's main island. The Picchio Wildlife Research Center in Karuizawa, in Nagano Prefecture, is best known for its squirrel tour at dusk but offers much more.—Greg Goodmacher. 
San José's Vibrant Street Art
Costa Rica's capital has an impressive range of street art, like most larger Latin American cities. Beautifully created murals, as well as graffiti of varying degrees of artistic merit, can be found throughout the city. But a good place to find a higher concentration of works is at the University of Costa Rica.
Walk through the university and you'll find a block of buildings that are perfect for street art appreciation. It's tucked between Calles 3 and 5, and feels almost like an outdoor art gallery. Every surface seems covered with paint—even doors and some pavement. The quality of the murals varies from rudimentary to professional, but all are worthy of your attention.—Kathleen Evans.
Thailand's Elephants…Ethically
Elephants hold a special place in Thai culture and for centuries were valued for their working role logging in the north of Thailand. Today, the best place to get up close to elephants in Chiang Mai is the Elephant Jungle Sanctuary, which rescues elephants from harsh practices that aim for a quick tourist dollar. The sanctuary hosts half- and full-day experiences where you can bathe and just hang out with elephants rescued from years of enduring tourists traps. Trips begin at $60, including transport from your hotel.
Standing in the river throwing buckets of cool water onto the elephants under the shade of jungle vines brings absolute joy. The hill tribes that are the custodians of the elephants are like whisperers who help make safe connections between visitors and the elephants. Just remember, if it involves riding elephants or seeing them perform like poodles, it is not considered ethical.—Rachel Devlin.
Editor's Note: If you've always liked the idea of a retreat in Europe… of a place you could return to again and again where it's safe… the pace of life is slow… the culture values family, friends, art, music, good food, and rich experiences… then Spain deserves your close attention today. With Escape to Spain: Everything You Need to Know to Retire Better, Invest Well, and Enjoy the Good Life For Less you'll have exactly the guide you need to take the idea you have in your mind's eye and make it your reality on the ground in Spain. All the details are here.
Previous
Next