---
"Cuenca, Ecuador, has long been a popular expat destina-tion because of its low cost of living and year-round, spring-like climate," writes IL Contributor Mike Herron. "But what you may not be aware of is the city is also becoming known for the creative influence it exerts on the expats who move there.
"As you stroll through the streets of el centro, you can't help but notice the richness and variety of the arts and crafts on display. From ceramics to symphonies, street art to brightly colored woven textiles, everywhere you go throughout the city you are surrounded by a community that embraces the creativity of its residents.
"Just like their Ecuadorian neighbors, many expat retirees, now freed from the confines of their prior work regimens, find time to explore their creative side. One such example is the Cuenca International Writers Conference, which will take place in the city's historic district May 28 to June 1, 2018. Now in its third year, the conference costs $199 for non-residents of Ecuador.
"In addition to workshops for novice and experienced authors of all genres, the conference gives attendees the opportunity to ex-plore the city's varied culinary and cultural offerings to see if expat life—and Cuenca, in particular—may be right for them." For more information, see: Cuencawriter-sconference.com.
The Wine Festival of Giglio
"Atop the paradisiacal Tuscan island of Giglio sits Giglio Castello, a village built inside ancient castle walls. In late September each year, Giglio Castello hosts its cantine aperte, when the whole village becomes a festival of local wine, food, and music," writes expat Rebecca Hughes.
"As the sun sets over jewel-like turquoise water, strings of lights illuminate tiny squares, restaurants open their doors, and wine begins to flow.
"With our aperitivo (deep fried vegetables and bruschetta with Tuscan liver pate), we had our first glass of the local Ansonaco wine. Only produced on this island, it's a robust white with a high alcohol content.
"We ate at the industrial-sized barbecue on the castle walls, and in the heart of the medieval castle we had dessert and the local amaro (bitters).
Tipsy, we sneaked up to the roof of the fortress and watched people dancing the traditional Quadriglia Gigliese below."
Giglio's is only one of many wine festivals celebrated across Tuscany. Visit Greve in Chianti on the second weekend of September, or Impruneta's Festa Dell'Uva on the final Sunday of September for alternatives. See: Visittuscany.com.
Hanoi's Nostalgic Cafés
"After the Vietnam War, the country went through what was known as the 'subsidy era,'" writes IL Vietnam Correspondent Wendy Justice. "But today the economy is thriving.
"You can, however, take a trip into the past in the capital, Hanoi, with restaurants like Mâu Dich Sâ 37—State-Run Food Shop No. 37. Servers are clad as state workers, and the place is decorated with a kitschy, proletarian mix of old radios and sewing machines, vintage bicycles, war-era memorabilia, and simple wooden furniture, to make it easy to imagine yourself in a bygone era.
"Diners line up to purchase coupons that are then given to the waiter when their food arrives. They serve traditional northern Vietnamese cuisine, such as ginger chicken, braised frog and snails with ginger leaves, and stir-fried pumpkin with garlic—just as in days past.
"Công Cà Phê, with locations in Hanoi and the beachfront city of Da Nang, where I live, has a similar theme, with servers clad in stylized army garb and drinks served in enamel-ware mugs and apothecary jars. The artisanal coffee and beverages are superb." See: Congcaphe.com.
Weaving in Teotitlán del Valle
Without question, visitors to Oaxaca must take a day trip to the small town of Teotitlán del Valle," says IL Riviera Maya Correspondent Don Murray. "A 40-minute taxi ride is about $7. This small village completely retains the Zapotec culture and language, and it's famous for its high quality, hand-woven rugs, produced on large, framed treadle looms by local Zapotec women.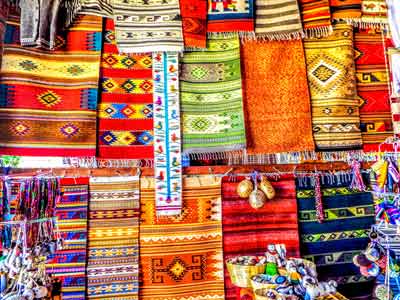 "The designs are ancient, passed down from generation to generation and woven from memory. Wool is harvested from local sheep, and most of it is dyed using natural materials. Many workshops are family-owned, and the large, hand-operated looms can be hundreds of years old.
"It is a painstaking, slow, and precise process, as the carefully patterned designs are intricately woven, strand by strand, into a large frame. Soon it becomes a stunning rug. Historians believe that weaving in the village dates back to about 500 BCE.
"Teotitlán del Valle also provides a living look into history, as the inhabitants of this ancient culture go about their daily lives. Women adorned in traditional attire shuttle supplies in baskets atop their heads.
"The village is also the site of a squat, earthquake-proof 16th- to 17th-century church built upon the ruins of a Zapotec temple destroyed during the Spanish conquest. Or nearly…the relief decorations on walls and portals are rare examples of the tequitqui style, a fusion of Christian and pre-Columbian imagery."
Semana Santa in Cusco
While Seville, Spain, is known worldwide for its elaborate Semana Santa processions, the spectacle has long been a fixture on must-see lists and suffers from overcrowding. A better bet is to head to Cusco, Peru, to witness a South American take on the Holy Week festival.
It's an unmistakably Andean version of the familiar Passion, with devotional details that betray a lasting legacy of the region's indigenous and pre-Christian culture. As a notably dark-skinned statue of Christ is carried through the streets of the ancient Peruvian city, devotees festoon the silver-clad dais with petals of the nucchu flower, once the preferred offer-ing to the Inca gods.
Traveling by Cargo Ship
Do you want to experience a voyage at sea…but aren't attracted by cruise ships?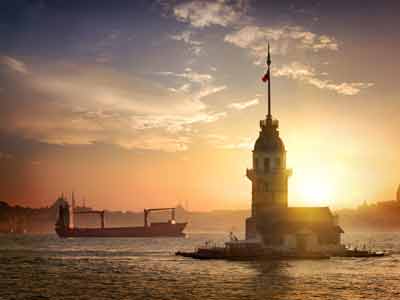 "You could travel by cargo ship, instead," writes IL Roving Latin America Editor Jason Holland.
"There may not be a hot tub or casino, but you won't be roughing it.
Comfortable cabins are available, as well as quality meals and amenities like gyms.
"One voyage from Halifax, Nova Scotia, to Antwerp, Belgium (or Liverpool, England), is $1,028 per person. The trip takes about two weeks. Another takes you from Singapore to Ensenada, Mexico (just south of San Diego), in 19 days via the Cape of Good Hope, with stops in Kingston, Jamaica, and Cartagena, Colombia. It's $2,723 per person. There are round-trip voyages available, too.
"Services like Cargoshipvoyages.com provide listings of potential cargo ships you can berth on."
Mirror, Mirror, on the Mountain
"Squeezed between two moun-tains, the tiny village of Viganella, in Italy's Piedmont region, is an off-the-beaten-path destination that attracts nature lovers and connois-seurs of the Italian countryside," writes Italy expat Anna Lebedeva,
"If you happen to be here in winter, you can join the locals enjoying a leisurely stroll or a lazy espresso at a sidewalk café in the afternoon sunshine…reflected by a giant mirror.
"Viganella became famous when a 430-square-foot steel mirror was installed above it on a mountain top. For centuries, the villagers remained in the dark from November to February, as the winter sun doesn't rise high enough above the peaks to reach it. Now the mirror—a large reflecting steel sheet—catches the sunlight and reflects it to the central square. Lo-cals say that their social lives have significantly improved in winter months, and they can stay on the central piazza all year.
If traveling to Viganella in winter sounds like too much, it is certainly worth a visit in warmer seasons. Most houses here date from the 17th and 18th centuries; narrow streets have small stone steps and some of them are only passable on foot. See: Valleantrona.com.
DID YOU KNOW: Australia, despite being a continent surrounded entirely by water, isn't the country with the world's longest coastline. The total coastline "Down Under," at 16,000 miles, is significantly less extensive than Canada's, at 152,000 miles.