---
In 1976, my father—then 24 years old—embarked on the walk of a lifetime into the heart of Nepal's Annapurna Mountains, a section of the mighty Himalayas. In 2010, I followed in his footsteps, spending nearly a month traversing the same mountains and revisiting scenes of his youthful adventures.
The journey produced some of the happiest days of my life. I found myself sleeping in centuries-old villages and following ancient paths trodden long ago by pilgrims and traders from Tibet. I crossed high-altitude passes and walked behind mule trains as they delivered goods to far-flung, road-less regions. Hawks circled high above me, and white-uniformed schoolchildren shouted cheerful greetings from the rice paddies. At one point, as snow sprinkled down on me in a lonely gorge, I found myself surrounded by a boisterous herd of woolly yaks making its way down river. Another time, in an isolated teahouse at dusk, a local Gurung woman showed me her family photo album, while potatoes from her garden—our dinner—slowly cooked over the hearth fire.
Later, when I decided to live in Nepal permanently, my father asked me whether it would be feasible for him to return for a "memorial trek;" he is now in his mid-60s, and less robust than he was 40 years ago.
"Absolutely!" was my immediate response.
Nepal, and the Himalayas that form its backbone, is the Holy Grail of mountaineering. So if you've never been to Nepal, and especially if you're older, you may think it sounds like an intimidating destination for hiking. But it's by no means the exclusive domain of mountaineers, adrenaline-junkies, and endurance athletes. It's also surprisingly well suited to those who prefer to move through the countryside at a slower pace. It's very common to encounter people in their 60s or 70s, healthy but no fitter than average, having the time of their lives on the walking trails here.
A quick Google search can give the impression that trekking in Nepal is expensive. This is true—but only if you book online through a trekking agency before arriving in Nepal. A much cheaper method is to organize everything after you arrive in the country.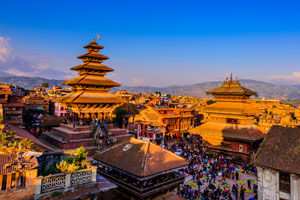 My advice is to avoid agencies where possible, and hire guides and porters independently (if at all). That way, you'll pay the standard price for everything and avoid the hugely inflated "packages" offered by some agencies; these can reach a staggering $1,500 for a 15-day trek.
If you stay away from these package deals, rooms will cost only around $2 to $7 a night. An all-you-can-eat meal of the Nepali staple, dal bhat (a hearty affair of rice, lentil soup, potato or spinach curry, and pickle) will set you back only $3 to $8, depending on how far you are from road access. During the low season, it's often possible to bargain for a cheaper (or even free) room if you promise to eat at the same lodge. All told, for as little as $15 to $20 a day, you can have a truly unforgettable experience in the Himalayas.
Three of Nepal's best-known treks—Everest Base Camp, the Annapurna Circuit, and Langtang Valley—are fairly easy going for anyone with a medium fitness level. Well-stocked teahouses abound along the trails. These offer comfortable bedrooms, delicious food, and even indulgences like chocolate cake ($2 to $3) or warm cups of home-brewed rakshi, a local millet wine ($1 to $2). It's rare to walk for more than three or four hours without coming across a village where you can order lunch or stop for the night. (Just make sure you confirm room prices, food prices, and whether there's electricity and hot water before agreeing to stay.) The odd steep climb is sometimes necessary; but you'll spend most days following the gentle incline of pine-forested valleys, or enjoying views of mountain-studded horizons from terraced slopes.
There are two very popular times to trek these routes. The first is March to April, when spectacular rhododendron blooms shroud the Himalayan foothills in a majestic crimson—contrasting beautifully with glittering springtime snows higher up. The second is October to November. This period boasts clear, post-monsoon skies and pleasant average temperatures of around 70 F in the cities and foothills. Winter trekking is also worthwhile if you don't mind the cold: Temperatures routinely fall below 0 F at night in high-altitude areas. This isn't much of a problem, however, if you bring a four-season sleeping bag and plenty of layers, or stick to warmer trails below 8,000 feet.
Even the summer monsoon (June through August) can be atmospheric: As you cross rain-soaked alpine pastures, you'll spot gorgeous wild lilacs, dark blue delphiniums, and purple primulas brought vividly to life by occasional bursts of radiant sunlight. If you'd like to avoid the high-season crowds and feel that you have the trails almost to yourself, consider trekking at this underrated time of year.
Of all the major treks, Langtang is my top recommendation for 2017. The valley was badly hit by the 2015 Nepal earthquake, but its teahouses are now up and running once more, and locals are extremely grateful for any pioneering visitors. It can be completed comfortably in six or seven days, and requires only one particularly strenuous climb on the first day. Be sure to take the rugged, upland Sherpagaun route on your way there or back; you'll be rewarded with dramatic views down to the river, and on a clear evening you'll catch the last orange light of sunset igniting the eastern peaks.
The secluded atmosphere of Rimche, halfway up the valley, also warrants a stop. As you fall asleep in your riverside bedroom ($4 to $7), surrounded by thick native forest, you'll hear the water rush past you on its way to the Ganges and the Bay of Bengal. When you finally reach the far end of the valley, consider using Langtang or Kyanjin Gompa as a base for day hikes to nearby glaciers, peaks, and heritage sites. If you have extra time, tack on a mind-blowing detour to the holy lakes of Gosaikunda, or walk to Langtang via the hilly farmland of Helambu, just north of Kathmandu. Both hikes will reward you with panoramic views of the Himalayas and give you a better taste of Langtang National Park's incredible biodiversity.
Another fantastic option is the trek from Pokhara to Bhadaure, via Panchase peak. It's shorter (three to four days) and easier than the major routes, but it lies well off the beaten track and dishes up the same glorious views of the Himalayas. Bhumdi, Panchase Bhanjyang, and Bhadaure are the best places to sleep along the trail. Bhadaure is one of the most interesting villages in Nepal, yet hardly anyone knows about it. Stroll through its captivating alleyways in the evening—taking care to dodge its numerous roosters and goats—and strike up a conversation with the elderly men playing chess under an awning. You'll end up with a genuine sense of Nepali village life. The trek itself is something of a local secret, so be prepared to ask friendly buffalo herders for directions between villages.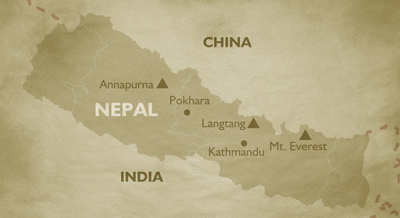 There are a few things you can do to make trekking easier. Porters are readily available for about $15 a day if you need them. Guides can be hired independently for as little as $20 a day, though those who charge $30 to $35 are likely to be more competent. Female guides can be hired through excellent women- led agencies such as 3 Sisters Adventure Trekking.
Contrary to popular belief, you don't need a guide to complete the major treks—the routes are easy to follow, and many helpful locals and trekkers are around if you run into any problems. Guides are mainly useful as cultural translators and sources of information, but some people prefer the total independence that comes from walking alone. If you'd like to hire a guide independently, the best method is simply to ask around after you arrive in the country; most tourists you meet will be able to recommend a good one.
To make your dollars go even further, stock up on snacks like chocolate before you begin trekking; they can cost a fortune in some remote villages. In Kathmandu (Nepal's capital) and Pokhara (the country's second city), you can buy trekking equipment for significantly lower prices than in the U.S. It's possible to pick up a thick down jacket for about $15, a heavy-duty sleeping bag for $70, or a large, lightweight backpack for $35.
The major treks are generally very safe. To minimize risk, bring tablets for altitude sickness, as well as purification tablets or filters for drinking water. Basic English is widely understood, but try to learn a few words of Nepali before you arrive. Nepalis will love you for it, and simply being able to ask Arko gaun kati tadha chha? ("How far is the next village?") will make the whole experience more delightful.
Round-trip flights from the U.S. to Kathmandu start for as little as $550. Book through metasearch engines Kayak or Skyscanner to get the most competitive deals.
The colossal Himalayas may seem forbidding at first—but you really don't have to be an extreme sportsman to enjoy them. A trek along the fabled trails of Nepal is an adventure open to practically everyone, whether young or old, veteran or novice. Perhaps the most formidable barrier to getting out there is the internal voice that says, "Another time."