---
"It gave me the impression of a '60s California beach town with surf shops and the waves," says Bill Sherman of what drew him and his wife Pokey to the town of Tamarindo, on Costa Rica's Pacific coast. "We both felt very comfortable. There are no high-rises on the beach. You just see trees."
The couple live in a fifth-floor condo, on a hill that overlooks the beach town they call home…as well as the forest along the gold-sand beach and deep blue of the Pacific.
"It's a real joy to wake up and come out here and realize what we've done," says Pokey.
There's a saying in Costa Rica: Pura Vida. It basically means "Life is Good." People are content and happy. And when you live on the country's Pacific coast, no matter where you are, Pura Vida is an attitude and way of life you can easily adopt. And your mental health is not all that will improve; your physical health may, as well. It's a place of abundant—and affordable—fresh produce and seafood (it's easy to eat a healthy diet here), clean air, and natural beauty.
Combine that with a lower cost of living (a couple can live well on $2,500 or less, all along the Pacific coast); high-quality but low-cost medical care; good-value real estate (rent for as little as $300 a month); established expat communities; and a welcoming vibe among locals…and you have a destination with all the ingredients for a happy retirement.
Expat Kathy Bowen also found her ideal retirement spot in Pacific-coast Costa Rica.
"There's a kindness and willingness to lend a helping hand, particularly to older people, that has been comforting for me. I have been tapped on the shoulder waiting in line, for example, and sent to the front so I don't have to wait. Little things like that have made life all-around enjoyable here."
At just 780 miles from tip to tip, Costa Rica's Pacific coast is relatively short, but it has a lot to offer. You'll find quiet coves nestled among towering cliffs…lush rainforests echoing with the calls of tropical birds…quiet farming communities…vibrant seaside towns…and vast expanses of gold-sand beach. The retirees, business owners, sunburned fishermen, blissed-out surfers, and other expats who call this coast home do so for many different reasons. Not least among them is the weather; with daytime highs in the high 80s F to low 90s F, it's easy to live an outdoor lifestyle here.
This coast is much more developed than the country's Caribbean coast. And although Costa Rica's Central Valley (with its cool-weather mountain towns) draws the bulk of the country's retirees, for great-value beach living, the Pacific coast is where you want to be.
The Pacific coast can be divided into three regions, each with its own flavor. The most well-established stretch of coast is along the central Pacific. Because it's so close to the capital of San José and the surrounding Central Valley, the country's largest population center, this is the most popular beach area for visitors and locals alike. Plenty of expats are here, too.
In the far south, near the border with Panama, the Southern Zone features vast rainforests and green-covered mountains that rise dramatically from the shoreline. Towering tropical hardwoods with trunks as wide as dining tables, yard-wide ferns, and other exotic plant life…not to mention the roars of howler monkeys and calls of exotic birds in the distance…make you feel as if you've entered a prehistoric land. In fact, this was a Lost World of sorts for decades, until infrastructure improvements in the last decade made it easier to reach. Development is increasing and a tight-knit expat community has sprouted up…but it still feels wild and unspoiled.
The northern Pacific, also known as the Gold Coast, has Costa Rica's second international airport. This region is a favorite with vacationers, who flock to its resort towns and all-inclusive resorts. If you want an established area with plenty of services and a large expat community to call home, you'll find it here. Still, plenty of quiet, rural areas, funky seaside villages, and off-the-beaten-path beaches abound. This is especially true in the Nicoya Peninsula, which is much loved by surfers and fans of yoga and natural healing.
Beach Living With All Conveniences on the Central Pacific
By Jason Holland
The central Pacific is the best spot along the coast if you need the big city nearby.
You get to enjoy a laidback beach lifestyle in one of the country's tourist hot spots—which means lots of great restaurants, live music, and other stuff to do. But the capital, San José, is just one or two hours away, depending on where on the coast you live. San José's proximity means that the best of Costa Rica's world-class healthcare (although there are clinics and hospitals in the region, too), best shopping, government offices (for residence applications, for example), the main international airport, and other services are close at hand. And with the completion of Highway 27, which links San José to the coastal highway, it's easier than ever to get back and forth.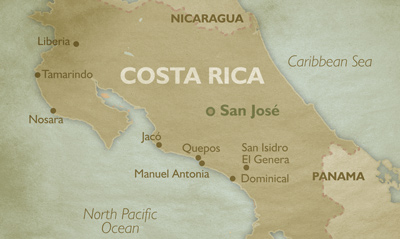 Ticos (local Costa Ricans) have frequented resort towns like Jacó and Manuel Antonio for decades. Beach-loving expats, surfers, and fishermen discovered this stretch of coast, too, and retirees soon followed. As a result, you have well-established expat communities here, with English-language churches like Horizon Church Jacó and markets with imported goods. There are also farmers' markets in both towns—you can get a fridge full of fresh produce for about $35 a week from local vendors, as well as prepared foods from expats.
Jacó is the largest town. Its main avenue, Pastor Díaz, which parallels the beach one block inland, is lined with boutiques, grocery stores, restaurants, bars, and souvenir shops. You'll have no problem renting a beach chair and ordering margaritas here.
Pete, 65, and Lisa Vanderhaak, 55, live in a private gated community to the north of Jacó.
"It's very quiet. We like that it's secluded and safe. If we want to go to the U.S. for a trip, we know the house is secure," says Pete. "It's ideal for us. We like the temperature, the closeness to the city, the people, and being by the beach."
"The environment here is beautiful. You can hike out the back door. We were looking for a slower and better pace of life, and we found it," says Lisa.
Jacó is one of the few spots in Costa Rica where you can buy titled, true beachfront land. And there are plenty of condo towers on the sand or a few blocks away for affordable prices. A two-bedroom, walk-to-everything condo can be bought for $165,000. And you can rent one-bedroom, furnished condos starting at $700 (or less, once you're on the ground and can network). See: Jacorealty.com.
At a typical tourist restaurant, you can enjoy sports-bar fare like chicken wings and burgers. There's sushi, Italian…just about any cuisine you can think of. But you'll pay U.S. prices. This is why savvy expats usually frequent sodas—simple local restaurants offering rice, beans, plantains, and a choice of fish, chicken, or beef (a local dish known as the casado) for $5 a plate.
"In Jacó, we can have a nice lunch or dinner in a mid-range restaurant for around $20 to $30," says Lori Haskell, who lives with her husband, Kurt, in the nearby village of Herradura. "We've learned that buying local brands at the grocery store is much cheaper, and we've mostly stopped craving the things we were used to in the States…although my husband still does occasionally buy Mountain Dew. At the local feria (market), I can buy 26 bananas for less than a $1, and a pineapple is about 80 cents."
Farther south, about an hour and 20 minutes away, is another tourist hot spot popular with expats. Manuel Antonio is home to Costa Rica's most-visited national park. And here you can live amid a rainforest filled with capuchin monkeys, three-toed sloths, toucans, and scarlet macaws. The town spreads on either side of a cliff-hugging, two-lane road that ends at the national park. There are many vantage points with views all the way down to the glittering Pacific.
Bob Normand, 73, from Sarasota, Florida, retired to Quepos, the typical Tico town next to Manuel Antonio, after a career as a business consultant.
"I came to Costa Rica eight times before I moved here. Each time I ended up in Quepos or Manuel Antonio," he says. "I fell in love with it. I wanted the beach. I wanted the warm weather. I'm not a mountain person. And I like the small-town atmosphere. People here are warm and friendly. And I walk through Quepos at 11 or 12 at night and never have had a problem."
Bob lives well on his income from Social Security and small pension. It covers rent on a one-bedroom apartment ($300 a month), dinners out with friends in some of the nicer restaurants in Manuel Antonio, and frequent travel around Costa Rica and abroad to places like Argentina.
"I often go up to Manuel Antonio to meet with people. I go to the farmers' market in Quepos. And I go to the beach, Playa Espadilla, two to three times a week. There's nothing more relaxing than sitting on the beach with that sea breeze," says Bob.
Quepos is also the home of Lance, 68, and Mary Miller, 62.
"If you're moving to Costa Rica and you're looking for a small, laidback town, you'll be happy here," says Mary. "It reminds you of the '50s. I grew up in a small country town—that's what it's like here. Sometimes we just go to have lunch in Quepos and walk around. We always see people we know."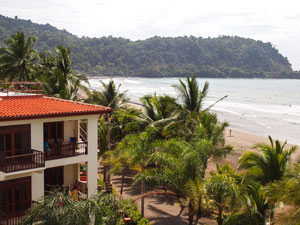 "We go to the feria (outdoor farmers' market) every week. The people here are so friendly. We've made contacts with all the butchers, bakers, and candlestick makers," says Lance. "They already have our order ready when they see us coming. I like the papayas and watermelons, especially."
Although prices are high due to the area's popularity, you can still find deals on real estate. A two-bedroom condo in the heart of town is $175,000. One-bedroom condos are available to rent for $575 a month, if you'd rather test-drive life here. See: Century21cr.com and Brunxu.com.
And even in the popular Central Pacific coast, plenty of small villages and quiet, rural areas lie between the resort towns. Playa Hermosa, Esterillos, and Bejuco are mostly residential seaside villages, with a mix of gated communities, small condo buildings, and one-off homes among the trees. From most spots, you can walk to the beach, which is virtually undeveloped. Shopping and dining are limited—these are small places. But Jacó and all its conveniences are just a short trip away.