---
A cool ocean breeze on whitesand beaches…crimson sunsets and unspoiled islands… If you visited Cambodia's southwestern coast in the 1960s you would have savored those things, and—if you knew the right people—you could have attended glitzy parties, sipped Champagne, and maybe even mingled with royalty and Hollywood stars.
Forty years before, French colonists built lavish homes on Cambodia's south-west coast, transporting an art deco and Bauhaus vision of Cannes and Antibes to Southeast Asia's tropical shores. Fine brandy and diplomatic intrigue were common currency, and a bubble of gracious living prospered in this gated outpost of bourgeois France.
In 1908 they established Kep-sur-Mer as a vacation retreat, replete with grand villas. It became known as the "Saint-Tropez of Southeast Asia" for its similarities to the seaside resorts of the French Riviera.
After the country was granted independence, the coastal scene became ever more in vogue, as the dashing young King of Cambodia had his own beautiful palace built, and glamorous parties became all the rage. For 15 years the Champagne kept flowing, in what is now wistfully referred to as the country's Golden Era.
But, it was not to last, as the war in Vietnam and the Khmer Rouge regime led to years of tragedy for Cambodia. This dark chapter in Cambodia's history is now closed and the "Lost Riviera" coast is undergoing a new age of development.
And it's begging to be rediscovered.
The towns of Sihanoukville, Kampot, and Kep are once again growing in reputation as up-and-coming destinations.
Many expats have already found them the perfect place to escape the stress of the rat race.
Laidback Coastal Living in Colonial Kep
Kep is a beach town that is renowned for its fresh crab market. Try the fried crab with Kampot pepper in the restaurants along the pier, such as So Kheang Crab Restaurant, where they keep their fresh crabs in the ocean by the pier and the chef jumps into the sea to grab one any time a customer orders. Even better is the great price of less than $5 for a plate of the fresh-est fried crab available in Cambodia.
Kep is an extremely scenic town, and the long-abandoned ruined villas that were once home to the French elite add a curious colonial feel when you're exploring.
These days Kep is a simple and laid-back resort town, offering relaxed living to tourists and long-term expats alike. What is amazing about living in Kep is that it is very hard to spend large amounts of money; it's easy to see why the town has become a magnet for digital nomads and savvy expats.
Property rentals are highly affordable, although the pool of available properties is small. Still, you can get a one-bedroom, one-bathroom Khmer-style bungalow on a private road, in a peaceful area close to the heart of Kep, for $265 a month. If we include the monthly rental fee, utilities, food shopping, and socializing, then cost of living for a single person can range from as little as $690 to $880 per month. That doesn't mean that there is nothing to do, though. Kep is filled with all kinds of activities to keep you busy. The Butterfly Farm and Kep Ranch where they regularly hold horse treks along the beach.
Sihanoukville: Cambodia's Best Beach Town for Retirees
Sihanoukville is a big town by Cambodian standards and it has developed quickly, with lots of shopping and entertainment areas to satisfy expats and holidaymakers. In fact, many people come to Sihanoukville as tourists and end up liking the place so much they decide to stay and set up home.
If you're looking for an active retirement, you can find it here. Many expats find jobs either in tourism or as teachers.
There are also almost endless business opportunities for those willing to invest in a bar, restaurant, or guesthouse.
As a retiree here, you will find plenty to keep you busy. "Sihanoukville is great for eating and enjoying the pubs and nightlife," said Roger Carter (64.) "Though I am not much of a late-night person anymore, I really love going out in the daytime to try new restaurants or have an early evening beer at an expat bar. There are more than 200 different bars and restaurants in Sihanoukville with new places opening up every high season, but the really good establishments usually stand out based on expat word-of-mouth and are always busy with customers."
The town also offers a large variety of things to do, including fishing, scuba diving, snorkeling, boat trips, miniature golf, horse riding, and paintball. You can explore the many deserted islands of the region, visit the many nearby temples or negotiate your way around the local markets.
There is a large selection of rental properties available, including furnished apartments and luxury garden villas.
Because the rental market is extremely competitive, prices are low and landlords are adaptable to your needs. A modern onebedroom, one-bathroom condo is currently available between downtown Sihanoukville and Sokha Beach for $450 a month.
It's fully furnished with a spacious living room, air conditioning, and a balcony. It also has car parking if you need it. See: Realestate.com.kh.
A single person can live comfortably for just $790 to $1,070 a month. Food and drink are very reasonably priced at restaurants and many expats' daily activities do not require them to spend much money, if any at all.
Riverbank Cafés and a Genteel Hill
Station in Kampot Kampot is a small city with a population of under 40,000, and it has the feel of a quaint and sleepy hideaway. The central meeting point is the charmingly rustic riverside, where many different Westernand Cambodian-owned restaurants, bars,and guesthouses are located.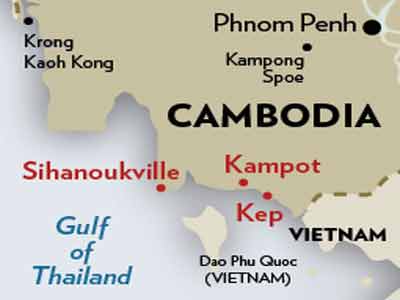 Kampot is also very close to Bokor National Park and Bokor Hill Station, so many visitors use the town as a base for visiting these spots. The top of Bokor Hill is well known for the colonial ruins of an old French casino called Bokor Palace Hotel, as well as for the old Catholic church and the King's "Black Palace." All these were abandoned
during World War II and the civil war period. Since then, they have become a major attraction with tourists, due to the location's remote, ghost-town feel.
Renting a motorbike and driving all the way up to the top of the hill will give you a new perspective on Cambodia. As the temperature drops and fog surrounds you, it's like being transported back in time—to an era when Frenchmen gambled while their wives attended church. It's very much an "only in Cambodia" experience.
The expats I talked to about the cost of living in Kampot say that, apart from the outstanding natural beauty and relaxed atmosphere, affordability was a major attraction for them. A single person can spend as little as $710 to $925 a month—including rent, food, and social activities—living there full-time.