---
Information technology (IT) services change, software changes, and hardware goes through drastic revisions and shifts in mere months. It makes investing in technology both exciting and difficult, by forcing you to stay connected to the latest shifts and developments in the market.
But what if you could bypass all the speculation and still benefit from the IT market's advance?
You can, and it's as easy as investing in one company: CDW Corp. (Nasdaq: CDW).
CDW provides diversified IT solutions to business, government, education, and healthcare organizations in the United States, Canada, and the United Kingdom. The company delivers everything from basic hardware like desktop PCs to printers, to mobility, security, data center optimization, and cloud computing.
On the fundamental side, CDW is a solid revenue machine. During the past five years, the company has averaged annual growth of 18.65%, besting the S&P 500's average. This year, the company is projected to see revenue growth of about 24%, with next year coming in near 23.3%.
As an added bonus, CDW pays out a quarterly dividend.
The current yield is only 1.17%, but still respectable. CDW also recently bumped its dividend payout 31%, to 21 cents per share.
The price action of CDW's stock matches its strong fundamentals. Since going public in June 2013, CDW shares are up more than 300%. Now is an excellent time to add CDW stock to your portfolio.
Be a Cybercrime Winner, Not a Victim
"Cybercriminals are everywhere. And they're becoming more savvy by the day.
"Individuals and corporations are scrambling to protect their most sensitive information," writes Greg Guenther, technical research guru at Dailyreckoning.com, "but they're woefully behind the curve.
"Online threats are diving much deeper than fake news and election tampering. Just last year, the Equifax breach exposed nearly half of Americans to the perils of identity theft. These events are a grim reminder of just how vulnerable our information is in the digital age. This threat is more pressing than terrorism or natural disasters, according to the CIA, FBI, and NSA. And it's quietly reigniting a forgotten market trend.
"There are a few select companies trying to do something about it. What we're witnessing right now is a generational opportunity for the companies that make their money protecting our identities.
"Cybersecurity will become one of the most lucrative plays of the next decade. Admittedly, it hasn't been an easy ride so far.
"But something has changed over the past months. The Pure-Funds ISE Cyber Security ETF (NYSE: HaCK) is beginning to come back to life after registering important swing lows back in November, and is moving higher. It even started to quietly outperform the S&P 500 toward the end of 2017. Now the fund has found support and is bouncing back toward its all-time highs.
"The cybersecurity revolution is here. There's plenty of money to be made as the market wakes up to this powerful trend…"
Double Your Money With Gold Miners
The best buy in the natural resource space today is gold miners.
These stocks are too cheap. If you took their fundamentals and put them in any other sector, they'd be a screaming buy. But gold miners are out of fashion today.
Major hedge funds sold out at the end of 2017, dumping 40 million shares—over $345 million worth—of the VanEck Vectors Gold Miners ETF (NYSE: GdX). In turn, that led to the exchange-traded fund's dumping major gold mining stocks. GDX is now down 28% from its high in August 2016.
The funny thing about this is that major gold miners had a great 2017. They ended with lower costs, lower debt, more cash, and more gold production than they had in years.
Hedge funds think that trend is over…but they are dead wrong.
In 2017, major gold miner Barrick Gold Corp. (NYSE: aBX) cut its debt by 19%. It cut its debt by 50% since 2014.
Major gold miner Goldcorp Inc. (NYSE: GG) plans to grow gold production by 20% and cut costs by 12.5% by 2020.
Major gold miner Newmont Mining Corp. (NYSE: NEM) saw free cash flow grow 88% in 2017. It raised its dividend by 87%.
I could go on, but you get the picture. These companies are becoming better businesses.
The stuff they make, gold, is going up in price. Thanks to the recent fall, they are extremely cheap today. All we need is an uptrend, and this is an easy double in price.—Matt Badiali, Banyanhill.com.
How (Not) to Lose All Your Crypto-Gains in 15 Minutes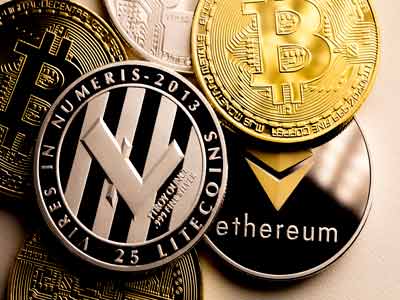 Making huge gains in cryptos doesn't mean anything if you don't protect them. A $50 million bitcoin scam recently came to light with the help of internet giant Cisco and Ukranian cyber police. It tried to get you to click on a link that looked like a trusted cryptocurrency wallet service, to trick you into unveiling your login credentials.
Unless the user noticed the website address was different, they would proceed as though nothing was wrong. But the wallet address where they sent their coins would be for the wallet owned by the fraudsters.
How to Protect Yourself
Make sure you know what the web address for your trusted wallet is and how to spell it. And verify the web address before entering any personal information.
Send a small amount to yourself. If your cryptocurrency doesn't show up, you know you're either part of a scam or you made a typo. Either way, you only lost a small amount.
Always double-check 'send' and 'receive' addresses. Another sneaky scam involves a virus lurking on your computer.
What happens is that, because these cryptocurrency wallet addresses are so long, almost everyone just copies and pastes them before sending.
The creators of this virus know this…and whenever you paste something that could be a bitcoin address, it will change whatever you copied to their bitcoin address.
And those bitcoins are gone forever.
So always make sure to double-check your addresses. Don't rely on copying and pasting.
Cryptocurrencies are extremely profitable and will continue to be. But there are additional risks. We need to be careful to avoid these scams.—Nick Rokke, Caseyresearch.com.