I'm in the shade of a palm tree, watching three dozen kiteboarders careen across the Bay of Cabarete at full tilt, once in a while lifting on a whitecap and taking flight. The wind picks up in the mid-afternoon. This is something I was curious about when I planned my trip to this small beach town on the Dominican Republic's north coast. Would I be sandblasted?
But I found that the wind is stronger the closer you are to the water. So you can enjoy the beach in comfort at any time, whether you're lounging or taking a long walk with your dog, as well as at the open-air, beachfront restaurants and bars with tables right on the sand. And that's just what the international cast of fun-loving expats who call Cabarete home—and its visitors—do. And while you have to like the feel of sand between your toes to live in Cabarete, you don't have to be an extreme sports athlete.
Expats are drawn by the year-round warm climate. It averages in the mid- to high 80s F throughout the year (dropping to the 70s F at night), with the winter months being slightly cooler than summer. The sea breeze helps temper the heat.
If you like to dance, there are any number of spots playing salsa and bachata (a homegrown Latin music style). There are groups who play cards. Artists and crafters find inspiration here and can sell their work at the weekly artisan market. There are plenty of dinner parties, and an active yoga scene. And if you're ready to just relax, you can do that, too.
"You slowly assimilate into the culture in certain ways. However, most likely, you've come to a place like this for the expat community, so your friends will likely always be those who you share a cultural bond with," says Vani Vosburgh, 71. "That being said, we know many Dominicans, and they are a very friendly people. You can't expect things to be the same as the U.S. This is a developing country. You have to be a chilled-out person… or learn to be one."
That's not hard to do in Cabarete, where things run very much on island time and the scenery is postcard perfect. The golden sand beach gracefully arcs around the bay; it's the centerpiece of town, which has about 15,000 people.
The price of real estate (walk-to-the beach condos under $100,000 are available) and low cost of living are a big draw, too. Thanks to low rental prices, a retired couple could live well on $2,500 a month.
"If you buy fresh produce and buy local, you can live on Social Security. Most things you buy in an American grocery store are available here, but expect to pay a lot more for them. There are always a few favorite and familiar things that we will buy, but we have learned the equivalents that are much cheaper, or we have just gradually dropped them," says Debra Duff, 63, most recently from St. Petersburg, Florida. "And rents are still reasonable. You can find condos at $300 to $400 a month. We couldn't live in the house we were in in Florida and have the same quality of life after retirement."
Debra and Vani bought a lot in a gated community outside town and are nearing their move-in date. It's a two-bedroom home with a pool, built to their specifications. The total price for the lot and construction was $120,000. They call it Séptimo Cielo, Seventh Heaven.
To fill their new home, Debra and Vani shipped down 29 boxes of kitchen supplies, arts and craft supplies, and more.
"We brought everything except furniture and appliances. We're buying mostly used things as we find them on the local Facebook buy-and-sell boards. We have to pace ourselves, because the house was a huge investment and we are still paying for part of it, so have to watch our expenses. But we can still live in a beautiful place, in a gated community, in a lovely new house, with public transport to everywhere just a five-minute walk to the main road," says Vani.
As far as prices for already-built homes in Cabarete go, there are plenty of bargains. In town is a two-bedroom townhouse for $99,000. On the road to Sosúa, near Kite Beach, is a three-bedroom home in a gated community for $149,000. A two-bedroom home, on a half-acre of land, is available for $198,900. You have a large wall surrounding the property for privacy, as well as a two-car garage, large yard, tropical landscaping, and fruit trees. See: Ocean-side-realty.com and Cabareterealestate.com.
A one-bedroom condo on the water, known as Kite Beach, is listed at $72,000. It has 24-hour security, community pool, and private beach access. Also available is a fully furnished, two-bedroom penthouse condo, within walking distance of the water, right in the heart of Cabarete (for $115,000). It has a view of the pool area, and the grounds feature tropical landscaping. See: Ocean-side-realty.com.
If you want to try before you buy, there are plenty of rentals, as well, starting at about $400 for a one-bedroom near the water. Of course, the best deals can be found on the local Facebook group and by in-person networking. So if you come down on a scouting trip, be sure to make connections. You never know: The person sitting at the next barstool could be your future landlord.
"It can be hard to find a place to rent online," says Mike Douglas, a Canadian who works in the oilfields half the year and spends the other half in Cabarete. "You have to be here. But it's a beautiful spot and it's been a great experience. I find the local people have been very good to me."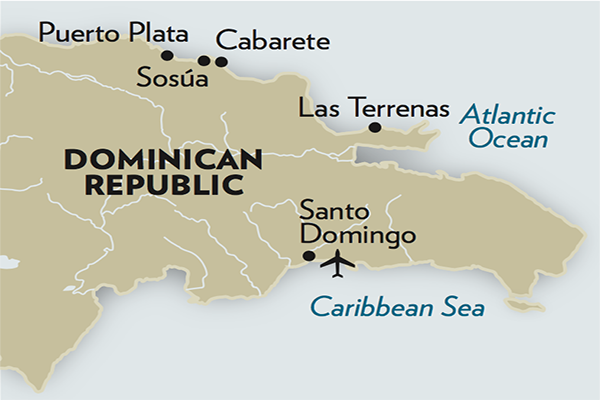 With just a few larger hotels and resorts, Cabarete doesn't get the package tour crowd as much as the ultra-popular destination of Punta Cana, on the island's far western tip, does. Cabarete is more for independent travelers. Development here is low-key, with no big condo towers looming above the sand. There are many real estate options, although they're mostly condos, many of which are on the beach or at least a quick walk away (nothing is far from the beach here).
What I liked most was that, as Cabarete is so small, you can walk to everything in town, even in flip-flops. If you live farther out, you have a few options. Many expats don't have a car but may pick up a scooter or four-wheel ATV. To be honest, the driving can be quite chaotic. Some expats have sworn off driving altogether, preferring to let people who've been doing it their whole lives handle it. There are car taxis, but also motorcycle taxis (motoconchos) that will zip you around for a couple of bucks.
I also found a few gems in the heart of town. Fresh Fresh Café has bowls with greens, tofu, and other "superfoods." The shaded backyard patio is a popular spot with digital nomads. And Gordito's Fresh Mex, owned by U.S. expat couple Deidre and Joe Ciolko, from Fort Lauderdale, is one of the town's top-rated restaurants, serving up fresh Tex-Mex cuisine. The fish tacos are delicious. For breakfast, I can recommend the Velero Hotel, where I met a local expat for the buffet. I enjoyed the food and the panoramic view of the bay.
"Every evening we take a walk on the beach," says Debra. "We go to the restaurants a lot. There is a bakery with a French owner. They have the best croissants; I swear you can't get better in Paris."
You can get almost everything you need in Cabarete. It does have a good-sized supermarket with many imported items. And fruit and vegetable stands dot the town center. But Cabarete also benefits from being just eight miles from Sosúa, a larger town with more amenities, including a highly rated, large clinic (it can provide CT scans and 24-hour emergency care), an international school, larger supermarkets, and a well-stocked hardware store. I wouldn't recommend taking a motoconcho this far. Instead, try a guagua, which are large vans running down the main road… you just flag one down, pay about 50 cents, and then let the driver know when you want to get off. It can be a bit intimidating but well worth the savings on longer trips.
The larger town of Puerto Plata is about 45 minutes away (a $1.50 guagua ride) along the coast and features large stores similar to big-box stores in the U.S. The second-largest city in the country, Santiago de los Caballeros, with close to 1 million residents, is about two hours inland (via large bus—$4). Here there is a warehouse shopping club called PriceSmart, along with major medical centers, and an international airport.
I found airline ticket prices to be much cheaper going into Santiago than into Puerto Plata—the other international airport on this stretch of coast. Many expats make the trip here periodically for a big shopping trip, often combined with a trip to see their specialist doctor. Those without cars will rent a van and split the cost.
The capital of the Dominican Republic, Santo Domingo, is on the other side of the island but still only a four-hour drive away. Some of the best medical care in the Caribbean, as well as the country's largest international airport, is in Santo Domingo. And for shoppers, there's even an IKEA.
The combination of climate, convenience, and cost of living—plus a fun-loving atmosphere and active expat community— make Cabarete an ideal destination for someone looking to live at a Caribbean beach location…for less.
Previous
Next