Picture an inky night sky filled with floating lanterns swirling haphazardly against a full moon. Or banana leaf krathongs decorated with flowers and candles drifting down a lazy river as the sun sets on a warm evening.
Whether you love the energy of a big city or prefer a simpler existence among the green rice paddies…whether you need spectacular beach life or wish to be near the sacred jungle mountains of the north, it's all available in Thailand.
On a map, the country is shaped a little like an elephant's head. That's apt—a Siamese elephant is the national emblem. The country's sizable northern region is the head and ears. The forehead nudges Myanmar (formerly Burma), the top of the head supports neighboring Laos, while the ears and neck are stroked by Cambodia. The trunk leads south along the Thai/ Malay peninsula, with the warm waters of the Andaman Sea and the Gulf of Thailand lapping at either side.
That simple picture also emphasizes the country's diversity. Expat hot spots like Chiang Mai and nearby Chiang Rai lie in the northwest. Both busy cities are surrounded by verdant mountains, home of the ancient Lanna culture. Across country, the northeastern region of Isaan—Thailand's agricultural heartland—is now starting to attract expats. They're seeking a more authentic Thai life, while still having all the necessities on their doorstep in major regional cities like Udon Thani.
The central plains are home to the Kingdom's capital, Bangkok—a modern metropolis with a population of 9.5 million. It's also one of Southeast Asia's major airport hubs. Head south along the Thai/ Malay peninsula, and you'll find a multitude of beach communities and tropical islands to discover and explore.
Never having been colonized by any Western powers, Thailand offers visitors a truly distinct culture. And the encouraging news is that airfares have dropped in price over the last few months. U.S. expats have been seeing flights as cheap as $377 round-trip (with China Eastern).
Beach and Island Choices: Heading Down Thailand's Trunk
by Michael Cullen
Hua Hin—The Royal Resort Town
Just three hours' drive south of Bangkok on Thailand's Gulf Coast is Hua Hin, where I live with my wife, Vivien. The Thai royal family put Hua Hin on the map when King Rama VI chose it as the location for his summer palace in the 1920s.
The continued royal presence also means well-developed infrastructure, modern hospitals, and an international airport. Long popular with Thais as a beach destination, these days expat retirees are discovering the value, convenience, and attractiveness of the Hua Hin region.
Oklahoma City natives Marc and Kathryn Liston knew they wanted to retire somewhere that would let them live an outdoor lifestyle. "We wanted to spend our golden years enjoying some adventure, and it had to be a warm climate. No more cold Oklahoma winters," Marc says.
The couple settled on a small community just 12 miles south of Hua Hin proper. "We're surrounded by three national parks—all within 30 minutes' drive. Birdwatching, elephants in the wild, and so much wildlife. There is so much to explore," says Kathryn.
Hua Hin is not just for nature lovers. Golfers have nine high-quality courses to choose from, including several at international competition standard. Tennis or badminton, yoga or Muay Thai, and water sports—including kitesurfing, and standup paddle boarding—are all readily available. And there are plenty of Thai cultural events to immerse yourself in.
Accommodation options are abundant. For example, a two-bedroom, two-bathroom, fully furnished condo overlooking one of the local golf courses is currently available for $900 a month. And that's with access to the onsite pool.
You can buy fresh tropical fruits, vegetables, seafood, meats, and all the necessities for your pantry from Thai markets and gourmet supermarkets that cater to Western tastes. The monthly cost of living for Vivien and me comes in at around $2,000—one-third of what we would spend back home. That makes life here so much more affordable.
Koh Samui—A Paradise Island
Heading farther south on the Gulf of Thailand is the Kingdom's second-biggest island—Koh Samui.
In the Thai language, "Koh" means island, and "Safe Haven" is one interpretation of Samui. Locals and expats simply call it "Samui," and it is an idyllic tropical paradise. White, sandy beaches and headlands fringe this lovely island.
Until the late 20th century, the island remained a self-sufficient community, with fishing, coconut, and rubber plantations the primary source of income. In the early 1990s, tourists started arriving in increasing numbers. Since then, Samui has grown into a fully-fledged destination, with luxury hotels, spas, and boutiques welcoming around 1 million tourists a year.
Fortunately, the island retains a delightful blend of traditional Thai hospitality. Visiting its towns and villages drops you into the buzz of local people going about their daily lives. The 34-mile ring road makes for easy travel around the island, with scooters, motorbikes, or cars the preferred mode of transport.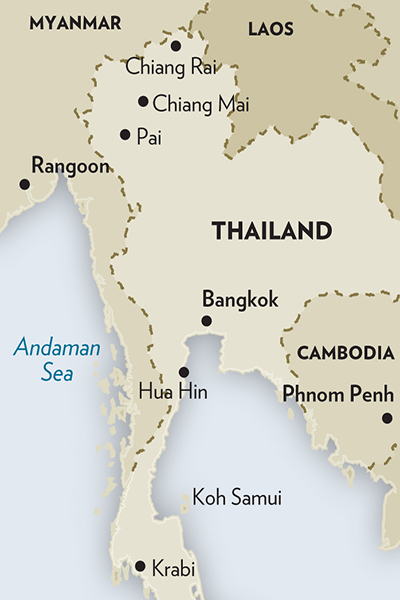 Importantly, you can get practically anything you need on the island. Furniture and big-box stores, car dealers, electronics suppliers, and air-conditioned shopping centers—they're all here. Supermarkets are well stocked with imported goods, making it easy to find those things you can't live without. High-speed, fiber-optic internet, and digital TV access is also available and affordable.
Around 63,000 people live on the island, with an estimated 15,000 of them being expats. The island's east coast is the most populated, and it's where most of the tourist accommodation, dining and entertainment, malls, and hospitals are located. Many expats head toward the northeast of the island, with Bo Phut, Bang Rak, and Choeng Mon the most popular areas.
Canadian snowbirds Doug Locke and Helen Bartley have been coming to Samui for 10 consecutive years—enjoying what they call "Paradise Island" for five to six months each year. They've checked out other islands, including Langkawi, in neighboring Malaysia, but they keep coming back to Samui.
"We live a very comfortable life here for $1,490 a month, getting around on a scooter, eating and shopping locally—it's just so easy," explains Doug. "Folks we know are renting comfortable Thai-style houses for $300 to $450 a month, and that's fully furnished, with WiFi. We rent half a house from a Thai family and pay for the whole year up front. That means we can store our stuff here. The family unlock and clean our side of the house before we arrive, so it's ready to go. That's $1,800 a year rent for the security of our own preferred accommodation, on the dates we want it. I can't even compare what we'd pay for such an arrangement in Edmonton."
We live a very comfortable life for $1,490 a month.
With five hospitals, including the renowned Bangkok Hospital Samui and the Samui International Hospital, access to healthcare is not an issue. Additionally, there is a selection of dental, optical, and specialist services and pharmacies. Doug and Helen can vouch for those. "We get our dental work done here every year. They've got fancier equipment here than dentists back home. Just last year I had to get a crown done, which cost me $224. That would have easily been $1,500 in Canada." In summary, Doug says, "We have the best of both worlds—simple island living and any conceivable convenience when we want it—it's all here!"
Vibrant Living With City and Country Options: Thailand's Magical North
by Rachel Devlin
Chiang Mai—The Rose of the North
Tiny street food stalls attached to motorbikes line the fascinating sois (small streets) around the city. Signs hang unevenly from above, with chalkboard menus and fairy lights adding to the spectacle.
The best street food areas are selling sai ua, a spicy northern Thai sausage. Others have large bowls of khao soi, a famous soup combining chili, curry spices, and garlic into a heavenly coconut broth with a layer of soft egg noodles… and, just for good measure, another layer of deep-fried crunchy noodles to perfect the texture.
I love living in Chiang Mai with my husband, Mick, and around 30,000 other expats who enjoy life in Chiang Mai province. North American, British, and Australian settlers lead the ranks of Westerners. There's plenty to keep you busy, too. Expat Pat Corey feels spoiled for choice. "Once you get to know people from the Expats Club, you begin to see all the many group activities that go on in Chiang Mai," she says.
A building boom has ensured an enormous choice of rentals. Western-standard studio apartments begin at $300 a month. Prices depend on location and facilities. A small, two-bedroom house a 30-minute drive outside the city could rent for as little as $250 a month and would suit someone who didn't need a fancy kitchen. A higher-end house minutes from the Old City, with three bedrooms and modern furnishings, will run around $685 a month. An average monthly water bill generally costs under $10, and an electricity bill (with no air conditioning) will be as low as $15.
Foreigners are also legally allowed to buy condos, and you can find a standard studio apartment close to the city for as little as $53,000. If you're looking for a new, one-bedroom condo in the city itself, you can pick one up for under $94,000, furnished. The prices get even lower as you drive out of town. Many condos in Chiang Mai have swimming pools and gyms to enjoy.
Physical therapy costs just $15 for 90 minutes.
Chiang Mai's moderate climate offers three seasons: Hot, rainy (which is also hot), and cool. In the cool season, sunny days will reach 80 F. In the hot season, Chiang Mai can be humid and reach average temperatures of 96 F. Anecdotally, many expats suffering from arthritis find the climate helps alleviate their symptoms.
The city's five major hospitals and numerous medical centers are centrally located, and expats have a choice of using the large international facilities or their smaller local equivalents. Often, the same doctors work in both, so the difference comes down to waiting times, price, and surface features like décor—not quality of care. Last year my husband, Mick, went to the local hospital with a bad shoulder. They sent him to the specialist and, after some consultation, gave him a cortisone injection. This cost $17, no appointment needed. His physical therapy sessions at the hospital cost just $15 for 90 minutes.
Probably the most outstanding feature of living in Chiang Mai is the Lanna culture. Historically, Chiang Mai was isolated from central Thailand and derived its cultural influences from Myanmar, Laos, and Cambodia. Hill tribes from Tibet and China have also had a colorful impact. The effects can still be traced in temples, artworks, and food.
Some of the most beautiful results are Chiang Mai's hundreds of temples. Crumbling clay chedis (mounds containing relics) built in medieval times, and wats (temples) display skillful folk artwork. Images of the Buddha dazzle in gold, surrounded by candles. Yet it is the colors that capture your eye and heart—bright, popping oranges, pinks, and maroons.
Chiang Mai's large expat club hosts regular functions, including breakfasts, meetings with guest speakers, and social events including book and Scrabble clubs, hiking, bicycling, writing, art openings, cultural exhibits, and live music events.
Personally, my friends and I love Payap University's Life-Long Learning courses (see: Inter.payap. ac.th/life-long-learning). The courses include field trips to historic sites or artistic workshops in subjects like ceramics or sketching.
Many new expats are also relieved to learn that getting around town is relatively easy. There are multiple options, and most are very cheap. Red trucks (song theaws) are like buses without a set route. You just wave one down and tell the driver your destination. If he is heading that way, you jump in. The fare is set at 90 cents and they operate only within the city. The latest form of transport is GRAB—taxis that are ordered through an app. They're very cheap and popular with expats. A bus service is also a new addition and stops at popular destinations for 90 cents.
And there are plenty of places to go. Like one of Chiang Mai's 6,000 restaurants. Lorraine Griggs, 55, originally from Maryland, loves the dining options. "I like vegetarian and vegan food," she says, "which can mean a large plateful of curries, stews, and rice at the local mall's food court for $1.50, or a delicious bean burrito that feeds two for $3. My favorite restaurant serves up breakfast, lunch, or dinner for $5 to $7 a meal."
My own favorite is a place called The Gekko Garden. Here, on Barbecue Saturday, you can get two tender pork chops with cream and pepper sauce, salad, mashed potatoes, and a cob of corn for $6.
Among Chiang Mai's most attractive features are its ancient moat, fortifications, and gates, which allow entry into the Old City—a legacy of the fascinating history behind this always-lively place.
Editor's Note: Thailand offers some of Southeast Asia's best retirement spots, from vibrant university cities like Chiang Mai to beach-town paradises like Koh Phangan. You can enjoy the white-sand beaches, lush jungle, and crystal-blue waters. Combine that with the some of the friendliest people on the planet, and you've got a country that demands your attention.
Find your perfect spot in "The Land of Smiles" as well as everything you need to know to start your overseas adventure there in our jam-packed report Amazing Thailand: How To Enjoy a Luxury Retirement for Less In "The Land Of Smiles."
Previous
Next