Hobbit-Holes of Guatemala
The most lovable characters of J.R.R. Tolkien's epic Lord of the Rings fantasy trilogy are undoubtedly the diminutive and furry-footed hobbits of the Shire.
Some of them, at least, enjoyed their lengthy adventures in the rougher corners of Middle Earth. But at the end of the day they were ready to sit down to a good book, quaff a glass of Old Winyards, and enjoy a pipe of Longbottom Leaf by the fire in their cozy and well-appointed underground hobbit-holes.
Famously, Peter Jackson's hugely successful movies of the saga were filmed in New Zealand, and you can tour the "Hobbiton" movie set there for a hefty price. The attraction is just one part of the country's vast Tolkien-based tourist industry.
But on a mountainside in Guatemala, you can actually stay overnight in a hobbit-hole, with the added bonus of panoramic views of the Panchoy Valley and twin volcanoes, (which bear an uncanny resemblance to the Lonely Mountain from the books).
Hobbitenango is an off-grid hotel/restaurant built using eco-friendly techniques and modeled after hobbit-holes (complete with round doors). You'll find it in the countryside outside of the colonial town of Antigua. See: Hobbitenango.com.
Casitas built into the mountain (with room enough for a family group) start at $75 per night, although you can visit for lunch or dinner at Hobbitanago's highly rated restaurant serving up gourmet foods and tasty cocktails.
If you're ready to rough it, you can also camp on-site.—IL Roving Latin America Editor Jason Holland.
Notes from Our Expat Editors
Glynna Prentice
Life as an expat changes you in ways you may not expect. Suddenly, the world seems a smaller place. Destinations that once seemed impossibly distant—Buenos Aires, Bangkok, Budapest—become only a plane ride away. And I am much more inclined to pack a bag and head off to these places now that I'm an expat than I ever was before.
Suzan Haskins
If you're a resident retiree over age 65 in Ecuador, you're eligible for attractive benefits: Discounts on healthcare, airfares, restaurant meals, and more. You'll also qualify for a refund of sales tax paid for essential goods and services of up to $92.64 a month per person—more than $1,111 a year. That almost covers a month's living expenses in Ecuador.
On the Trail of the Boomslang
Renowned for its rare, site-specific vegetation and breathtaking scenery, South Africa's Kirstenbosch National Botanical Garden is widely acknowledged to be among the world's finest.
Nestled at the foot of Cape Town's instantly recognizable Table Mountain, the Kirstenbosch garden forms part of a larger UNESCO World Heritage Site which encompasses the cape region's spectacular site at the confluence of the Indian and Atlantic Oceans. The area also plays host to an impressive array of biodiversity with more than 125 types of birds.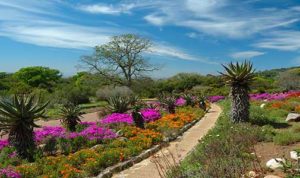 One of Kirstenbosch's highlights is the Tree Canopy Walkway, known in the local language of Afrikaans as the Boomslang. This name translates as "tree snake" and describes how the elevated path curves through the treetops. You can stroll through the leafy foliage and take in extraordinary views of Table Mountain. Around you, Spotted Eagle Owls slumber, while scores of rainbow-bright Orange-Breasted Sunbirds call out to one another.
It is easy to spend half a day wandering Kirstenbosch's trails, lounging in open, green spaces, or enjoying a glass of crisp local sauvignon blanc at the delightful Kirstenbosch Tea Room.
The elevated path curves through the treetops.
This on-site restaurant also offers homemade scones, and salads and sandwiches with a cosmopolitan flair. They even rent out picnic blankets so you can enjoy a gourmet lunch on the magnificent grounds.
Kirstenbosch regularly plays host to art exhibitions and summer concerts. See: Sanbi.org/gardens/kirstenbosch Best of all, Cape Town's mild Mediterranean climate makes it possible to visit the gardens year-round. —Tricia A. Mitchell
A World of Potatoes in Peru
"Only in Peru will you find a restaurant based on potatoes," writes IL Peru Correspondent, Steve LePoidevin. "With almost 4,000 different native varieties, this is not surprising.
"In the southern "White City" of Arequipa, the Hatunpa restaurant serves Peruvian classics on a bed of up to seven different types of potatoes.
"Traditional sauces, a variety of meats (alpaca, chicken, and beef) and vegetarian options round out the tasty dishes. The small restaurant nook tucked away in the city's historic colonial center is tastefully decorated with colorful Peruvian textiles and crafts. The friendly wait staff place your country's flag on the table once they find out where you are from."
A New Kind of Coffee Buzz in Turin
"The new Lavazza coffee complex in Torino (Turin), Italy, combines sleek design and architectural whimsy with neighborhood renewal," writes International Living Italy Correspondent Valerie Fortney-Schneider.
"The Lavazza brand, which has been around since 1895, is one of Italy's most popular coffee purveyors.
"They've now opened a new headquarters complex called La Nuvola (the cloud), with a multimedia museum, exhibition center, and two very tempting eateries.
"The museum is 'a total immersion in coffee culture, from plantation to Torino's roasters,' they promise, and the restaurants are sleek, but comfortable.
The Bistrot is a trio of cafeteria-style food islands run in collaboration with the Slow Food movement, while Condividere is a trendy upscale restaurant styled by an Oscar-winning set designer and helmed by celebrity chef Federico Zanasi. It's drawing big crowds and rave reviews.
Did You Know? Thingvellir was the site of Iceland's parliament from the 10th-18th centuries. It's also a spot where you can step across the tectonic plates separating Europe from North America.
Previous
Next