When I want to get out of the city of David and see some of the beauty of Chiriquí Province, my favorite day trip is to the area around the small town of Volcán.
To get to Volcán, I always get on the Boquete highway and take the cut-off to Potrerillos, just past Dolega. The highway twists and turns through acres of orange groves, with Volcán Barú looming not far away. After an hour, the highway ends at Cuesta de Piedra, where you turn right and travel toward the volcano. I love this part of the highway, where my windshield perfectly frames postcard-worthy scenes at every turn. As you rise in elevation, the terrain becomes more colorful, with lush fields of green, stands of pine trees, and farms here and there. Twenty minutes after the turn, you drive under the arched sign across the highway that reads Bienvenidos a Volcán ("Welcome to Volcán"). Within minutes, the road turns and you are in the valley and town of Volcán.
I love this area. The cool climate, fresh air, relaxing feel, and breathtaking views are what I really enjoy. Honestly, I don't think there is a prettier place in all of Panama. The valley is big, so most of the homes are spread out, surrounding the small town. The population of the valley is said to be 12,000, but it never feels as though that many people live here. Except for the downtown area of about 10 blocks, the side streets are quiet, and the roads don't have much traffic. The view of Volcán Barú looking down on the valley is magnificent—a photographer's dream on clear days.
I love to take newcomers to Raquel's Ark, just off the main street in Volcán. Raquel's is a rescue reserve for injured and found animals who need rehabilitation before being released again. There you can enjoy interacting with the animals she currently is caring for. It's a fantastic way to get up close and personal with some of Panama's native animals, including sloths, spider and howler monkeys, raccoons, coatimundis, and toucans. What's not to love about having a monkey on your shoulder?
My routine varies from time to time, depending on whom I take with me and what they want to do, but I still have traditions. I drive through Volcán and turn onto the road to Cerro Punta. After a mile on the road, the river comes in to run alongside the two-lane highway, and the vegetation changes. This area gets more rain than farther down, and it's cooler. The heady fragrance of blooming tropical flowers fills the air.
The orchid collection boasts over 2,000 species.
Wandering uphill, you begin to find vegetable stands alongside the road. Here you can buy large or small quantities of just about any vegetable you can think of. I always stop at my favorite place and load up my car with veggies and fruits just harvested from the fields below the road. Before I head off again, though, my friends and I sit at picnic tables and enjoy having a fresa y crema (fresh-picked strawberries and cream), while listening to birdsong and the river babbling along on its descent of the valley.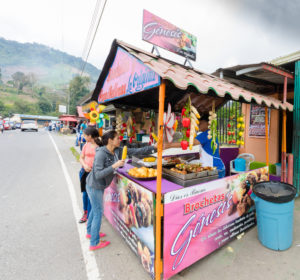 Back in the car, we head up to Cerro Punta, where we love to view the surrounding hillsides, which are terraced with crops of all kinds. Beyond driving around and taking in the beauty of the valley, there are several things to see and do. Before you get to Guadalupe, you can stop to take a tour of the finest horse-breeding ranch in Panama, which raises thoroughbred horses for racing. At Haras Cerro Punta you can get a guided tour of the stables, learn about the history of the ranch, take some great photos of some of its exquisite horses, and take in some great vistas.
Recently I went to Finca Dracula, an orchid farm just outside Guadalupe, above Cerro Punta. To drive up the hill to the parking area, you'll need a high-riding vehicle, or you can park below and take a 10-minute walk up the hill. I had never been before and was surprised not only by the orchid farm, but also by the layout and the intricate landscaping of plants that are seen only at this elevation in Panama. Finca Dracula was named after the Dracula orchid it proudly grows, which only opens its flowers at night.
The collection boasts over 2,000 species of orchids, all of which are different, and all beautiful. After the tour, we relaxed with fresh-ground coffee in the outdoor café, smelling all the blooming orchids around us.
After taking the loop road back to Volcán, it was time for lunch. There are some great restaurants to choose from in Volcán. My personal favorites include Burricos (Mexican food), Hotel Dos Ríos (awesome gardens), and Mana (inside the Mana Lodge).
When I leave Volcán, I take the highway straight back through to Concepción, where the two-lane highway meets the Pan-American, turn left, then back to David. But before I get more than 30 minutes outside Volcán, I always have to stop at Mirador Alan Her, a cafeteria food court on the right-hand side of the road. What am I stopping for? Well, only the best cinnamon twist pastries on the planet. I buy a dozen (at 65 cents apiece), take them home, and freeze them.
When I run out, it's an excuse to take another trip to Volcán.
Previous
Next